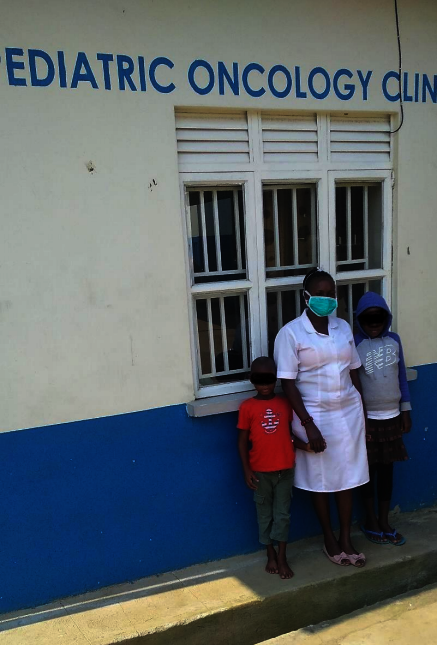 Update Report on Restoring Hope to Child-Headed Families in Uganda.
Dear Friends,
Happy New Year to all.
Thank you very much for donating to help the Palliative Care Association of Uganda (PCAU) to support children who are the primary caregivers to their very sick parents or guardians. We are grateful. The families we serve are very appreciative too.
This brief report is intended to give you an update on how we have used some and how we used some the money and give a highlight on our plans too.
In this report, we have put down 4 things: 1. The hope of school opening in Uganda, 2. A brief highlight on 2 special friends, 3. The case of need for shelter support, and 4. Statistics show that more children with cancer abandoning treatment in Uganda amidst Covid-19.
- The Hope of Opening Schools in Uganda
After nearly two years of schools closure due to the Covid-19 Pandemic, the Uganda Government announced that be open on Monday 10th January 2022. So the children who we support are back to school. Some of the children have been out of school since March 2020. During the school's closure, boys and girls of school-going age faced challenges. Some of the boys faced bad peer influence to think and may not consider going back to school important now. Some girls faced the wrath of early marriages and teenage pregnancies. None of the boys or girls under our support faced these issues. This is because we kept our support alive. We worked with communities to foster home study. But it is bad that these happened to other children. This is because we kept in touch and supported them all through. With schools opening, we will be able to continue supporting all the children on our program back in their schools. In our next reports, we will give you some updates on how school days are going. Remember, some of these boys and girls have to juggle schooling and offering care to their very sick parents or guardians. They always work hard to strike a balance.
Introducing to you 2 special friends:
- Our friend Stuart
With your support, we would like to support a special friend to start school. This is the first time that he will get into school. Stuart is a total orphan having lost both his parents to HIV/AIDS. He is 6 years which is the perfect age to start Primary School in Uganda. Stuart's brother and sister are already on our program. These children stay with their auntie. She is such a lovely woman. Her home can be described as indigent but she has a huge heart to give anything she has. She is a peasant who works at people's shambas to raise any little money that she has. Her own three daughters married early. She could not afford school fees to keep them in school. But she is committed to seeing that her 'adopted' children continue with school. Otherwise, the children would stay in a lonely home after the death of both of their parents to whom they were primary caregivers. Recently, with the help of one of our donors, we supported her family to build a pit latrine.
Stuart is now in school. His first days there have been good. He is liking it there.
He has always been very helpful to the auntie at home and does home chores willingly. He is a disciplined boy. We have great hopes for him. We will need to get more sport to ensure that he continues school. This is such a huge commitment. We will keep getting you updates. Like other children that we support, we hope that he will get a sponsor too. We will write more about Stuart in our subsequent reports.
- Our Friend Martha
The other special friend is Martha finished her National High School Exams last year. Her main subjects were Biology, Chemistry, Food & Nutrition Science, and Sub Math. By all means, Martha is a very bright girl. She has struggled through school. She has been in and out of school due to school fees issues. Even during her very final term at school, she could not afford fees. But because her teachers stood surety for her to take the final exams. Martha's mother has been unwell for some time. The father died when Martha was younger.
Martha now wants to join a Nursing School to become a Nurse. she performed well in her exams and is able to enroll for a Nursing certificate. With your contributions, we will support her dream, A Nursing Certificate Course is two years of study. We will need at least $2,400 for her two years. We would like to support her to attain this qualification as a way of helping her to realize her full life potential. She is a bright girl. Once she attains a qualification, she will be able to join the employment world. This will mean a lot to her indigent family now. This support will also be a great relief to the ailing mother and her family.
- The case of need for shelter support
Farida is Ok that we share her story with you. She says that her life is a miracle. Farida suffered a life-limiting illness that got her to get bedridden for about 4 years. The mother of 4 girls notes that her girls are her joy. Farida's daughters are supported on our Road to Hope Program to continue their education. They were identified to join the program by the staff of Rays of Hope Hospice Jinja who offered care to their mother when she was bedridden. Their mother's body immunity system was suppressed. She also suffered from cancer. For about 4 years, she was in and out of hospitals and sometimes bedridden.
With continued care and support, Farida gained back her health and can move and work again.
Farida is a widow. Her husband died over 8 years ago. She and her husband did not own any piece of land. They rented a house in a small town in Eastern Uganda. She now rents a 1 roomed house with her girls. Before she was bedridden, she was vending food items to get some money to look after her children. The children would also support. She would bake pancakes and the children would move around the small town selling. It is this income from this that would afford the family rent, food, clothing, and other necessities. But she could not afford to keep her children in school. That was expensive to do. With the help of the Road to Hope, her children are progressing well in school. They are bright children. The eldest daughter is set to join a Nursing Training institution to study for a Nursing Certificate.
The biggest worry the family has is that of shelter. The family stays in a slam area. The poor sanitation, pollution, noise, and congestion affect her quality of life and that of her children. Even when she can walk and work, she is still on medication. She, therefore, has to take good care of herself.
With your contribution, we have supported the family to acquire a piece of land to build a small house for her family. On this land, there is a very young banana plantation. The family is hopeful. They will work hard to have sustainable food for her family on this land. Our next request to you will be to support the construction of a small house for this family. The family is so grateful that she has her piece of land.
- More children with cancer abandoning treatment in Uganda amidst Covid-19.
According to the Africa Regional Office, World Health Organization (WHO), nearly 30,000 children in sub-Saharan Africa are believed to have died from cancer during the COVID-19 pandemic by September 2021.
Drastic measures to prevent coronavirus spread, and heightened focus by health systems on response, led to disruptions in other essential health services on the continent
In Uganda, 3000 children develop cancer annually (Globocan 2018). Only 30% present and of these 30% abandon treatment. Cancer cure stands at about 50% in children (UCI).
The matter of children who do not present for treatment and those who abandon treatment led the Palliative Care Association of Uganda (PCAU) to start a project to offer transport to children with cancer to travel to and from Uganda Cancer Institute. PCAU works with palliative care providers in rural areas who identify these children. The same palliative care providers support PCAU in enrolling children who are the primary caregiver to their parents or guardians facing receiving palliative care. PCAU understands that there are various reasons why children with cancer abandon treatment.
A recent study conducted at Mbarara University of Science and Technology points to the lack of money for transport as the main cause of treatment abandonment.
Over time, PCAU has supported over 40 children to access treatment and outcomes have been largely positive.
Due to culture and gender roles in Uganda, most times cancer in children exacerbates domestic violence and separation. The parents blame one another for misfortune. Most times, it is the men that abandon their homes due to the child's sickness. The mothers shoulder the blame.
One of the Palliative Care Nurses working at a rural hospital who has been supporting these children is keen to thank PCAU. She has worked with us to support at least 12 children to continue their treatment at Mbarara regional cancer center.
Sometimes, the Nurse sacrifices a lot to look for the children in villages about 50 kilometers from her place of work. She always must come with the children from the villages to the Mbarara Pediatric Oncology Clinic to support their navigation.
''The money given by PCAU to transport children with cancer to continue their treatment has been like a miracle. What is more amazing is the relief, joy, and love that returns to the family when these children access treatment." She says
With your support, we have now given confidence to one rural hospital that we will support them to offer transport to at least 30 children suffering from cancer who cannot afford transport to come to Uganda Cancer Institute to start and continue treatment. This support will run for the first half of 2022. We will need more support to make this go on till the end of the year and for the future. We will therefore be writing to give you an update and to share the needs.
The support to these children covers a range of things including paying for some laboratory investigations needed before the next chemotherapy treatment, accommodation, and meals for the child and caretaker during the visits to the Uganda Cancer Institute.
Conclusion
We would like to thank you for your contribution to supporting these children who need our help. As you will see from the report, your contribution helps to solve multiple issues that vulnerable children face. We will endeavor to provide another update soon. We continue to seek more support to enable us to raise the target amount that we support more children. Every amount counts as such a big deal. Thank you so much.
Report by:
Mark Mwesiga – mark.mwesiga@pcau.org.ug +256 785 884 205