Bloom wants you to know how grateful she is that you saved her!
Today pigeon child Bloom is two months old, safe, sassy, happy and loved in a wonderful foster home. She is healing and growing and looking forward to a wonderful long life as a cherished companion. The pink dye she was marked with is starting to fade and her blinded-by-dye eye isn't so painful. She is a death-defying miracle bird. Thanks to you. Your support of Palomacy enabled us to rescue her when nobody else would.
Bloom is a King pigeon who was bred for meat (squab) and "harvested" from her family's nest at 28 days old. Unlike most who are routed straight to the processing plant to be butchered, shrink-wrapped and shipped to fancy restaurants, she was one of the birds trucked to a poultry market in San Francisco where, after being splashed with pink dye for batching (which blinded her right eye), she was sold live, to be home butchered.
Luck was somehow with this frail pigeon child again though because instead of being bought for dinner, she was bought for "release", a well-intended but misguided gesture that left her stranded on the edge of a park at 20th & Vermont in the Potrero Hill district of San Francisco. King pigeons are domestic and have no survival skills at any age but to be all alone and helpless is especially terrifying and dangerous for an immature, frail four week old domestic pigeon.
Amazingly, little Bloom defied death again when, before being killed by a predator (hawks, gulls, ravens, cats, raccoons, rats, etc.) somebody recognized her plight and brought her to the San Francisco Animal Care shelter where she was surrendered on Thursday, September 4th.
Shelter staff contacted Palomacy the next morning asking if we would rescue the thin, weak, injured little bird. She was in bad shape, 911. We are always full up, always stretched to the max with 150 adoptable birds in 30 different foster homes and aviaries and a waiting list, but even so, we always try and thanks to two very special volunteers, Jerri and Rachel going above and beyond, and with our donors' generous support, Bloom once again defied death. We saved Bloom!
Jerri, one of our volunteer transport angels, dropped everything to make the 140 mile traffic-choked roundtrip to go pick Bloom up and rush her out to Medical Center for Birds in Oakley where they very kindly managed to fit her in to their already booked solid schedule. With supportive care, pain meds and antibiotics, she quickly began feeling better, started eating and was feeling feisty by Tuesday when she was discharged and Jerri once again made a long trip to pick her up and deliver her to foster volunteer Rachel who, despite all she's juggling, agreed to take little Bloom into her foster care.
Bloom has come so far and despite her blind right eye and a lingering sinus infection she is still be treated for, she is strong and looking forward to a happy future! She'll soon be meeting a pigeon-loving family that is interested in fostering to adopt and chances are they, like everyone else who has met her, will fall hopelessly in love with her exuberant spirit.
Bloom wants you to know that she is glad to be safe, to be protected and loved. To be alive!
Thank you for helping us to rescue Bloom and all the others. We can't do this without you.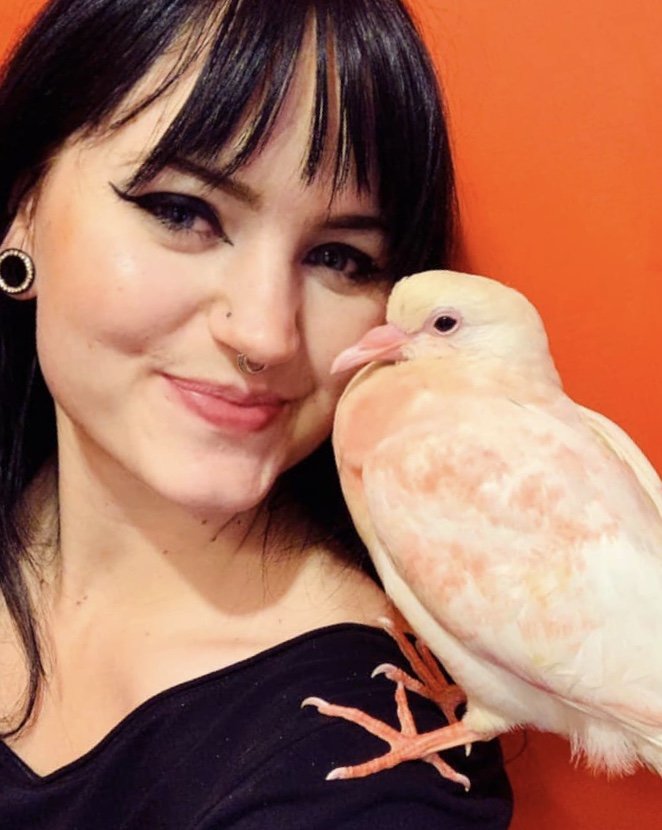 Links: