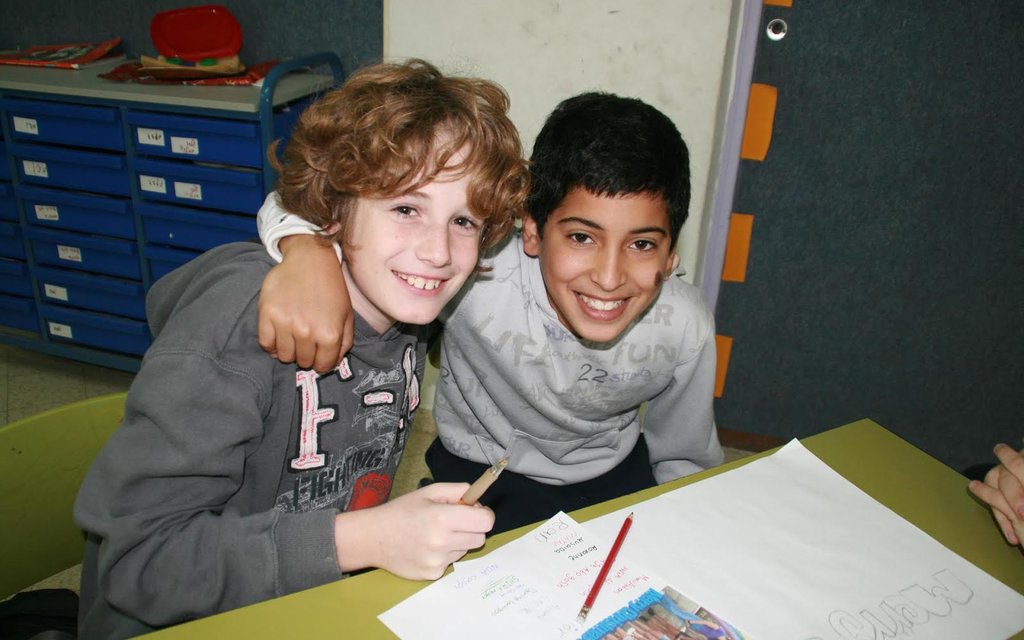 Teachers like Reem Nashef help make the Primary School at Neve Shalom/Wahat al-Salam a one-of-a-kind institution. A 14-year resident of the Village, Reem's own children graduated from the Primary School. And while she works full-time at the school — she's responsible for the 6th-grade class, and she's also the school's science and environment teacher — Reem is working toward her own master's degree in education. She speaks Hebrew, Arabic, German, French, and English.
Reem is especially proud of her current crop of sixth graders, whom she also taught last year. She reports that, this year, they are more focused, more aware of what they want, and their ideas and opinions about life have crystallized.
One of the ways this happens at the NSWAS Primary School is through projects like the "history line," in which students examine, first, what was happening personally in their lives at various periods. Then they look at what was happening in their community, region, and the world at those same times. The project demands a high level of discipline as these young people independently research and investigate these parallel histories.
There are 12 Jewish and 9 Arab children in the class. Reem Nashef describes them as strong minded and individualistic. It's because of accomplished and ambitious role models like Reem that this year's 6th graders will continue to thrive as they become young adults.