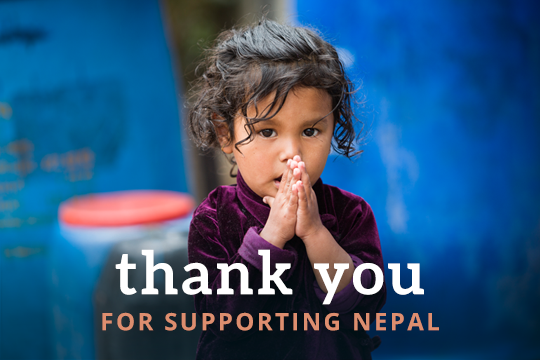 Ten days after a 7.8-magnitude earthquake hit Nepal, your donations are already making a difference on the ground. While more than 7,000 people are confirmed dead and close to 15,000 people are injured, you are making life a little easier for the millions more affected by this earthquake.
GlobalGiving has already sent funds to 26 organizations working tirelessly to provide relief to the people of Nepal. Your donation has contributed to the following efforts:
You can click on the link to any of the individual projects to see the updates they'll post about how they are using the funds.
We are sending funds to additional organizations this week and, as always, will keep you informed as to how your donations will be used. We have also posted a link to frequently asked questions on the page. For now, these funds are supporting the immediate needs of the relief efforts. In the coming weeks and months, your donations will support longer-term recovery efforts as people try to regain normalcy in their lives. Thank you for helping the Nepali people in the aftermath of this earthquake.