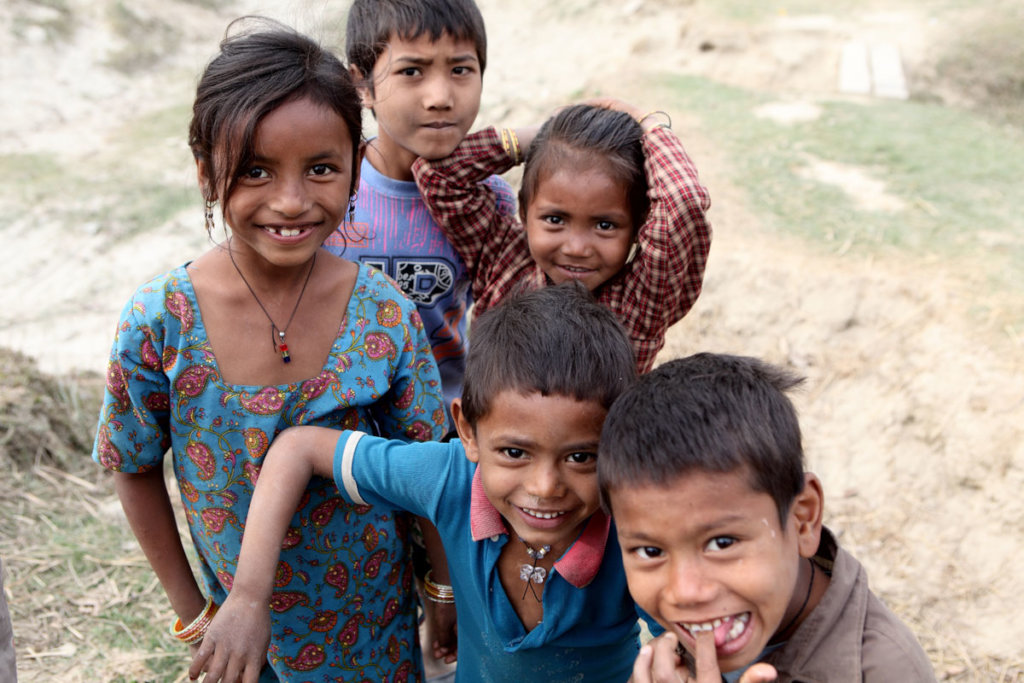 In April of 2015, Nepal suffered its most destructive earthquake in eight decades, killing nearly 9,000 people. It's been more than two and a half years since the quake but the recovery process is still very much underway. Being one of the poorest countries in the world, with a quarter of its population living on only five cents a day, Nepal has very few resources to handle a disaster of this scale. While the earthquake affected almost 3 million people, children were perhaps impacted the most. Nepalese children face specific challenges, especially those in rural villages. Luckily, our 89 nonprofit partners on the ground have been working tirelessly to implement solutions to these challenges that keep the children of Nepal happy, healthy, and safe while they learn and grow.
Keeping Kids in School
Education is crucially important during times of disasters because it ensures that children have a safe haven from trafficking, violence, and child labor. Over 36,000 classrooms were destroyed by the earthquake, leaving nearly 1 million children unable to attend school. Twenty earthquake-safe classrooms have been rebuilt by The Small World, and eight schools have been constructed by All Hands and Hearts, allowing thousands of children to resume their educations. Environmental Camps for Conservation Awareness has produced "All in One" book packages, which include a comprehensive range of subjects so that elementary students in rural areas can learn from home.
Lack of Electricity
Many remote areas of Nepal are devoid of grid electricity, so Environmental Camps for Conservation Awareness and Karuna-Shechen are distributing solar home lighting sets to rural residents. The lamps are charged by the sun during the day, and provide light in the evenings so kids can do their homework. After receiving a solar lamp set for her family, a young student named Sushila said, "We used to have to study in the dark. Now, there is light to study and we can do more work at home. We can also even listen to the radio while working. This has made our life easier and fun."
Trafficking + Child Labor
In order to mitigate child trafficking, Child Rescue Nepal broadcasts anti-trafficking radio jingles in a local Nepali dialect that teach children the importance of education and to not trust strangers. Child Rescue has also been providing intensive support to 17 rescued children who are now attending school regularly and living happily with their families after being reunited.
Even though child labor is illegal for children under 16, kids as young as three years old are found working in brick factories. The Advocacy Project removes these children from dangerous working environments and places them in school. Although brick factory work allows young kids to support their families, school is a much safer place for them. In Nepal, family is hugely valued and is central to one's identity. Nepal Youth Foundation (NYF) believes that allowing orphaned or abandoned children to remain with their relatives is vital. They provide a stipend to families to help cover food, education, and healthcare costs for the children.
Basic Health + Hygiene
Keeping kids healthy is a priority throughout the world, but it is especially important after a disaster strikes. School health education programs, developed by Real Medicine Foundation, teach young students in Nepal about personal hygiene, proper handwashing, contagious vs. non-contagious diseases, and how to stay safe in disaster zones. Such programs also help to decrease drug or alcohol use, boost proper nutrition, prevent illness, and encourage exercise. Children's fragile immune systems put them at higher risk of contracting infectious diseases. GlobeMed at Tufts University gave immunizations to 435 children and growth monitoring to 656 children throughout Nepal. Two optometry assistants with Global Reach International recently gave 200 children eye exams in a low-caste village, and your donations helped buy prescription glasses for them, which only cost around $8 each.
Support for Young Girls
Young girls have unique health, educational, and emotional challenges, and need additional support. Along with classrooms, many school bathrooms were destroyed in the earthquake. During reconstruction, Environmental Camps for Conservation Awareness built girl-friendly toilets to give girls privacy while at school. They have also equipped a school with a proper water facility and an incinerator to burn used sanitary pads. "With the new toilet facilities, the trend of being absent from school among menstruating female students will decrease," says a female teacher. "We'll also be talking about it with the students, so they feel encouraged to come to school during menstruation cycle."
To help alleviate some of the challenges they face, BRAC USA created a club for teen girls in rural Nepal that provides a safe space where they can talk openly about culturally sensitive topics like violence, sexual and reproductive health, and women's rights. "We never had such clubs before, especially for girls my age," Anu, a club member says. "Girls do not generally speak their minds where I am from but, at the Kishori Club, we are encouraged to share. I learned that I can talk to people and ask questions. I found that there was a bigger world that I could live in," she exclaims. The young girls who felt secluded after earthquake now have a strong safety net.
With the support of donors like you, our nonprofit partners have accomplished so much to help the children of Nepal. Together, we can empower Nepal's youngest generation to get their educations and live happy, healthy lives for many years to come.
Warmly,
Acacia + the GlobalGiving Team