Project Report

| Aug 1, 2023
GITC Students Attend Recording Camp! Guitars Needed this Fall!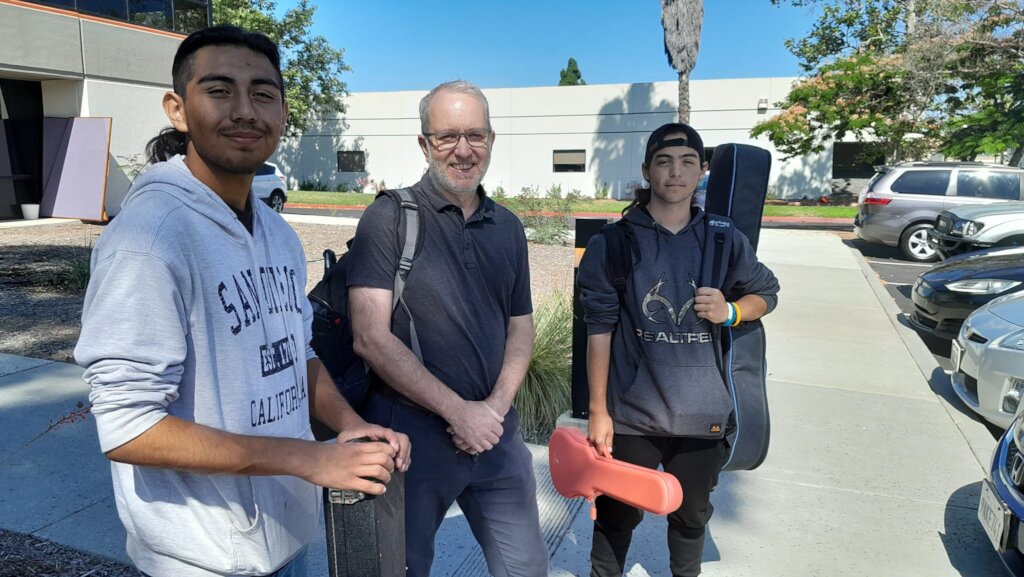 Dear Friends,
There's no time like the present to do a little end-of-summer giving to a project in need of support in order to get ready for the new school year. We are preparing to receive over 100 students who are hungry for quality music instruction this fall!
Last year, thanks to you, and to instrument donors, GITC gave out over $12,000 in student guitars to participating students in two urban school districts. This year, the numbers and needs are increasing, and this is great news! Learning to listen, collaborate, share, practice, and perform- all through the endeavor of taking up guitar- are life-shaping skills that can help high school students prepare to meet the real world. We're seeing the changes take place in real time.
Last year we saw kids muster their courage to try something new, and they returned to the GITC after school guitar programs every week. They dedicated themselves to developing the ability of understand and make music. This year we are expected two levels of players at every high school- returning intermediate students, and brand new beginners!
The program has become so popular that it's growing to include a new campus- Hoover High School. Interestingly, Hoover has a partnership this fall with Taylor Guitars! Each students in our fall programs, and all the new ones who join us in the spring, are going to be learning to build their own acoustic guitars courtesy of Taylor. But until their guitars are done, each student needs a guitar on which to learn, and to practice. This is where we come in. Though the school districts are now covering the cost of instruction, they cannot afford to provide the students with their own guitars. It's up to us each of us to make that happen.
This summer, one GITC donor made a special gift so that two of our intermediate guitar students from Morse High School could became the first GITC summer scholarship recipients. They got to attend an intensive week of training in composition, arranging, recording, and sound engineering at Studio West. They worked with teens from other areas of San Diego, and everyone was coached in collaborative groups by outstanding professionals. The two came away with greatly expanded horizons and skill sets- and a gorgeous originial song we look forward to sharing by permission. This is the magic that can happen when a supporter like you votes yes for guitar!
Thanks for being part of an endeavor to make guitar education an accessible part of high school learning, especially where it is needed most. Just $100 covers the cost of an excellent student model nylon stringed instruments, and every donation adds up to instruments placed in students hands.
Looking forward to an inspiring new school year together,
Jess
Links: