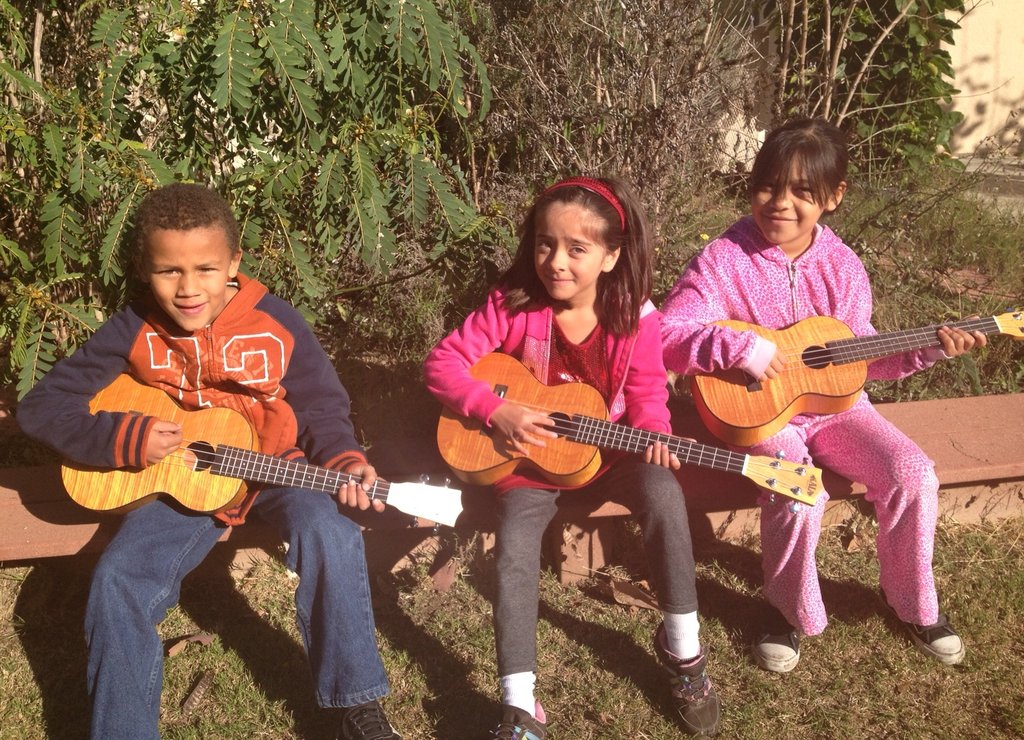 Here at GITC, we're excited to report that through your generous donations we are indeed Giving Preschool Children a Musical Head Start! Every day, a child's mind is being engaged through active music participation in our schools, and in our small way, we're helping Head Start programs thrive.
We're ecstatic to report that in December Kala Musical Brand Company donated over 900 ukuleles to our programs. Thanks to their generous donation, ukuleles are now in classrooms throughout California and in Arizona: Oakland, CA; Camarillo, CA; Thousand Oaks, CA; Oceanside, CA; Encinitas, CA; San Diego, and Phoenix, AZ.
We're not only affecting students, but their teachers as well! Training the teachers is the key to making sure children receive the benefits of making music for years and years to come. Every week the teachers are learning more tools of how to share music in their classrooms. Thanks to the special gift of a handful of U-Basses, some of our teacher trainers are also learning to play Kala U-Basses which enable them to harmonize with the teachers in their training programs. This encourages teachers and ultimately students to play the melody with strength and initiative. In the last couple of months, we've expanded opportunities for teachers to purchase ukuleles directly from our generous, manufacturer sponsors. Schools that raise their own dollars to purchase a set of ukuleles can now do so at a fraction of the cost through KALA Brand Music Company, Lanikai Ukuleles, and Luna Guitars!
I'd like to personally thank you for your contributions and support of this campaign. The success and sensational growth of this program is entirely due to your early commitment. Because of your support to bring ukuleles to preschool children—and because you proved it could work—the door flew open and new possibilities arose.
While we've come a long way on this goal, we still have more to go. With more funding, we can ensure that the teacher training both continues and grows through the dedication of our trainer, and we can also provide more ukuleles to these classrooms. With your help, we can extend our hand to help many more Head Start programs.
Please help us continue to expand this campaign for children in need in schools beyond the state of California. With your continue support, we can expand our program to purchase ukuleles for children in Longmont, Colorado and Burlington, Vermont.
Thank you for your continued support of this project!
Wishing you health, harmony and happiness,
Jessica Baron