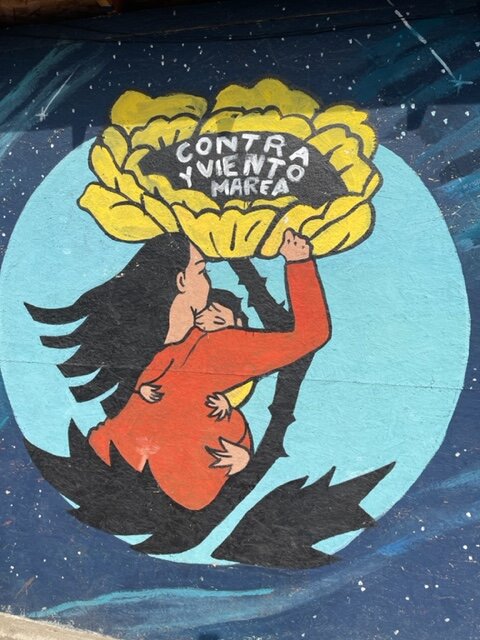 Hi AWB Friend!
This report is not a regular update on our work at the US-Mexico border and in farmworker communities across CA. We also want to take this opportunity to reiterate our commitment to our communities, and all communities in need of support around the world, as violence, inequality and disaster continue to drive people away from their homes and countries. The last few weeks have been daunting, to say the least. We have been coordinating fast response efforts along the Romanian-Ukraine border, while coordinating to train acupuncture and integrative medicine professionals across Europe to be able to provide timely trauma-informed care to the refugees that are rapidly arriving to their home countries.
As we have had to pivot our attention and resources to respond to the conflict happening in Ukraine, we have also continued to provide services and support to hundreds of migrants looking to cross the US-Mexico border, and hundreds more facing harsh working conditions and lack of access to basic health needs in the US. While much of the world is watching and standing in solidarity with the people of Ukraine, there are millions more around the world that are fleeing violence and/or caught in the middle of continued trauma and disaster. The "invisibility" of these people by many media outlets makes it harder for organizations like ours to raise enough resources to continue our programs and clinics in these communities. We would like to thank you for your past support, for believing in this work and in us as the keepers of it. We do not take this honor entrusted to us by you lightly. As we continue to be committed to this, we turn to you to help us keep this work alive. Solidarity takes community and we are only as strong as ours!
Please consider becoming a recurring monthly donor and help keep our work with migrants alive.
We want to leave you with a positive and uplifting note. Our team in Tijuana has been providing treatments and setting up mobile clinics in the area for the last week. Here are some pictures and field diary quotes from our amazing Program Director, Carla Cassler:
April 1, 2022: Carla - Tijuana, Mexico
"Today (Friday) we offered treatments at a roof top mobile clinic at Contra Viento, an organization that serves hot meals for the houseless and migrant communities in Tijuana. Treatments followed by homemade chicken soup and fresh tortillas in the sunshine…healing."
March 31, 2022: Carla - Tijuana, Mexico
"As AWB is organizing support for refugees displaced by the war in Ukraine, we continue to provide care for refugees in many other communities. This week we are doing treatments at the Justicia en Salud clinic in Tijuana, Mexico with our partners, the Parteras (midwives). Approximately 70 percent of the women we treat here are from Haiti, and most of the births in the Tijuana migrant community are attended by these amazing midwives (2 births so far this week!). We just received 23 big boxes of herbs donated by our dear partner, the Mayway Corporation, so we will be organizing them into the clinic herbal pharmacy in the coming days."
March 12, 2022: Carla - Watsonville, United States
"Another great CARE clinic to support farmworkers on Friday in Santa Cruz County. Acupuncture, massage, chiropractic, food, clothing, and household supplies were offered in collaboration with the Center for Farmworker Families, Integrative Healers Action Network, and Livity Rising! It's a joy to work together to support the people who grow and harvest food for the nation!"
In the spirit of service,
The AWB Team