Project Report

| Nov 25, 2013
Mann Deshi Champions Sports Program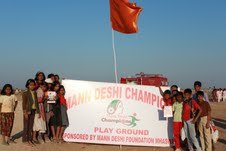 Reacting to the needs of rural children, who live in families with low income, Mann Deshi Foundation launched a sports program in December, 2010, called 'Mann Deshi Champions'. Over 5000 children registered and benefited from this program.
The goals of this program are multifold. In general, poor children in India will not have access to any sports training due to lack of finance and availability of facilities in rural places. As this program is free of charge, lack of finance will no longer be a hindrance for the children. Mann Deshi provides the land with the facilities and organizes teachers, who trains the children in various disciplines such as football, volleyball, running, badminton, long jumping, and various other fun games to increase overall fitness.
A free bus service is organized to bring children from the town and the surrounding villages to the training field.
Courses take place twice a day, every day of the week. In the morning, children who attend school in the afternoon comes, and in the afternoon, children who attend school in the morning comes. The program is targeted for children between 5th and 10th grade (approx. 10–16 years of age).
Skill development. Children quickly acquire physical, but also social skills, as they learn to form a team, interact with other team members, submitting to rules, set ambiguous targets and fight to achieve them – all while having fun with their friends from school.
Clothing. Most children do not own shoes or sport outfits, therefore Mann Deshi provides sport shoes and clothes for all children who regularly attend the training sessions.
Medical treatment. In addition, each child receives a regular, basic medical examination (a problem often faced is worms, therefore de-worming is a critical treatment Mann Deshi offers in order to prevent the children from loosing nutrients and energy).
Meals. In order to supplement the often insufficient meals the children receive at home, each child is provided with a nutritious meal after the sports session, usually containing fruits, nuts and jaggery.
On behalf of Mann Deshi Thank you to Global Giving & donors for donation & helping make a different in the lives of children.
Sincerely,
Vanita Shinde,
CAO, Mann Deshi