Project Report

| Jun 9, 2017
Read how you empowered Aleya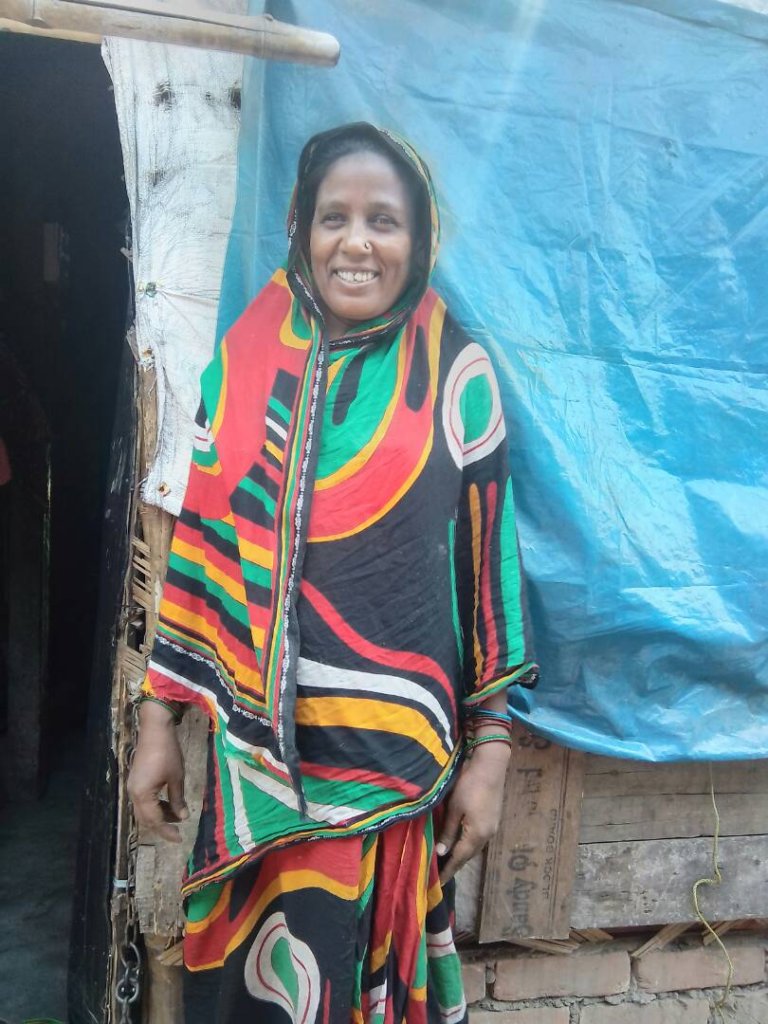 The Alternative Livelihood programme, thanks to your generous donations, is truly changing lives – and not only by helping increase incomes. As a rag picker (and likely to be female) you are right at the bottom of society. Even in the squatter camps, where most families engage in rag picking, those who are not rag pickers enjoy a higher status: they get to the front of the queue to collect water. So by helping a woman like Aleya to switch from the despised occupation to the more dignified fruit or vegetable selling, she gains status in the community. And you'll see from the story below that this empowered her to approach her children's school management to demand better school dinners. And this is exactly what will bring about real change in these communities – the confidence to assert your rights.
Anirban, Tiljala SHED's Programme Manager, reports on one of the beneficiaries:
"Aleya is an enterprising and vibrant woman. There are eight members in the family consisting of husband, wife, four sons, one daughter and one daughter –in-law. All the members live together in a squatter near Topsia canalside. Her younger daughter studies in class IV and attends coaching regularly in our remedial education centre.
Earlier Aleya was a rag picker, but one opportunity changed her profession. On 17 June 2016 Tiljala SHED granted her Rs.8000 to help her establish an alternative livelihood. She bought vegetables from Sealdah market and sold them in her local Topsia market. Her business started profiting. Now she is earning Rs 400 to Rs 500 per day. Aleya is doing multiple businesses like printing on Flip flop 'chappals', she also sells a popular snack "Jhal muri" in the evening. Her older children are also involved in 'chappal' printing.
Aleya is a courageous lady. One day she gathered few ladies and went to her daughter's school where the quality of the statutory mid-day meal was poor. She fought with the School Management Committee and asked the committee to provide the children with a good midday meal. Now Aleya's financial condition has become stable and she is leading a good life. Aleya has repaid her grant totally. She wants further grants from Tiljala SHED to expand her business."
About the Livelihood Programme
Since the introduction of waste compactors by the municipality, rag pickers have found their incomes have dropped by half. In response to this crisis Tiljala SHED raised funds through GlobalGiving and ran a pilot livelihood programme through 2016. 87 small conditional grants were made to destitute families. The loans averaged Rs10,000. Some beneficiaries received rickshaws or cycle vans and others, like Aleya, set up or invested in informal retail businesses. The grants are conditional upon repayment into a revolving savings group fund and undertakings by the families to keep their children in education. The beneficiaries in each area have formed CIGs (credit interest groups) which are now responsible for ensuring prompt repayment and also authorising new grants. The scheme has been very successful with 97% of beneficiaries repaying promptly into the revolving fund. 75% of the beneficiaries have been women and they report not only economic improvements but also reduction in domestic violence.
"I have power and respect now" said Doulari from Park Circus.
The numbers
118 Total grants made since April 2016
94 No of beneficiaries who have increased their income
87 No of grants from original fund
31 No of new grants from loans already repaid into revolving fund
Highest grant amount = Rs15,000
Lowest grant amount = Rs3,000
Impact
Reduced levels of domestic violence
Evidence of empowerment (see Aleya's story)
School drop-out rates have dropped from 16% to 3%
Reduction in alcohol and drug use
Social participation has improved
Both adults and children taking more interest in education