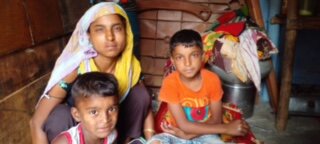 Our most important role at Tiljala SHED is to ensure that all our beneficiaries are able to claim all their entitlements (under the Government of India and the West Bengal Government.) We work hard to ensure that everyone understands their rights and can access them. Most are illiterate and need a good deal of help with the documentation. We have a tiny team of just one paid staff member and a handful of volunteers from the community who work very hard to help families like Manjila's…
A case study from our Rights and Entitlements team…
MANJILA
Manjila is 31 years old. She has lived in a shelter on the pavement with her husband (Asgar aged 40 years) since her marriage 11 years ago. Asgar is a daily labourer at Muslim burial ground.
Manjila has 2 sons. One is 10 years old and younger one is 5 years old. Elder son, Manirul, is studying in class VI at Adi Ballygunge School.
This family belongs from ultra poor family because her husband works as a labour and earn very less and he is an alcoholic. Her husband does not contribute for the family. Manjila is a Rag picker and she runs the family with the small amount of money. She earns to 2500-3000 p.m.
With our help Manjila now has the proper documents. So she has achieved – SASPFUW scheme (a pension for unorganised workers), Swasthya Sathi (health insurance scheme) and the West Bengal Lakshmi Bhandar Social Security Scheme.
Now she is getting Rs500 per month from Government support in her account. With this 500, she runs her family. Manjila cannot support for private tuition fees for her son but she is giving Rs.50/p.m for the coaching fees.
Manirul has been included for AIKYASHREE SCHEME (W.B. Pre Matric Scholarship -2022-2023), hope fully it will be sanctioned from next year.
It costs just a small amount (about Rs1000 per family) to support our team to get Manjila and her families documents in order, the first step on the way to this little family engaging with mainstream society.
Thank you