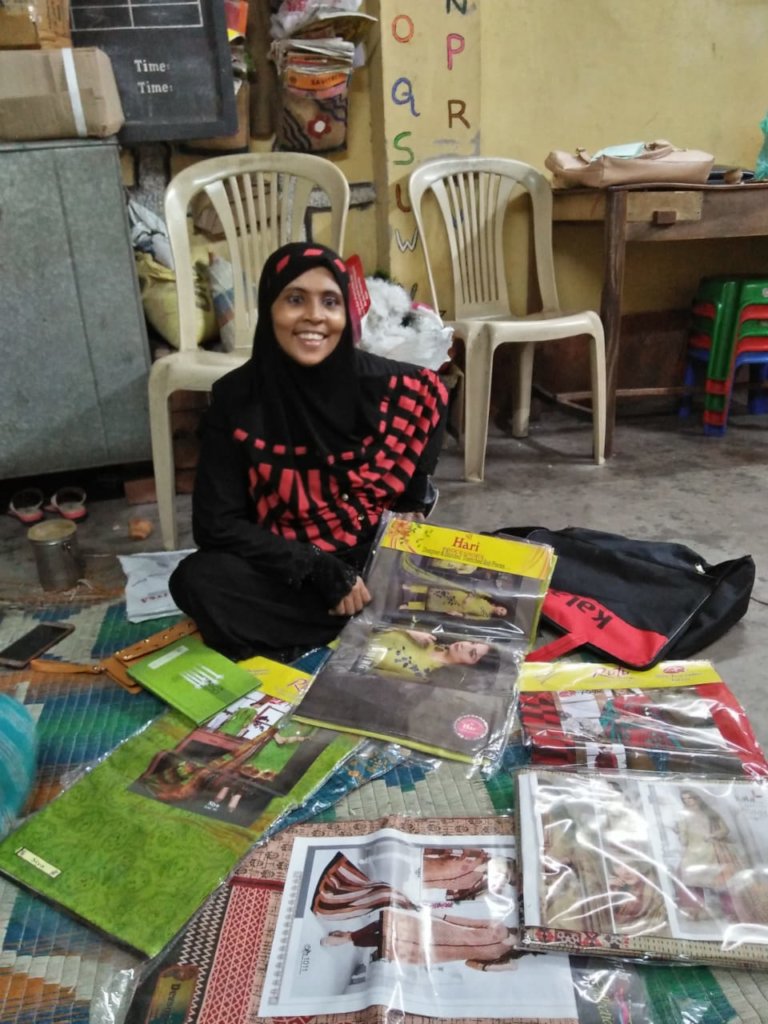 On 18th July I asked for donations towards this project - hoping that the donations, plus gift aid and Global Giving's match funding would achieve our target of £10,000. Well, we pretty much did it. And I can't thank you enough. Please see below the stories of three women who have made a great success of their microloans, funded by you. For every woman who takes a loan, the whole family benefits. The children stay in education, eat more nutritious food and avoid early marriage. The husband and wider family benefit from the uplift in family income and the woman herself enjoys a higher status at home and in the community. Even domestic violence is reduced. And best of all, the loan is repaid in full with a little interest and can then be loaned out to another woman. So your generosity keeps on giving time and again. This project is enormously popular amongst these vulnerable communities and we really want to keep expanding it until every family in Kolkata's railway and canalside squatters has had an opportunity. So please keep supporting them!
Ruksana lives with her family at Mir Meher Ali Lane canal squatter settlement at Tangra. Her husband is a furniture polisher and her five children are all studying. Two are in a hostel and the other three are studying in a local school. Two of her children are attending our educational centre.
Ruksana was an introvert and kept to herself but after she started attending the community meetings organised by Tiljala SHED her inhabitations and actively started participating in all project related activities.
Initially she took a loan of twenty thousand from Tiljala SHED to support her husband to buy new materials for polishing. She dutifully paid back her loan amount in time. She took a second time loan of 30 thousand rupees and invested the loan amount to buy unstitched dress material and started vending it door-to-door. She is conscientious in her work and is doing quite well in her business. We wish her success in her venture.
Jasmin
Jasmin is 26 and lives beside the Topsia canal settlement with her family. She has one son and one daughter. Her husband Saidul works at the leather complex as labourer. Both her children are studying in Topsia Primary School and attends our coaching class at Topsia community centre.
Jasmin could not complete her studies because she came from a rather large family and her parents could not support her education. Her parents decided to marry her off to Saidul at an early age.
Jasmin wanted to do something because the income of her husband was not sufficient to meet the family expenses. She joined the cutting and stitching classes and after one year she learned tailoring. She has transformed herself into as an entrepreneur. She took a loan of twenty thousand from Tiljala SHED and set up a small tailoring unit in her hut. She stitches clothes for women of the area and even keeps different qualities of cloth which she also sells from her outlet. Slowly but steadily her business is prospering and now her average income is around six thousand per month. (£70)
Now she can contribute towards the family expenses. She returned the original loan amount in seven months. Recently she took another loan of thirty thousand and invested in her business. She is confident that the income will go up and she can improve her quality of life in future. The funds raised through Global Giving platform has made a considerable impact in the lives of Jasmin and her family. She is indebted to the organization for the support she received in time.
Shankari is a 30 year old lady residing at Topsia canal side squatter settlement. Her husband Mahadev is a fishmonger. She has one daughter. Her husband income was not sufficient to meet ends so Shankari decided to start a business of selling health products and cosmetics from door to door.
She took fifteen thousand loan from Tiljala SHED on 21.06.2017. After taking loan she effectively managed her business. After one year she decided to start sari selling with health product from door to door.
So, she took second time loan of Rs.20,000 from Tiljala SHED on 07.08.18. Her income was increased and her confidence has grown considerably. She returned the loan amount and applied for the third time.
She once again took a loan of Rs.30,000 from Tiljala SHED on 22.06.19. Now her income has doubled and she wants to further expand her business in the near future. She regularly meets her commitment towards repayment of the loan amount. Three months ago, she started her Life insurance Policy for her husband.
We all feel that she will do well in life because she is way ahead than other working woman of that area.
How are these loans organised?
Applicants for loans under the Livelihood programme all come from the very poorest section of society. They live in the desperately poor areas of central Kolkata which Tiljala SHED has supported for many years. All the beneficiaries are women, although many, like Rehana, may take the loan to enhance or support their husband's business. Each beneficiary is screened to ensure they are truly in need and living below the poverty line. Applicants form small groups of 4 or 5 women, CIGs (Credit Interest Groups) which then work together to support and encourage one another and also to take responsibility collectively forone another's repayments. A condition of taking a loan under this scheme is that the children must remain in education and that the beneficiary must have a bank account and develop a habit of saving. This way they are protecting their future.
Why is this scheme so successful?
It is run by and for women.
The CIG structure means that potential beneficiaries are selected by friends and neighbours who know them well.
Tiljala SHED provides business training and support
Because T Shed is a charitable organisation and not a bank, this scheme is run entirely on humanitarian grounds. If a crisis occurs – and amongst the very poor an illness in the family can cause a severe financial crisis – the loan repayments are rescheduled and sometimes even forgiven altogether. Even so the overall repayment rate is always very high.
What are the main positive outcomes/impact?
The women are empowered to build a business and become financially secure
Across the scheme women report much reduced levels of domestic abuse
The children remain in education and thus increase their own chances of a better future
Families who have lived for generations in illegal shelters beside the railways and open sewers are now planning to move into proper housing and to put their children through a good education
This scheme is three and a half years old. It started with a fundraising Quiz Night in December 2015. That evening raised the seed funding which led to the first 80 beneficiaries receiving loans in June 2016. Since thenover £100,000 has been disbursed to nearly 500 beneficiaries. Of those, 142 are former rag pickers (the lowest of the low – women who fed their children by collecting other people's waste and selling it on to dealers). The rest were classed as ultra-poor (not rag pickers, but from extremely vulnerable families and living in the same illegal makeshift shelters). None of the beneficiaries are in any useful way literate – and yet 74% have increased their family income through becoming entrepreneurs.