Project Report

| Jul 5, 2019
How access to microcredit changes lives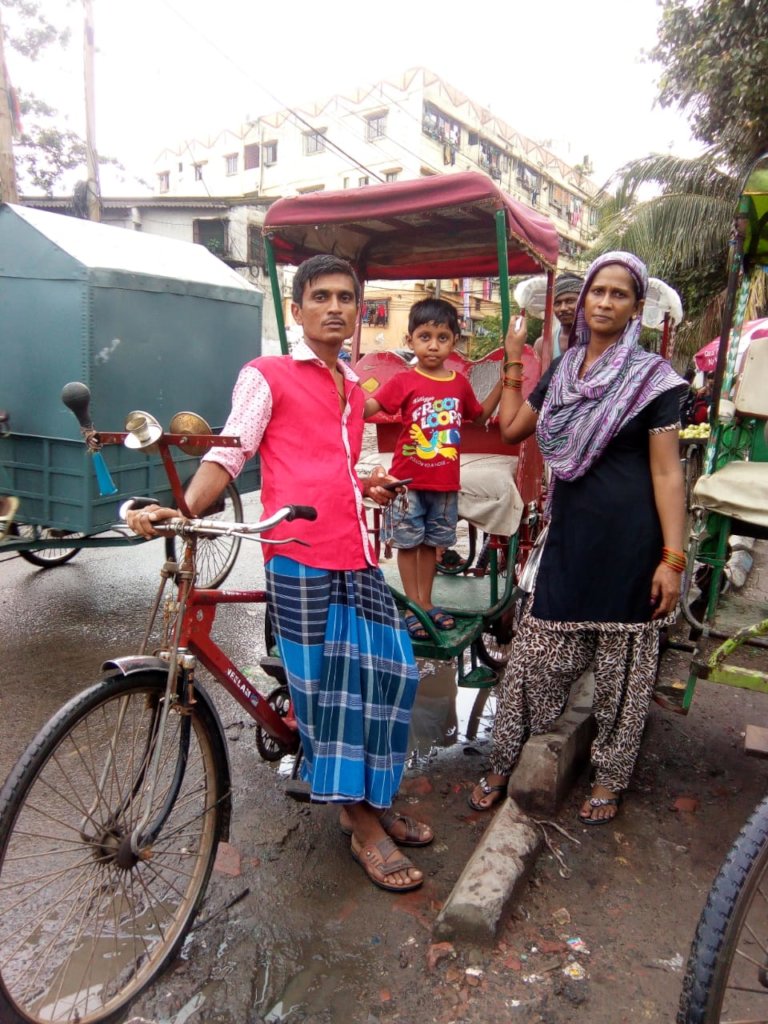 Rehana's Story
Rehana is 26 years old. She is married with a son and a daughter. They live near Topsia canal side settlements in central Kolkata. Her daughter studies in class IV and son studies in class I. Up until June 2018 Rehana earned a meagre Rs 50 (57 pence) per day by chappal-cutting (trimming the rubber straps of sandals). Her husband is a rickshaw puller and earned Rs 180 (£2.00) per day after paying Rs 70 rent to the owner for the rickshaw. This income was not enough for running the household expenses and sometimes the family went to sleep without food.
In June 2018 Tiljala SHED had received a loan of Rs 20,000 (£230) for supporting her business through Tiljala SHED's Alternative Livelihood Program. Rehana purchased a rickshaw. This meant that they no longer had to pay rent for the rickshaw. Her husband earned a good amount for 6 months and, no longer trapped by poverty, he was able to find good work in Odisha. So Rehana now rents out the rickshaw and receives Rs.70 per day in rent.
Having repaid the initial loan in full, she took another loan for Rs.30,000 in June 2019 and opened a new warehouse for waste recycling work. She is also repaying the second loan in time. Her husband continues to work hard in Odisha to help repay the loans.
Whatever she is earning from the warehouse is reinvested in the business to expand. The condition of the house and their living standard has increased. They have a lot of expansion plans and she plans to take another loan in the coming months after the repayment of the loan.
Life has changed in just 12 months and with their hard work this family is making progress and is on the way to end poverty in a few years.
Rehana wants to live an independent life and does not want to depend on her husband's income. She has dreams to make her son a police officer and daughter a nurse to serve the society. She is a leader in the community and an entrepreneur.
How are these loans organised?
Applicants for loans under the Livelihood programme all come from the very poorest section of society. They live in the desperately poor areas of central Kolkata which Tiljala SHED has supported for many years. All the beneficiaries are women, although many, like Rehana, may take the loan to enhance or support their husband's business. Each beneficiary is screened to ensure they are truly in need and living below the poverty line. Applicants form small groups of 4 or 5 women, CIGs (Credit Interest Groups) which then work together to support and encourage one another and also to take responsibility collectively forone another's repayments. A condition of taking a loan under this scheme is that the children must remain in education and that the beneficiary must have a bank account and develop a habit of saving. This way they are protecting their future.
Why is this scheme so successful?
It is run by and for women.
The CIG structure means that potential beneficiaries are selected by friends and neighbours who know them well.
Tiljala SHED provides business training and support
Because T Shed is a charitable organisation and not a bank, this scheme is run entirely on humanitarian grounds. If a crisis occurs – and amongst the very poor an illness in the family can cause a severe financial crisis – the loan repayments are rescheduled and sometimes even forgiven altogether. Even so the overall repayment rate is always very high.
What are the main positive outcomes/impact?
The women are empowered to build a business and become financially secure
Across the scheme women report much reduced levels of domestic abuse
The children remain in education and thus increase their own chances of a better future
Families who have lived for generations in illegal shelters beside the railways and open sewers are now planning to move into proper housing and to put their children through a good education
This scheme is 3 years old. It started with a fundraising Quiz Night in December 2015. That evening raised the seed funding which led to the first 80 beneficiaries receiving loans in June 2016. Since then a total of £96,500* has been disbursed to 472 beneficiaries. Of those, 142 are former rag pickers (the lowest of the low – women who fed their children by collecting other people's waste and selling it on to dealers). The rest were classed as ultra-poor (not rag pickers, but from extremely vulnerable families and living in the same illegal makeshift shelters). None of the beneficiaries are in any useful way literate – and yet 74% have increased their family income through becoming entrepreneurs.
We are desperate for another £10,000. With this we can expand the project and bring in the long waiting list of CIGs (more women like Rehana) who are desperate to change their family's fortunes with a small loan. With a further £10,000 circulating through the system, enough interest will be generated to cover the entire cost of the project and to make it fully self-sustaining.
A single donation from you will be accessed again and again as these desperate communities lift themselves out of poverty, educate their children and walk into a brighter future…
*£18,000 raised through Global Giving (about £3000 at that first quiz night) and the rest is funds returned in repayments and funds raised locally in Kolkata.