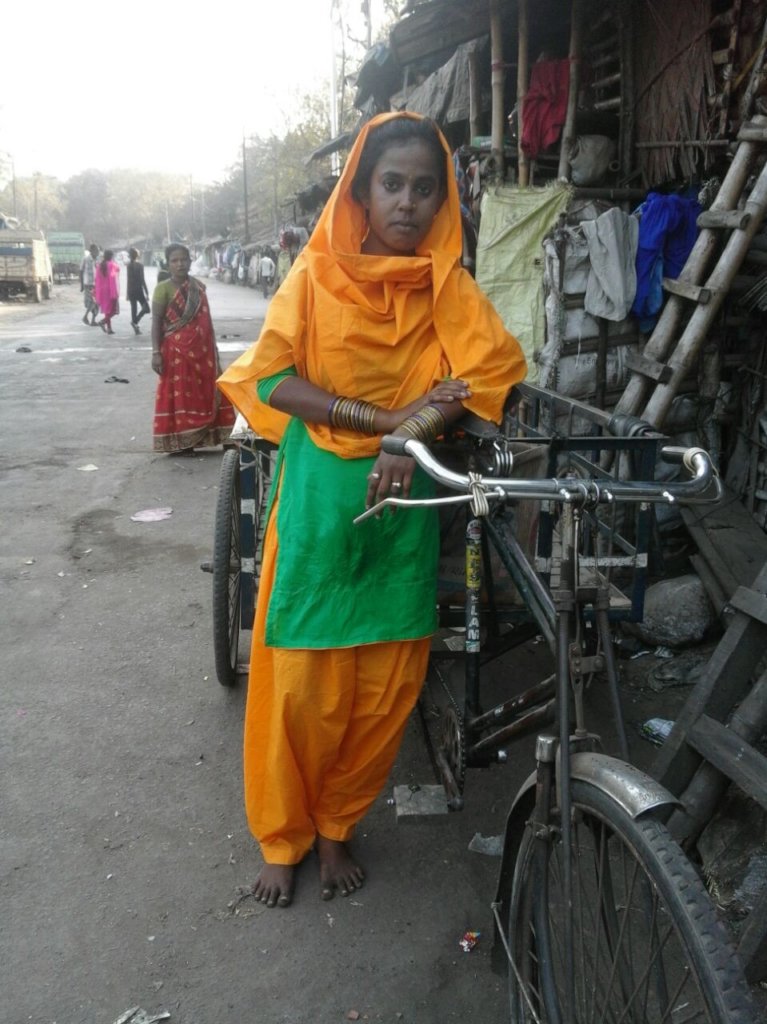 Hena is 24. She was born and brought up in the Narkeldanga Canalside Bustee, a strip of makeshift illegal shelters alongside the so-called canal - actually a giant sewer. Hena has never known fresh running water or a sanitary toilet.
She was born to immigrant parents and, as the oldest daughter, was kept at home to help her mother with her 6 siblings. Married off at 14 years old to Nabis it probably felt like an escape. Nabis is also from a destitute and illiterate family. He is a van puller, carrying loads between Burrabazar and Sealdah. They have three children: Suleiman is 13, Sabana is 10 and the youngest, Kurban, is 9.
Hena and her family are absolutely typical of the families in this desperately deprived part of Kolkata. In June 2017, Hena applied for a Rs10,000 ($150, £112) loan from Tiljala SHED through a CIG*. She bought a new van for her husband's business. Previously Nabis had hired a van every day which ate into his meagre earnings. Now that the family owns the van, Nabis takes home everything he earns. Hena herself does paper binding to bring in more income, though it doesn't amount to more than a few pence per day.
Overall since taking out the loan, the family's income has increased by 2000 – 3000 per month. Hena has paid off the loan on time and now only has about 3 more months until they are clear of the debt and the van is theirs. All three of the children are in school and Hena hopes for a better future for them.
And the Rs10,000 can be loaned out again to another family – or indeed to Hena herself.
By providing Hena and her family with access to credit, with the training and advice she needs to understand and manage the loan, you empowered her to make a difference to her own life and that of her family.
We have found that women like Hena who have financial power suffer less domestic abuse and gain more respect from their husbands and the wider community. The loan repayment rate for this project stands somewhere between 97 and 98%. So every donation will be recycled again and again.
Please consider a generous donation today so that we can give opportunity and hope to more women like Hena. We have a waiting list of over 90 women, screened, approved and just waiting for the funds to come available….
*Credit Interest Group. Lending/borrowing is organised around these community based organisations. Each of the 5 women in the group is responsible for all the others in the group. They support one another and recommend others for loans. It is a system which works very well indeed. Members of this CIG always repay early every month.