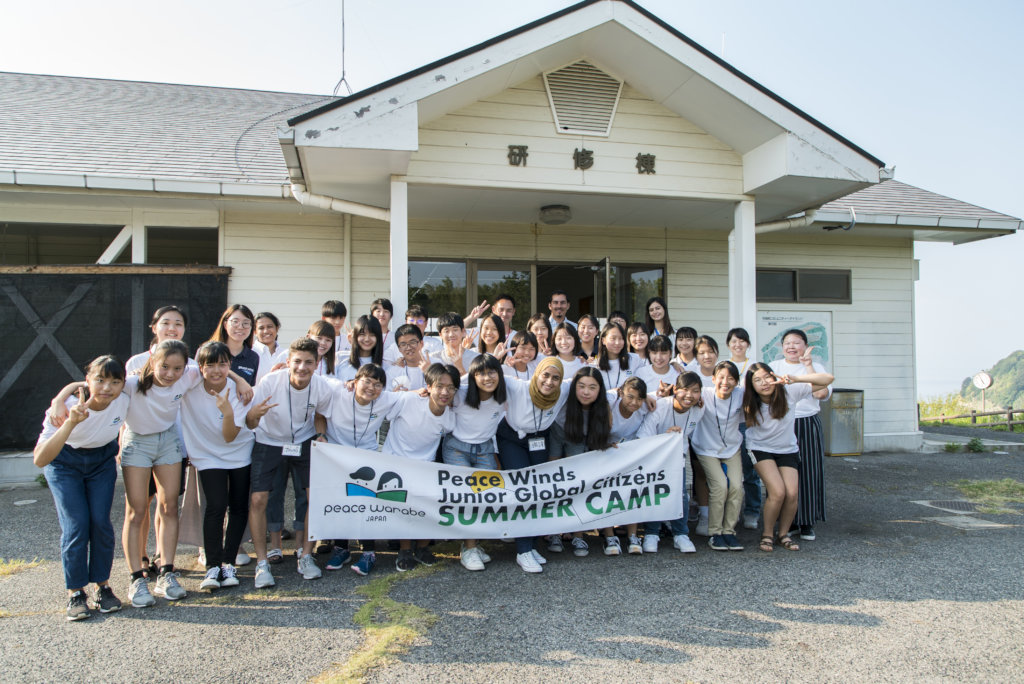 The Peace Winds Japan 2019 Junior Global Citizens Summer Camp was held from July 31 to August 5, amid the green mountains of Hiroshima and beautiful sea of Kamijima-cho in the Setouchi Inland Sea. The camp saw 28 teenagers from five countries—Korea, Hong Kong, Syria, Zambia and Japan—participate and grow together not only as friends but bond as a family. With the support of many generous donors from inside and outside Japan, Peace Winds Japan was able to provide scholarships to 16 participants who were either from disaster-stricken regions or underprivileged families.
The 6-day camp was structured mainly around 3 cores: 1) the Junior World Leaders Forum focusing on SDGs; 2) a creative project to solve world problems; and 3) indoor and outdoor leadership training activities. Participants enjoyed a full schedule each day, filled with group work and activities.
During learning sessions, participants worked in groups and learned to contextualize big issues facing specific countries. They researched, looked into the problems from different perspectives, debated and derived feasible solutions together. When comparing the presentations from the second day to the last day, we saw improvement in critical thinking and communication skills. Many Japanese participants who lacked the confidence to speak in English gave their final presentations in English.
In leadership training, participants teamed up and made strategies to clear different tasks. They exchanged ideas with groupmates, reached for agreement and made adjustments. Through this training, they gradually came to understand the strength of others and themselves.
Many participants said that they felt more prepared and empowered to face future challenges and were eager to help solve world issues they had learned about. Equally important, the participants bonded and promised to keep in touch after the summer camp. They built an international network of friends! Some quotes from our participants:
Jawad (17) from Syria - "It's a special experience and a lot of things in my life changed. I leaned how to work as a team, how to find solutions to problems I face. I want to change many things in the future. This camp taught me a lot of things. I will help my country to recover from the war."
Nagisa (14) from Japan - "It was amazing! Here, I met different people from different countries. Even though some of them were not really good at English, we could still communicate together and worked together as a team!"
Hala (17) from Syria - "I made so many good friendships and will definitely stay in touch! About the topics we covered - I really feel that we are responsible to all issues, we are the future like it said. I used to have troubles - like I didn't know how to find a solution to those issues, and it's already too late and too bad to fix them. But here, we worked in groups and we had ideas! I had ideas! And it helped! This experience gave me really good positive vibes!"
Grace (16) from Hong Kong - "We learned a lot as many activities required us to research and discuss. They helped us understand those world issues at a totally different depth. Many of us probably had heard about those terms, but we never ever had an opportunity like this to really look into them from different perspectives and share ideas with so many groupmates from different nations. It really meant a lot to us."
We anticipate seeing them flourish and become future pioneers in leading the world!