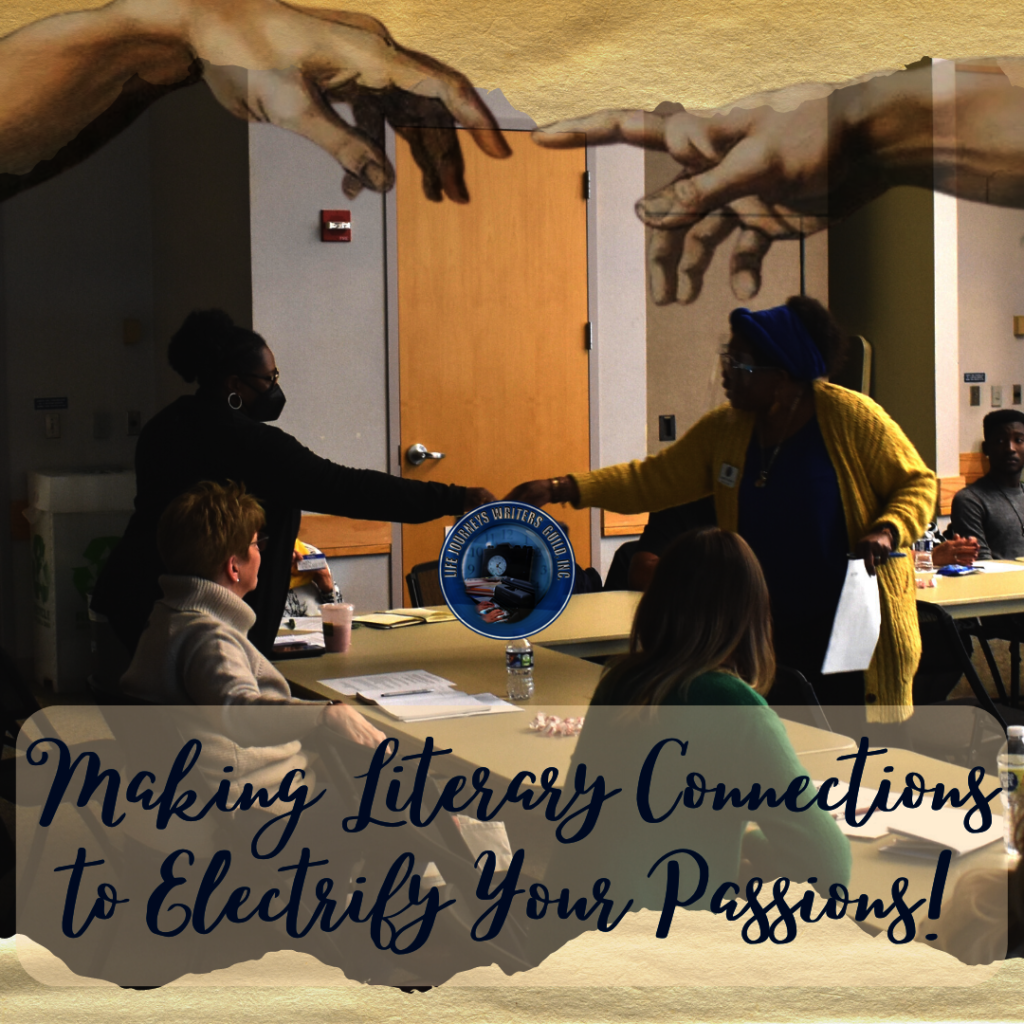 Dear Givers and Lovers of the Literary Arts,
The Life Journeys Writers Club, Inc., under the Life Journeys Writing and Mentoring Project (LJW&M), branched out to film production in the summer of 2022! The film project's title is The Prison Plumb Line, A Lyrical Drama! The new news is that we have begun to show it to at-risk young men and women—with impactful results. In the two separate groups thus far, riveting, emotional, and, most of all, reflective discussion and writing abounded. With the two groups, we were able to provide meals, distribute literary-incentive giveaways and grow mentoring relationships. The film has gained a distributor—in the hope of making the same impact across the country.
In 2023, we will create events during which our writers can showcase their works. And we will continue to mentor. With your donations, we were able to give books, and audiobooks, conduct writing workshops and have special industry presentations. We are now planning our 2023 line-up. We have earned members from various states in the USA. And we want to expand. We have embarked on a marketing plan.
And with your help, we are poised to keep it going! Overall, LJWC is looking forward to conducting more monthly writing workshops, giving away more literary-incentive gifts (like laptops, books, and school supplies), changing lives (especially the underserved and underrepresented), and making a socially conscious impact moving forward in 2023.
For sixteen years and counting, the LJWC has served as an economic bridge of access for those wanting and needing to engage in the literary arts. Its Life Journeys Writing and Mentoring Workshop Project brings the act of writing, i.e., its creative, critical thinking, life skills tools, an appreciation for writing, and fun-filled/therapeutic nurturing qualities to new and broader audiences. It also financially supports the projects of writers. It is a vehicle to create socially impactful statements of awareness, social, cultural, and gender tolerance, and civility that stir fruitful discourse at the hearing and writing of creative works.
The LJWC activates inclusion—especially for those who feel unheard and shut out. The LJWC was deemed the most diverse organization in its local tri-county area. And in every region it touches, it seeks to mentor, inform, and give platforms to poets and fiction/nonfiction writers alike. It aims to widen one's sensibilities to all types of voices that can be dutifully expressed, through prose and poetry, raising the visibility of artists and art forms. It seeks to encourage engagement in literary arts and the publishing industry, once thought to be unattainable to some. It works to include underserved and underrepresented populations, including the incarcerated and disabled populations (e.g., the visually impaired and the hearing impaired).
Kindly, I hope you will spread the good word on the wealth of writing, how we're working hard to make a difference, and that even a modest monthly gift such as $10/$25 (tax-deductible) can make all the difference—in our outreach and work!
All in all, we are very grateful!
Thank you,
Yvonne J. Medley, Founder/Executive Director
***The Life Journeys Writers Club, Inc. (our DBA is Life Journeys Writers Guild) is a 501(c)(3) nonprofit charitable organization celebrating sixteen years, serving those passionate about the Literary Arts and making a difference in the world around us. The LJWG serves as an economic and empowerment bridge of access to the Literary Arts and its therapeutic benefits through Literary Therapy. www.lifejourneyswritersguild.org 240.427.LJWG (5594)
***DONORS, a copy of Life Journeys Writers Club's current financial statement is available by writing LJWC, 1282 Smallwood Drive, W., Suite 107, Waldorf, MD 20603 or calling (240) 427-LJWG (5594). Documents and information submitted under the Maryland Solicitations Act are also available, for the cost of postage and copies, from the Maryland Secretary of State, State House, Annapolis MD 21401, (410) 974-5534.
Links: