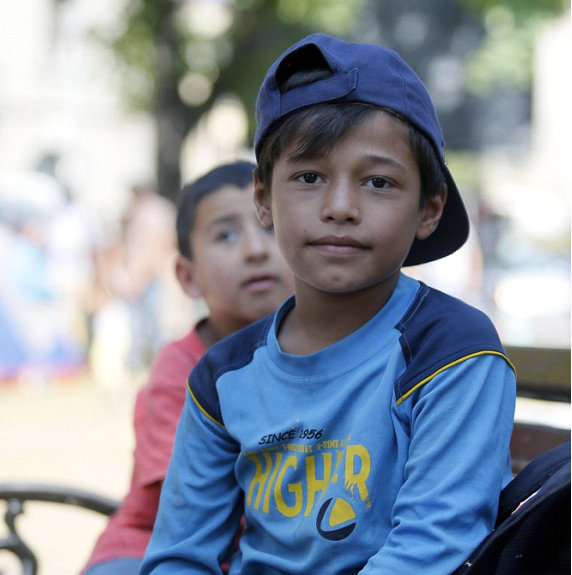 A little Abdul F., a ten-year-old boy, cried every night. During nightmares he was calling for his mom and dad. He went alone from Syria, as the youngest son of a Syrian family. Abdul walked on foot about 2,500 kilometers from Damascus to Belgrade. It took him more than four months to reach the capital of Serbia.
"My dad just said 'Run my son, save yourself!' My parents remained in Damascus to take care of my brothers and sisters. My father told me to go to Germany and he would find me there", said this brave boy.
He is missing his family. "I'm afraid bombs might kill them. In my country is a war, it's horrible. I keep asking myself whether I would see them again. And if I get to Germany, would they manage to find me there," said Abdul.
Older refugees kept an eye on Abdul and took care of him along the road. They say he was scared. He got sick with high fever in Greece. They tried to reach his parents, but they failed. Nobody answered, and they were afraid what might have happened to the boy's family. "My heart breaks when I hear him sobbing during the night" said one of Abdul's older companions.
"I went through disaster before I got here! But the worst part was when we were in Macedonia and tried to enter Serbia. The police have pushed people and beaten us, people were falling down, the children were crying. In my life I was never scared like that", said Abdul.
According to the official register, about 15,000 children between 7 and 18 years old arrived to Serbia. And it was only in the first half of the year. Among them, 4,000 children were without their parents. Having in mind that there were many children who were not registered, the number of young, lonely refugees is much higher.
Now, cold days have come. Refugees constantly keep coming to Serbia. Every day about 5,000 people fleeing from Asia are still crossing the border. Among them, more than a thousand children at any given time. Many are orphans. Some are lost on the muddy road, and the UNHCR and the Red Cross are trying to connect them with their families. Others, like Abdul, are alone, without their parents all along the unknown road. Some children have remained in Serbia and started going to school.
So far, we have provided winter jackets, warm shoes and hygiene items, worth about 900 Euros for children from Syria. But much more is needed. We are trying to raise funds and donations from every possible source.
Join us in our efforts and support our project "Let's Help Syrian Refugee Children in Serbia Now!" Let us help together those children to survive, to be safe. Warm clothing, a blanket, a toy ... just for one child, could be more than a valuable holiday season's gift. At the same time, any little thing for young Syrian refugees is our message that we think of them, that they are not alone.
If you choose to donate for four consecutive months and make a recurring donation to this project starting before December the 31st, we will receive an extra donation worth your monthly amount (up to $200) from GlobalGiving.org!
Pomoc deci warmly appreciates any of your future donations. Please donate whatever you can and be one of us who are happy to help as many refugee children as possible!
Let's have a wish come true, as John Lennon sang:"Imagine all the people/Living life in peace…/You may say I'm a dreamer/But I'm not the only one/ I hope someday you'll join us/And the world will be as one".
Our team wishes you Happy Holidays and the very best in the New Year!
Links: