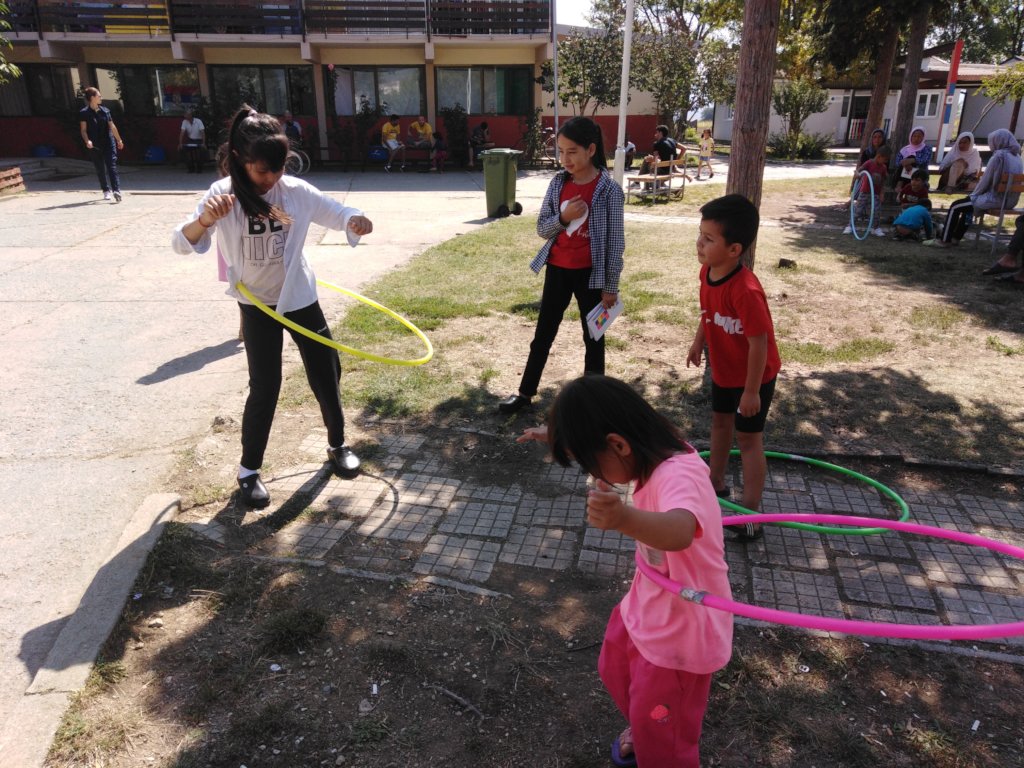 Despite the pandemic, refugee centers have been welcoming new families and bidding adieu to the ones leaving the southern Serbian region. One of the difficulties of being in a refugee camp during a pandemic is the lack of proper socialization. Cooped up inside, with limited forms of social interaction, makes it, especially for children to thrive.
At a time when it becomes difficult to add exercise to their daily routine, it is important to take advantage of warm and sunny days in a time where those days are scarce. So, on one of the last warm and sunny days of the year, our psycho-social support coordinator took a group of children to hula hoop. Benefits of hula hooping are immense, but above all, they are a fun activity that can be done in a group or with children on their own, all the while respecting social distancing measures. The activity provides children with an opportunity to, through a game, develop and boost their motor skills and coordination. At the end of the day, it proved to be a good activity for children to get to know one another. There is a constant change of those living in refugee centers so it sometimes becomes difficult for children to make friends or get to know their potential friends.
One of the boys who was part of the workshop says that "the activity was fun and it allowed everyone to make friends". Socializing is an important part of children's well-being and it is now, more than ever, necessary for children to take part in such activities.
We want to be able to continue organizing activities such as these for young children to help them and keep their mind off the stresses of being a refugee in a foreign, often temporary country.
The work that we do is entirely dependent on the support from people reading these reports. The bulk of our income comes from GivingTuesday. This year on December 1, we invite you to help our work and mission to help children in Serbia and are asking you to make a donation. No matter how small, GlobalGiving is committed to helping us in our goal and will be donating a portion of the bonus prize to each organization. The more donations we get on December 1, the higher our bonus prize will be!

Links: