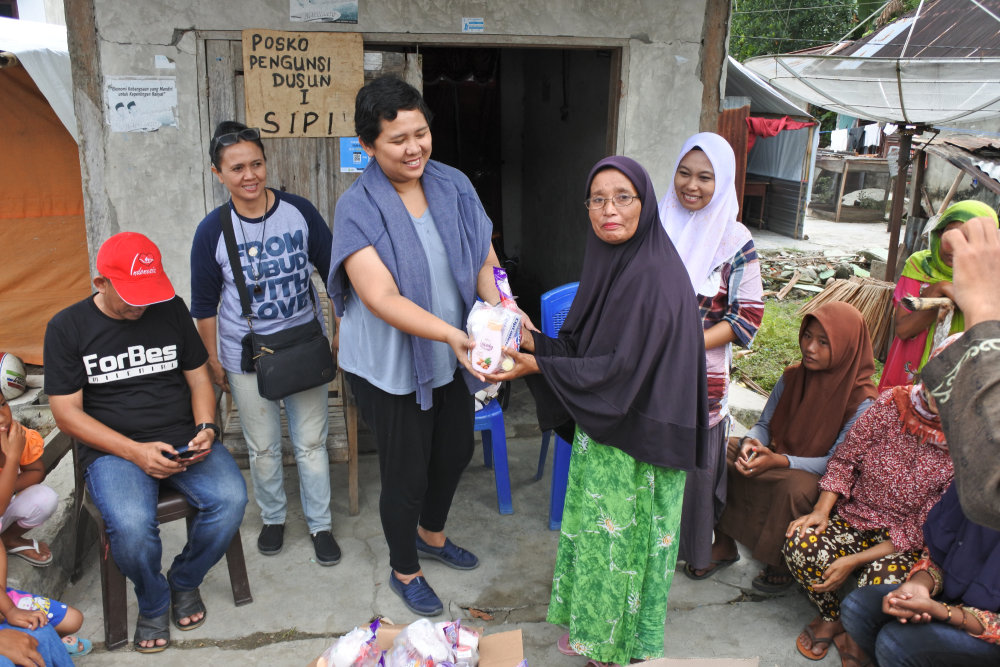 On September 28, 2018, the series of earthquakes and following tsunami which struck Indonesia's Central Sulawesi province claimed more than 4,000 lives and led to economic losses of $1.3 billion. The vast majority of the damage occurred in the coastal city of Palu, where 68,451 houses were destroyed, forcing nearly 206,5000 people to seek shelter.
Less than 10 months after the disaster, communities are building their resilience thanks to the dedicated efforts of local leaders and the endless generosity of GlobalGivers like you. By supporting grassroots activists who understand how to best support their community, you're not only helping people today, you're part of the movement to build long-term preparedness in the face of future disasters. 4,718 members of our community have given $613,070 to vetted nonprofit partners, allowing them to continue fostering hope and strength in Central Sulawesi. In this update, we'd like to highlight the dedication of two partners your donation has supported.
Yayasan Usaha Mulia traveled to the most remote villages to support regions which rescuers hadn't been able to reach due to continuing landslides and poor road conditions. Their efforts exceeded all predictions: they distributed long-awaited food, water, hygiene supplies, clothing, and educational materials to 2,500 families in the most far-flung communities of Indonesia. Yayasan Usaha Mulia also provided 1,000 solar lamps and water purifiers in the villages of Saloya, Amai, and Kaliburu, enabling people in these communities to continue supporting themselves long after the volunteers left.
In addition to lifesaving supplies, Yayasan Usaha Mulia held support sessions to help people in these villages overcome the disaster they endured. The trauma relief program included discussion groups, relaxation techniques, and even yoga sessions to ease stress and promote wellbeing.
Internews has continued its innovative approach to disaster resilience by supporting local journalists. Reporters with Kabar Sulteng Bangkit (KSB), a community-led news organization created shortly after the earthquake, are working to spread crucial aid information, put a stop to fake news, and hold regional government and aid officials accountable.
In a recent article in The New Humanitarian, Internews activist Firmansyah Syamsi shared how KSB journalists take a unique approach to disaster reporting. "Usually, after a disaster, the kind of news that is published especially in Indonesia is just about blood and victims being put on display." However, KSB knew this approach wasn't in line with their goals or ethics. "So we promote the perspective of victims so that victims feel they are heard."
By giving survivors the opportunity to share their stories, this grassroots news source will ensure that the rebuilding process is inclusive and accountable in the months to come.
When you donate through GlobalGiving, you're making the smart choice to support sustainable, community-centered change led by partners like these. As inspirational local leaders build resilience long after the disaster, we'll continue to keep you updated—your generosity makes stories like this possible.
Warmly,
Nicole Gieselman + the GlobalGiving Team