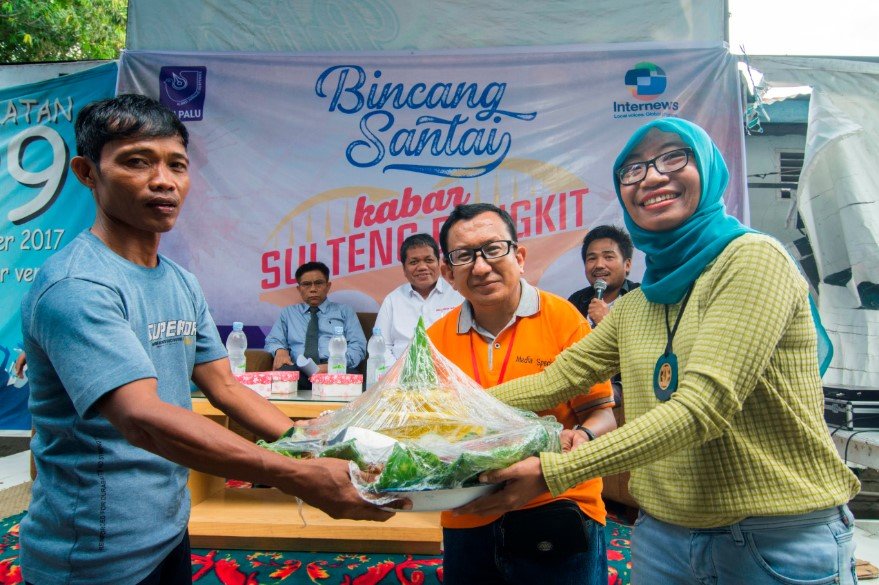 In the weeks and months following the tsunami and earthquake that struck Sulawesi in September 2018, Internews mobilized with Indonesian partners, Aliansi Journalis Independen (The Alliance of Independent Journalists—AJI) and Katadata (a data journalism news outlet) to establish Kabar Sulteng Bangkit (KSB), or "The News of Central Sulawesi Rising." KSB was launched on Facebook in November 2018 with two editors from AJI, one Facebook page admin from AJI, and four local journalists from Palu, Sulawesi's capital city and an area that was hit especially hard by the disaster. KSB's mission is to distribute inspiring content that: taps into local wisdom, especially that which relates to disaster mitigation; is from the victim's perspective; is gender sensitive; and does not link disasters with ethnicity, race and religion issues, while providing valuable, practicable information for recovery and resilience.
To ensure that people have access to up-to-date recovery and aid information, and to help aid organizations respond to the needs of communities, KSB is actively collaborating with the Indonesian Red Cross, Save the Children, ERCB - the Emergency Response Capacity Building Consortium, Nebula FM Radio, Recover Radio and two local televisions: Palu TV and Radar TV. To raise awareness of the new local news source, KSB held a press conference, aired live on Recover Radio 91.2 FM Palu. The conference topic was, Debt Relief for Victims of the Disaster: Is It Possible?, and held a conversation with representatives from the Indonesian Consumer Institution Foundation, the Financial Services Authority, the Central Sulawesi Regional Representative Council, and moderated by the chair of AJI's Palu chapter.
In December, KSB held two more press conferences to inform the public: Shelter Disputes - Temporary Shelter: is It Fair for All (including women, children, and disabled people)?, and What is the General Plan for Spatial Planning in Central Sulawesi Post Disaster: Will It Consider Disaster Mitigation?. These press conferences are giving people a chance to hear from local leaders and air their concerns in an open forum.
Since its launch, KSB has grown in followers week after week. It now has more than 4,350 followers, gaining close to 1000 new followers since late December 2018. Its most popular story to date, on the history of place names and how they relate to disaster mitigation, reached more than 100,000 people, and was shared or commented upon more than 5000 times. To see the latest stories (in Bahasa Indonesia), you can follow KSB at www.facebook.com/kabarsultengbangkit.
Thank you for all of your support—this project would not have been possible without the support of GlobalGiving and donors like you!