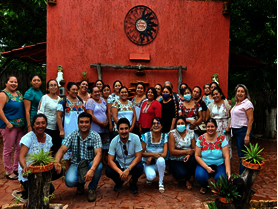 De los meses de abril a agosto, las productoras se han capacitado en procesos de producción de la miel, propóleo y transformación de sus productos, cuidando en ellos su calidad, buenas prácticas de fabricación y transformación de diferentes productos.
Han reforzado, también, la adopción de buenas prácticas en torno al cuidado de los meliponarios, como, por ejemplo: mantener las colmenas limpias; hacer un uso eficiente del agua; establecer plantas alrededor del área del meliponario; así como un manejo de cero residuos sólidos alrededor del mismo.
En torno a la comercialización han estado trabajando en el diseño de marca de productos de miel de alta gama, para poder acceder a otro nicho de mercado tipo boutique. En cuanto la tengamos lista te la compartiremos de inmediato.
Así mismo, las productoras de la red aparecen con la venta de sus productos en físico y ventas a través de redes sociales en Facebook e Instagram. Te recomendamos que visites su página y puedas adquirir alguno de sus productos en https://yaalkaab.com/
¡¡Muchas gracias!!
(English version)
From April to August, the producers are being trained in the processes of honey production, processing, and transformation of their products, taking care of their quality, manufacturing good practices and transformation of different products.
They have also reinforced the adoption of good practices around the care of meliponariums, such as: keeping beehives clean; making efficient use of water; establishing plants around the meliponarium; as well as zero solid waste management around it.
Around marketing, they have been working on designing high-end brand honey products, to be able to access another niche type boutique market. As soon as it's ready, we'll share it right away.
Moreover, the production companies of the network continue with the sale of their products in stock and sales through social networks on Facebook and Instagram. We invite you to visit their website and you can buy some of their products at https://yaalkaab.com/
Thank you very much,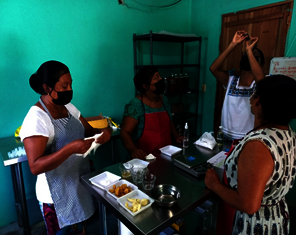 Attachments: