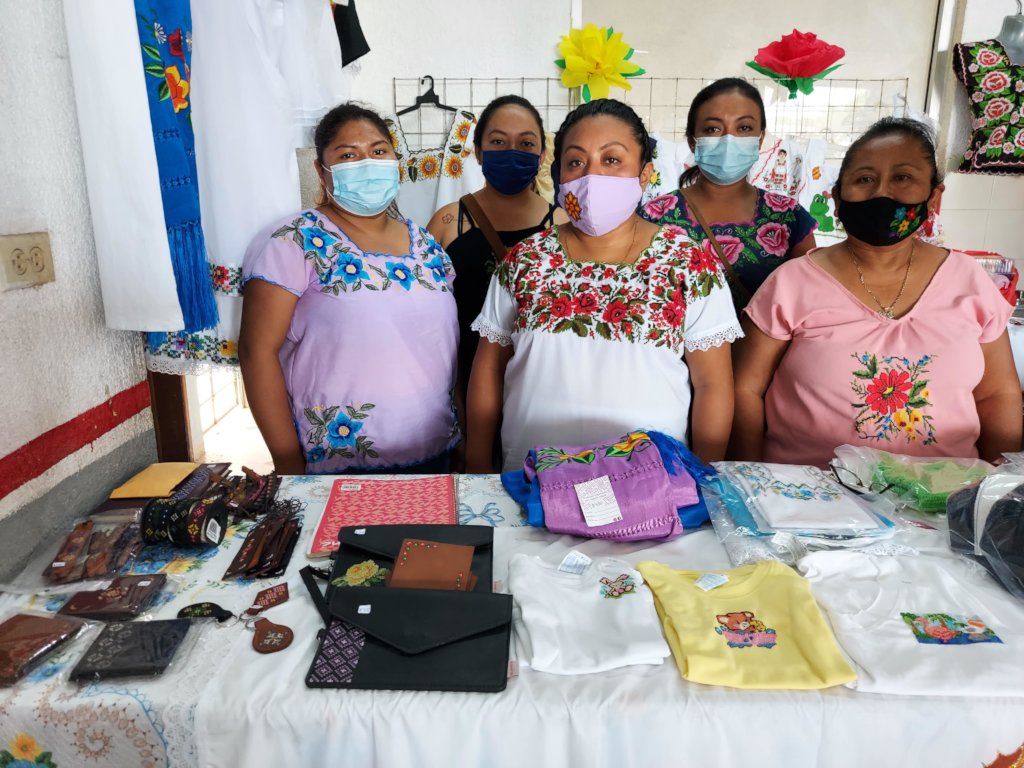 Han sido meses llenos de retos: primero por el cierre de las comunidades para evitar la propagación, lo que llevó a que las productoras no pudieran salir a comprar insumos o a comercializar; segundo, por la crisis económica y la reserva de las personas a comprar productos que no fueran de primera necesidad.
Sin embargo, poco a poco, las productoras de En Pro de la Mujer han retomado sus actividades de comercialización. Durante julio pasado y gracias al continuo trabajo de las productoras para sumar alianzas, se llevó a cabo la Feria Artesanal y Turística "Ko'oten Tekax" (Ven a Tekax) en la terminal de autobuses Mayab, Yucatán.
El evento se llevó a cabo del 9 al 19 de julio y fueron invitados grupos y colectivos varios de artesanas que ofrecieron productos textiles, de miel y derivados, productos gastronómicos, entre otros, todo con el objetivo de reactivar la economía local y apoyar a cientos de familias rurales que obtienen su sustento de la venta de estos productos.
Las participantes de En Pro de la Mujer, además de poner un stand con venta de sus productos, también fueron invitadas a dar una serie de pláticas para exponer su proyecto organizativo, pues se han consolidado como un referente en la Península de Yucatán.
La recuperación ha sido lenta y paulatina, pero las mujeres rurales siguen trabajando tenazmente para lograr su empoderamiento social y económico.
Con tu donativo, tú eres parte de este éxito. Ayúdanos a lograr más, comparte nuestro proyecto con amigos y familiares.
También puedes adquirir productos artesanales aquí: https://yaalkaab.com/
------------------------------
The lasts months It's have been full of challenges: first due to the closure of the communities to prevent the spread, which led to the producers not being able to go out to buy inputs or to market; second, the economic crisis and the reservation of people to buy products that were not essential.
However, little by little, the producers of En Pro de la Mujer have resumed their marketing activities. Last July and thanks to the continuous work of the beneficiaries to add alliances, the "Ko'oten Tekax" (Come to Tekax) Feria Artesanal y Turística (Craft and Tourist Fair) was held at the Mayab bus terminal, Yucatán.
The event took place from July 9 to 19 and various groups and collectives of artisans were invited to offer textile products, honey and derivatives, gastronomic products, among others, all with the aim of reactivating the local economy and supporting hundreds of rural families who obtain their livelihood from the sale of these products.
The participants of En Pro de la Mujer, in addition to setting up a stand selling their products, were also invited to give a series of talks to present their organizational project, as they have established themselves as a benchmark in the Yucatan Peninsula.
Recovery has been slow and gradual, but rural women continue to work tenaciously to achieve their social and economic empowerment.
With your donation, you are part of this success. Help us achieve more, share our project with friends and family.
You can also buy artisan products here: https://yaalkaab.com/