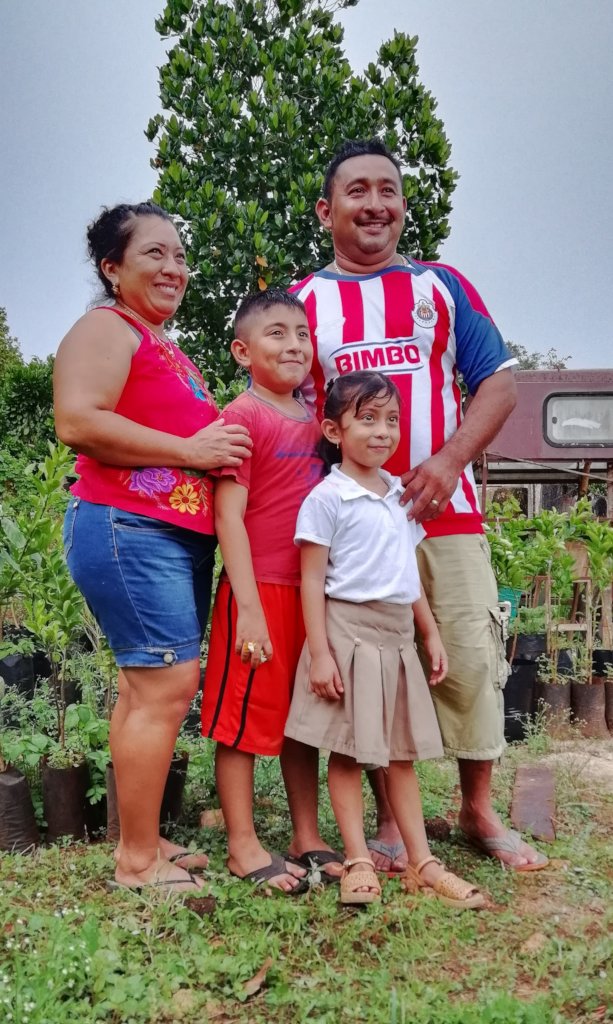 4 groups supported: Flor de Lirio in Oxkutzcab; Manos Mágicas, Flor de Margarita and Gardenias in Tekax, all in Yucatan.
In the last three months, the beneficiaries have not only had to face the economic crisis derived from the pandemic and the period of confinement, but also suffered material losses in their workshops (infrastructure, machinery, tools and supplies) due to the storms "Amanda and Cristóbal". Given this, an analysis and participatory planning was carried out to promote a recovery period.
Access to the communities has been difficult, as there is less transport traveling between them. The training sessions and assistance have been carried out almost regularly thanks to the use of information technologies, but to carry out the commercialization of the participants' products, as well as the donations in favor of those affected by the storms, Educampo's team had to establish routes and delivery days to continue supporting the beneficiaries and finding solutions.
In order to reactivate the economy, we participated in the Economic Reactivation Program of the Yucatecan Entrepreneur Institute, where the 4 groups sold textile products, such as bracelets, key rings, embroidered notebooks, etc.
Finally, a marketing plan based on the use of social networks has been implemented. Many participants were unaware of the use of these digital tools, but to overcome this obstacle, the Educampo team has designed simple materials that explain the basic concepts for starting this online marketing.
They have been difficult months, but thanks to everyone's support, the participants have been able to move forward.
Testimony
Group: Gardenias
Location: Tekax, Yucatán
"At the beginning of the contingency due to the pandemic and with the economic impact, as a company it was a moment of frustration and despair, especially when the storm hit the peninsula. But this tragedy made us build possible solutions.We were able to continue the business by taking care of each other's health, it was the main thing. We take the necessary measures, and based on this we produce garments that were essential at the time, such as face masks.
We learned that we have the ability to overcome any obstacle our company might go through and that we are stronger than we think. I would tell other women that what doesn't kill you makes you strong and being strong means not giving up and that you always have to look for alternative solutions. "
----
4 grupos apoyados: Flor de Lirio en Oxkutzcab; Manos Mágicas, Flor de Margarita y Gardenias en Tekax
En los últimos tres meses, las beneficiarias no solo han debido enfrentar la crisis económica derivada de la pandemia y el periodo de confinamiento, sino que también se sufrieron pérdidas materiales en sus talleres (infraestructura, maquinaria, herramientas e insumos) a causa de las tormentas "Amanda y Cristóbal". Ante ello, se realizó un análisis y una planeación participativa para promover un periodo de recuperación.
El acceso a las comunidades se ha dificultado, pues hay menos transporte realizando traslados entre ellas. Las sesiones formativas y la asistencia han podido realizarse de manera casi regular gracias al uso de las tecnologías de la información, pero para realizar la comercialización de los productos de las participantes, así como los acopios a favor de los damnificados por las tormentas, el equipo de Educampo debió establecer rutas y días de entrega para seguir apoyando a las beneficiarias y encontrando soluciones.
Con el objetivo de reactivar la economía, participamos en el Programa de Reactivación Económica del Instituto Yucateco del Emprendedor (IYEM), donde los 4 grupos vendieron productos textiles, como pulseras, llaveros, libretas bordadas, etc.
Finalmente, se ha implementado un plan de comercialización basado en el uso de redes sociales. Muchas participantes desconocían el uso de estas herramientas digitales, pero para superar este obstáculo, el equipo de Educampo ha diseñado materiales sencillos, que explican los conceptos básicos para el inicio de esta comercialización en línea.
Han sido meses difíciles, pero gracias al apoyo de todos, las participantes han podido salir adelante.
Testimonio
Grupo: Gardenias
Ubicación: Tekax, Yucatán
"Al inicio de la contingencia por la pandemia y con el impacto del lado económico, como empresa fue un momento de frustración y desesperación, más aún cuando la tormenta golpeo la península. Pero esta tragedia nos hizo reflexionar para construir posibles soluciones. Pudimos continuar con el negocio, ya que en primer lugar el cuidado de la salud de cada una es lo primordial. Tomamos las medidas necesarias, y con base a esto producimos prendas que fueran esenciales en el momento, como los cubrebocas.
Aprendimos que tenemos la capacidad de superar cualquier obstáculo que nuestra empresa pudiera atravesar y que somos más fuertes de lo que creemos. Le diría a otras mujeres que lo que no te mata te hace fuerte y ser fuerte significa no darse por vencido y que siempre hay que buscar alternativas de solución."