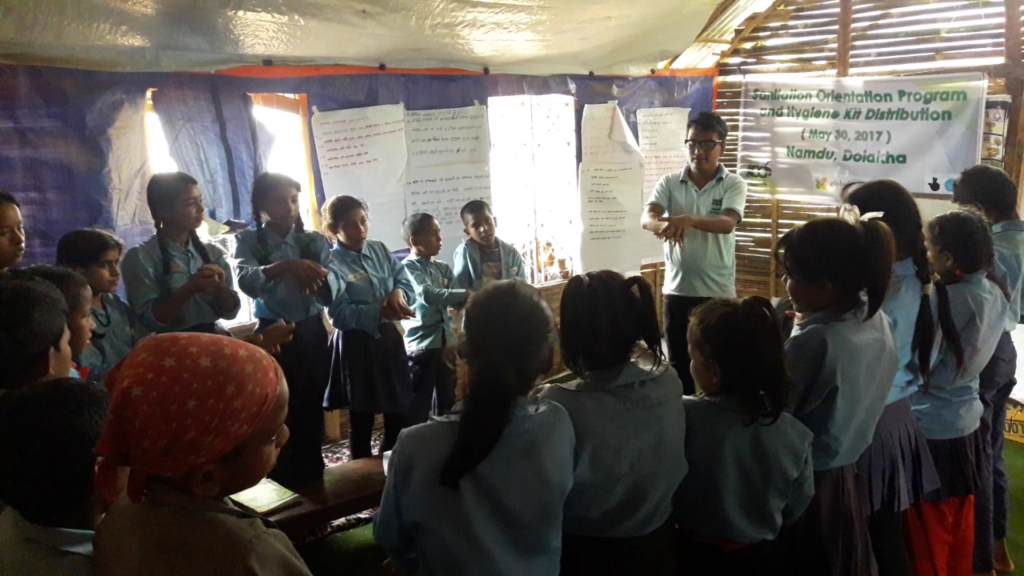 In response to the need of hygiene kit support discussed during Stakeholders Visioning Workshop of January 2017, sanitation kits were supported to project schools of Namdu, Dolakha on May 30, 2017. Ms. Rachel Smith, Director of Programmes and Operations of GlobalGiving UK also attended the orientation and distribution program in Namdu village.
Sanitation kit is a wholesome package comprising of basic items required for personal hygiene (such as nail cutter, soap, comb, etc.) which is meant to help students of rural villages in a daily basis. The purpose of distributing this sanitation kit was also to make the children (and their parents) aware on the need to use such items regularly in their daily life. Considering the age group of students, 7 project schools having grade 2 and above were selected. But before distribution of sanitation kits, Sanitation Orientation Program was conducted for nature club representatives and one focal teacher from each school. 76 participants attended. This orientation focused on proper use of items included in the sanitation kit and on improving personal hygiene. Sessions were also held on safe drinking water techniques, sanitation, waste management and personal hygiene issues. More importantly, role of school club and teachers in maintaining good school environment was prioritized.
"We knew many things but we were not able to include them in our behavior" said Soniya, one of the students from Shree Busti Secondary School. "We will work along with teachers to bring positive behaviorial changes in our school."
The oriented students/ child club representatives will share their knowledge with other friends in school, which includes providing instruction on proper use of items included in the sanitation kit and role of school club / school committee in ensuring its proper use. Distribution was carried out for the students from Grade 2 to 10, once the trainees conducted the orientation program in their respective schools.
"The kit is a huge support for our students", said one of the teachers. "Thank you so much for the support."
And, we thank you for your donation, which helped to make the program possible.