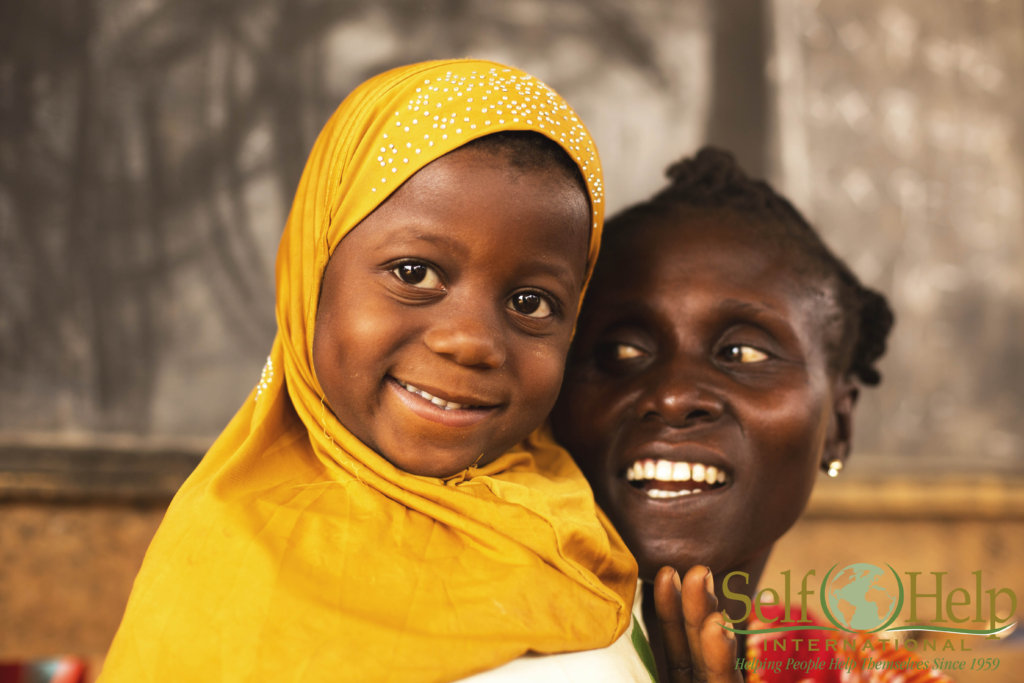 ***LYDIA & NELLY'S PHOTO MADE THE GLOBALGIVING PHOTO CONTEST***
CLICK HERE TO HELP US WIN THE $1,000 GRAND PRIZE

I was excited to meet Lydia this past February. I had read her story. I was rooting for her.
She shared that she has expanded her petty trading business to more products than just fabrics in order to increase her income so she can better provide for her daughters - particularly as her older daughter enters her teenage years and junior high and high school fees loom. Her younger daughter Nelly, now 4 1/2, started school in Beposo last year, and will enter Kindergarten 2 this fall. She takes great pride in seeing her daughters get an education.
Like other traders, Lydia sets off very early each morning to walk from village to village to sell her products, or to take them to market on market days. She tries to be the first person there so she can get the most customers since there are many other petty traders selling similar products.
Because she sets off so early, Lydia doesn't have time to prepare breakfast for the girls before school. If she made breakfast each morning, and took the time to fetch water, fetch firewood, boil the water, and prepare the porridge, she would miss out on the sales that put dinner on the table at night. The sales she needs to pay school fees.
Thanks to your support, Lydia no longer has to decide between providing breakfast or providing dinner. She is grateful to Self-Help for supporting the start of a new school feeding program in Beposo. The school is close enough that Nelly can easily walk to it each morning, and thanks to Self-Help, Nelly gets a hot breakfast first thing in the morning, even though Lydia has already left the house. Life as a petty trader isn't easy, but for her children, it's worth it.
Photographer Andy Robinson captured the photo above of Lydia and Nelly together that day, and GlobalGiving selected it as one of the top photos in the GIVE HOPE category of their photo contest this year! You can help us win the $1,000 grand prize by voting and inviting your friends to do the same!
***VOTE FOR LYDIA & NELLY'S PHOTO IN THE GLOBALGIVING PHOTO CONTEST***
CLICK HERE TO VOTE & HELP US WIN THE $1,000 GRAND PRIZE
Don't forget to check your email to confirm your vote!
The organization whose photo has the most votes between 11 AM CDT on July 18 and 11 AM CDT on July 22, 2016 will win.
Read the full terms and conditions here.
Links: