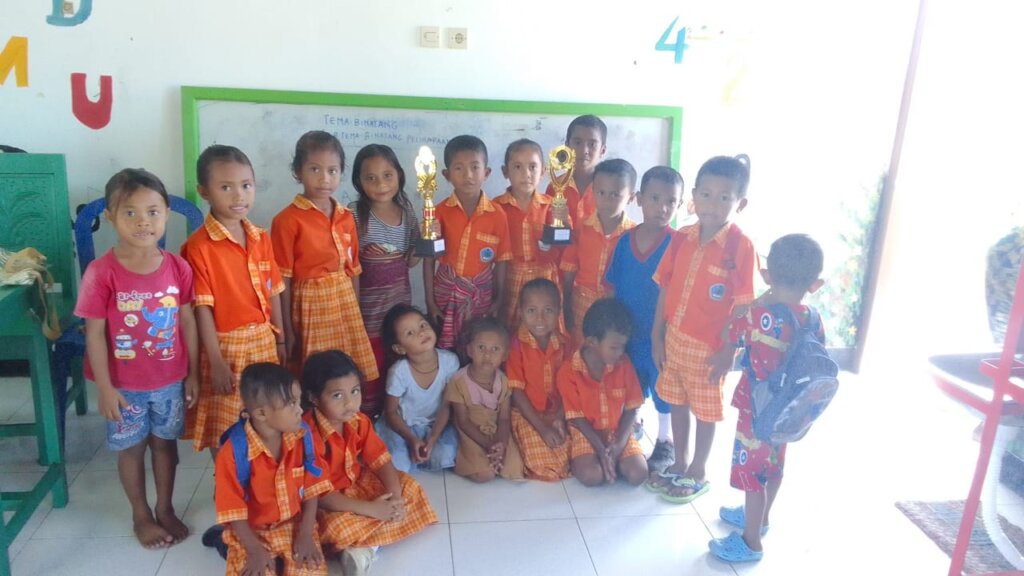 Another exciting news comes from the school in East Nusa Tenggara!
This time coming from PAUD St. Arnoldus Jansen. In the celebration of Webriamata Church's birthday and the Easter Celebration, the committee held various types of competitions, including coloring competitions, fashion shows, singing, and dancing. The students of St. Arnoldus Jansen took part in the coloring competition and a fashion show, in which they won 1st place.
This competition inspires kids to do their best. Kids who compete will become more inquisitive and learn to work with others.
About St. Arnoldus School
Paud St. Arnoldus School was established in 2008 to provide early childhood education for the children in Desa Badarai, Kecematan Wewiku Kabubaten Malaka. The PAUD doesn't have its own building and uses one room of the SDK Umatoosfatuk for learning activities. The used room doesn't provide enough space for the kids and has windows without glass, which is troubling, especially during the rainy season, and was often the reason for class cancellations.
The PAUD St. Arnoldus Jansen needs its building urgently since the SDK wants to use the room where the lessons are currently held as a library. This condition of the room is not suitable for the kids. In 2020, HHI was able to rebuild its school, and the children are now able to learn and play in their class and enjoy safe outdoor educational facilities with their friends.
You heard the call for help and answered it magnificently. Thank you for your continuous support and willingness to help us move forward and reach out to more children and schools in need.