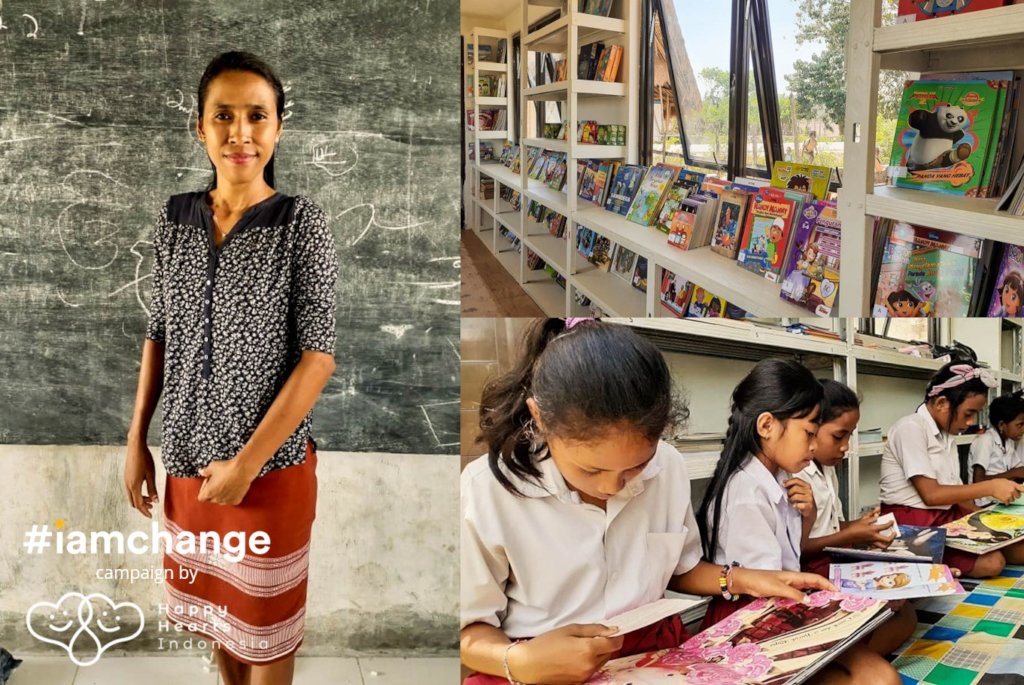 Mama Marta (in photo), as she's often referred to, has been a teacher at SD Masehi Katura, Letekonda Village, Southwest Sumba, East Nusa Tenggara (NTT) for 11 years. The elementary school, which was founded in 1982, now has 158 students enrolled. Unfortunately, reading ability of children at the school is still quite low. Literacy in NTT in general is still low compared to the national standards.
The province of East Nusa Tenggara (NTT) ranks third for the highest illiteracy rate among 34 provinces in Indonesia. The latest data from the Central Statistics Agency of NTT showed that 7% of population aged 10 years and older is illiterate (BPS NTT, November 2019), compared to 2% nationally. In Southwest Sumba Regency of NTT the figure is even more pronounced at over 17%.
Improving literacy is an urgent need in order to improve the quality of human resources in the region and this has become a homework for Marta and her colleagues. This task is not easy and one that is not to be burdened by teachers alone.
The support that Marta and her students have received from Happy Hearts Indonesia's #iamchange campaign in the past few years has made her optimistic. After previously receiving support in the form of two new classrooms with proper furniture and toilets as well as training programs, SD Masehi Katura has also been equipped with a library.
Starting in late 2019, Happy Hearts Indonesia provided extended support for the three libraries built in Southwest Sumba including the one at SD Masehi Katura. In collaboration with Taman Baca Inovator, these libraries are supplied with more books, librarian training program and related activities such as reading club and English Language class that attract more students to visit the library.
"Our students have become much more excited with the addition of new books and literacy-related activities as seen in their frequent attendance at the library. As a second-grade teacher, I find the library helpful. The books, the new ones with illustrations, help our students practice their reading and comprehension," explained Mama Marta. Albina, a sixth-grader who often spends her time at the library, echoes the sentiment, "I don't have novels at home, so I like to visit the library to read a variety of stories."
Seeing the enthusiasm of students in preferring to stay at the library during recess and after school, Marta is convinced that soon, reading ability of her students would equal the national standards. She knows that creating change takes time and is not easy. However, with the support from Happy Hearts Indonesia and its partners and donors, she is witnessing a positive change in the lives of her students one day at a time.
---
We have just completed the rebuilding of 2 schools in East Nusa Tenggara, with 3 more that are almost completed. Thank you for your support!
Links: