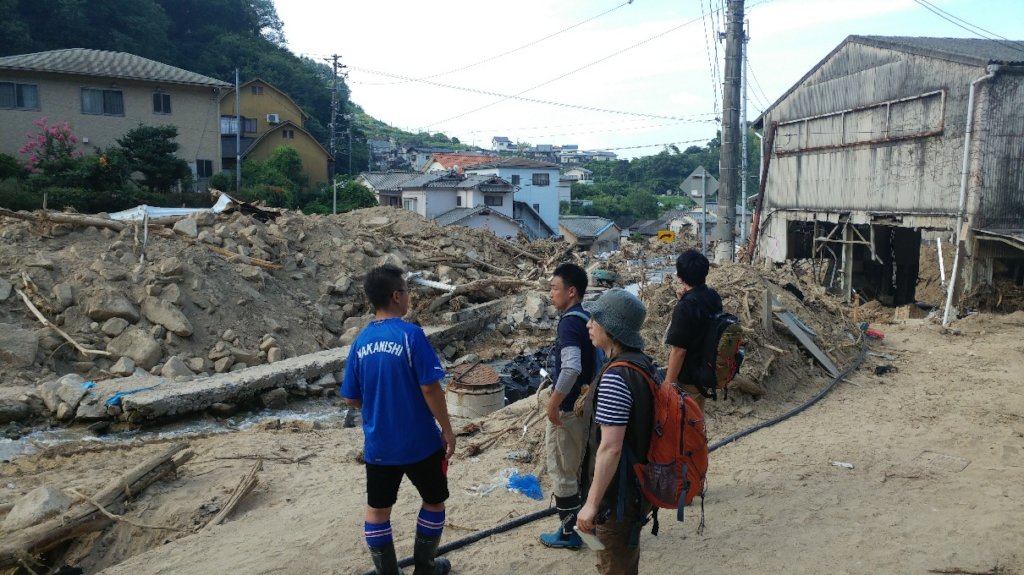 Ten staffers from seven different NPO Support Centers across Japan (Tokyo, Kanagawa, Nagano, Miyagi and Hyogo prefectures) went to either Okayama or Hiroshima for on average 5 days, from July 18 to August 24, in order to support the work in western Japan affected by heavy rain and landslides.
Overall, these dispatched staff supported the operations of disaster volunteer centers and meetings in which stakeholders got together to gather and share information and the needs of affected areas and volunteers to identify and determine the direction of action. They played valuable roles in helping out with agenda setting and taking data/notes from the meetings.
Above all, these dispatched NPO support center staff's support became invaluable in that not only do they already possessed expertise and experience on the ground, but also their standpoint of being an outsider was appreciated because the staff on the affected areas have their hands full with launching disaster volunteer centers.
Each dispatched staff's work and activities varied and was different day to day as the situation in affected areas changed. They helped out the reception of volunteers and took calls from volunteers. In some areas they suggested the improvement of reception operation (e.g. creating a FAQ list) using their volunteer management knowledge and skills. Some sorted out relief supplies and delivered them to satellite centers. Along the way, they took pictures of their delivery and affected areas for a record.
Okayama was active in introducing and effectively utilizing various IT tools in gathering and responding to the needs, volunteer registration, and information dissemination. The dispatched staff helped out these procedures and sometimes created a manual. Setting up an online system at the time of launching a disaster volunteer center was essential in order to make its work more efficient.
The support experience also helped the dispatched NPO support center staff think about their role more concretely if a similar disaster strikes in their own area. One person wrote the importance of having on-the-ground assessment for the support activities as well as thinking the next steps, with the awareness of "you-are-there-feeling". Some felt that the significance of networking with stakeholders (not only with local nonprofits but also local governments and businesses) and information provision and sharing with them in "normal times" (which local NPO support centers should have) become more important at the time of emergency. One person also expressed the ability to facilitate "calm dialogue" and having "the foundation of value judgment" to be important, since various actors with different standing and mindset come from inside and outside the affected area.
We thank you for all your support that assisted these skilled and aspiring NPO support center staff travel and stay five nights where the support was most needed; your financial support literally aided these staff to help out local NPO support centers (Okayama NPO Center and Hiroshima NPO Center) that were involved in launching and continuing disaster volunteer centers in both cities. You made this happen!