By Dervin Brown and Vanessa Austin | Shelter Hotline Program Mgr. and PSH Program Dir.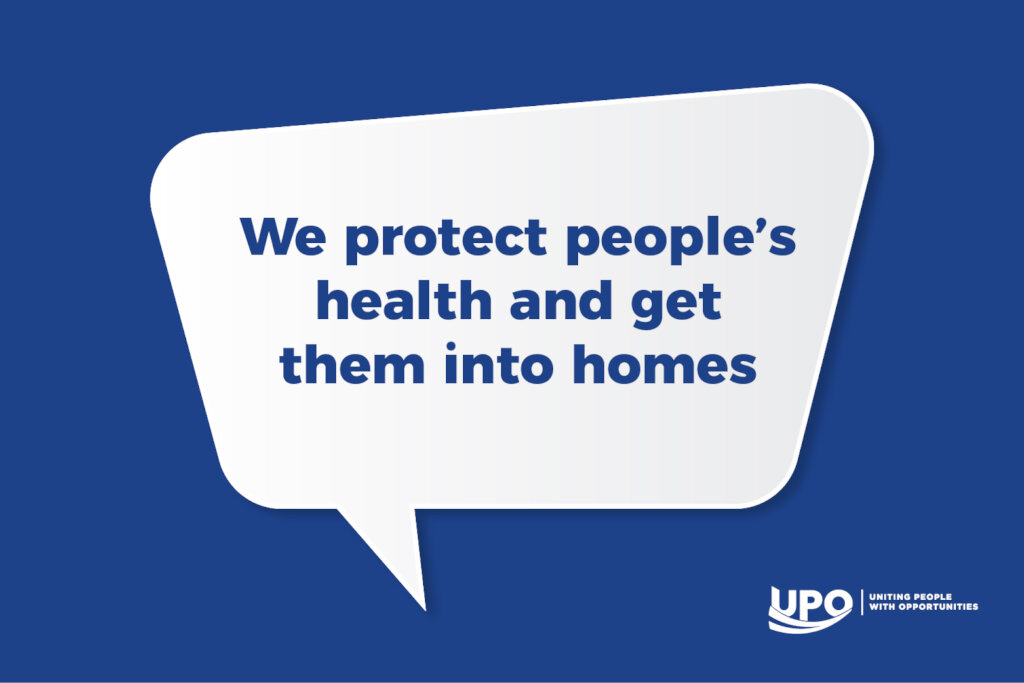 UPO helps people no matter what their situation. For example, we help people who are living on the streets; then we show them how to rise into stable housing and we provide wraparound services so they can thrive.
Here is the latest report on 2 facets of UPO's programs.
SHELTER HOTLINE
How we help:
Our outreach workers are the eyes and ears of the city, checking the health of people experiencing homelessness and giving lifesaving aid — treating them how we'd want to be treated if we were in their shoes. We are helping hungry and sick people every day; they ask for our help because we have built trust with them.
Our team is also crucial to Project Reconnect, a shelter diversion and rapid-exit program for unaccompanied adults (see details below).
In the past year, our team:
Responded to 87,397 emergency calls
Distributed 197,218 life-sustaining items (i.e. blankets, socks, meals, water, ponchos, hats, scarves, gloves, long underwear, etc.)
Provided free transportation to 31,409 people to reach health care, shelters, day service programs, etc.
As winter approaches, we are preparing for the hypothermia season (Nov. 1- April 15) by hiring additional employees and stocking life-sustaining items to meet community needs. We're on the front lines, offering essential services every day, and we need your help to buy hundreds of additional blankets, socks, long underwear, and other vital clothing to protect people through the winter.
How we address the opioid epidemic:
Hotline outreach workers visit hotspots across the city and distribute Fentanyl Test Strips to prevent overdoses and save lives.
Project Reconnect is a new success story that gets people into homes:
In collaboration with DC's Dept. of Human Services (DHS), our dispatchers made 80+ referrals to housing in the first few months of the Project Reconnect initiative from DHS/ The Community Partnership for the Prevention of Homelessness.
"I want to congratulate the UPO team on their willingness to utilize [the Project Reconnect] tool and persistence in working through the initial challenges! Thank you for all of your hard work and determination. Clients are being better served because of all of you!"
- Lindsay Curtin
Senior Policy Analyst for Strategic Planning and Data Division
DHS | Family Services Administration
PERMANENT SUPPORTIVE HOUSING
How we help:
Our dedicated team provides wraparound services to highly vulnerable individuals and families experiencing homelessness so they can finally gain the stability they need. We help them to find homes, stay in their new homes, and achieve the highest possible self-sufficiency and quality of life.
We now serve 98 customers: 82 in sites throughout the city and 16 tenants of the MDL Flats apartment building in SW. In early 2024, we will be helping another 21 families when the MDXL Flats building opens.
Note: MDXL Flats is the larger sibling of MDL Flats; both buildings are new 100% affordable housing, and they are a result of a partnership between UPO and premier developer TM Associates.
Also, we plan to add two Case Managers in 2024 to serve another 15 families and 17 individuals across the District.
Life-changing success:
After his mother and grandmother passed away, Phillip had a huge problem. Since he was not on their apartment lease, he had to leave his home. With nowhere to go, he wound up living on the streets.
He began to make friends…but that lead him onto the dark path of substance abuse. Phillip struggled for several years until he met a UPO staffer. He learned that he could have his own apartment in a well-established area, and our support could help get him back on his feet. Suddenly, Phillip said, UPO gave him hope and a new start.
Now that he had a home, Phillip blossomed: He began to be goal oriented, obtained a job, stopped using drugs, and was determined to get on the path to recovery. Now, at age 51, he is healthy, has held onto his job, and keeps up with all of his medical appointments. He has turned his life around and we are so proud.