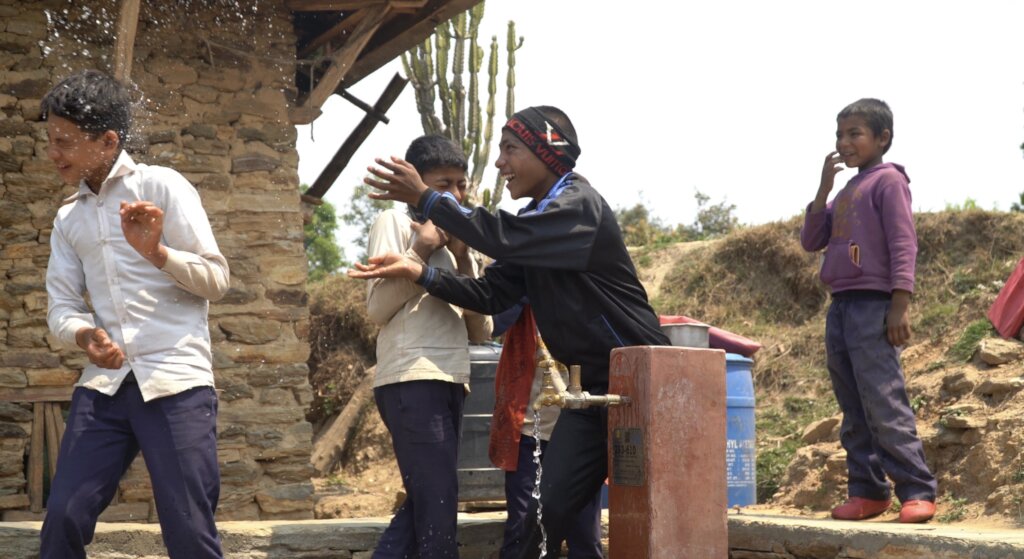 Last July, we celebrated our 30th anniversary as an NGO that continues to this date to deliver water, sanitation and hygiene services to underserved communities in Nepal. At the beginning of this year, we published our last Annual Report, summarizing the fiscal year 2021-2022, where we have been able to complete 68 projects, while benefiting 46,393 beneficiaries. This year's activities aim at reaching about the same number of beneficiaries with a similar project scope. We are currently working on 65 projects in 8 districts of Nepal reaching an estimated number of 5,400 households and 45,000 beneficiaries by summer 2023. Additionally, it is also our aim to engage in research and development to enrich the sectoral knowledge base and to promote innovations in the WASH sector. One of those innovations, a newly introduced sensor technology, which allows remote monitoring of ongoing projects, through constantly delivering data on the functionality of water schemes, has proved efficient and is intended to strengthen the sustainability of our services in the future.
As usual, our interventions focus on increasing improved water supply, sanitation, and hygiene (WASH) services to rural, poor and marginalized communities. Our projects are carried out in coordination with the local and provincial governments, while we build relationships with them and support their WASH initiatives.
Besides, local actor's capacity development, sanitation and hygiene awareness creation, and promotion of gender equality and social inclusion were other important complementing areas of our interventions.
To give you a closer insight into our work, we would like to introduce you to Chandrakala. She is the head of a family in Baglung and was one of our beneficiaries of a recently completed project. Her story is representative for the life of many Nepalese living in rural areas and being hugely impacted by the sudden improvement of life through access to safely managed drinking water. Before our intervention, Chandrakala used to wake up early in the morning each day to go with her daughter to the next natural water source to fetch water. They both then carried heavy water cans on their back for more than two hours bringing the water for the day to their household. Each other household of the village and countless others followed the same procedure.
NEWAH's services of providing water supply to the village and training community members on sanitation and hygiene, integrated water resource management, gender-equality and social inclusion changed a lot of things.
Because she now has a water tap at her doorstep, Chandrakala uses the saved time and naturally accumulating waste water to grow vegetables in a kitchen garden and keep livestock. The family can now use the hereby saved money to buy enough other food as well as notebooks and pens for the children. Chandrakala's daughter now has time for studying for school and doing free-time activities.
We highly appreciate the support of everybody making it possible to change the lives of our beneficiaries. Let's strive to fulfill our mission. Water changes everything!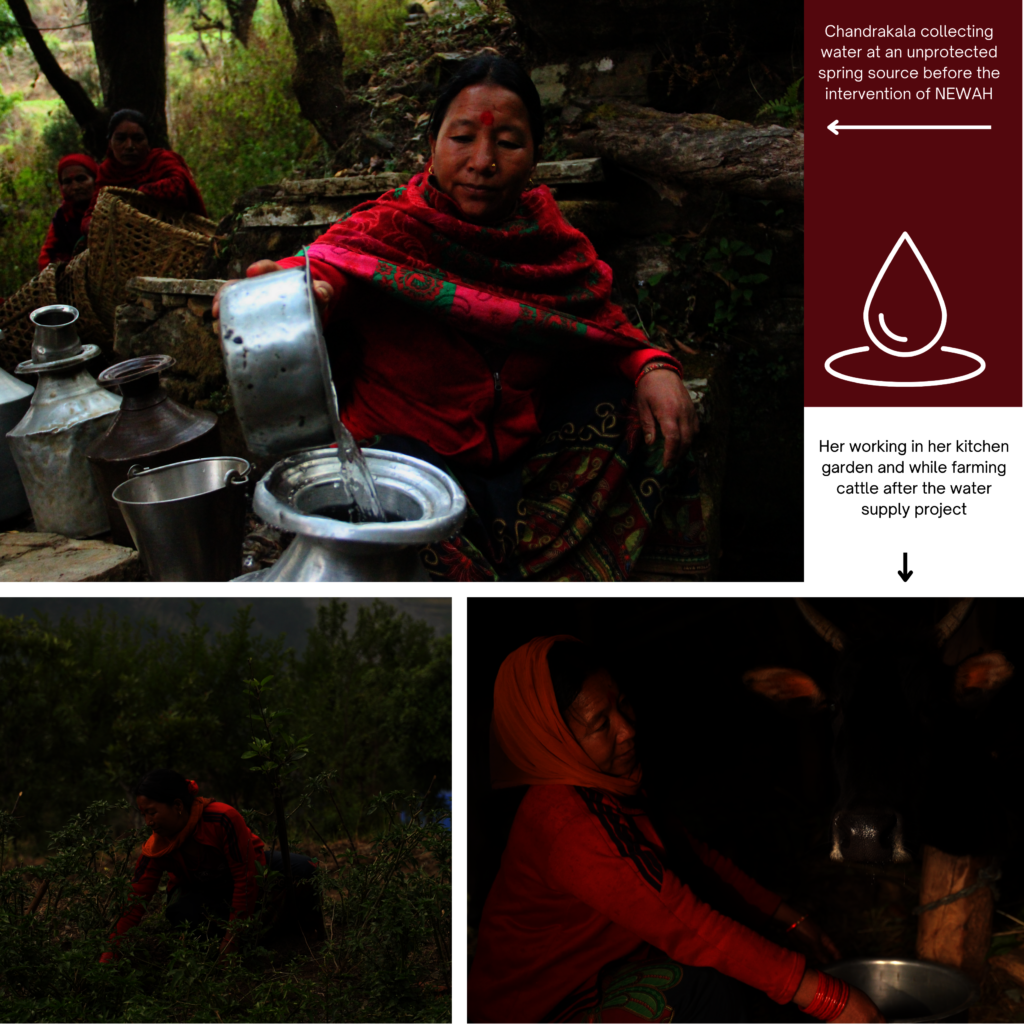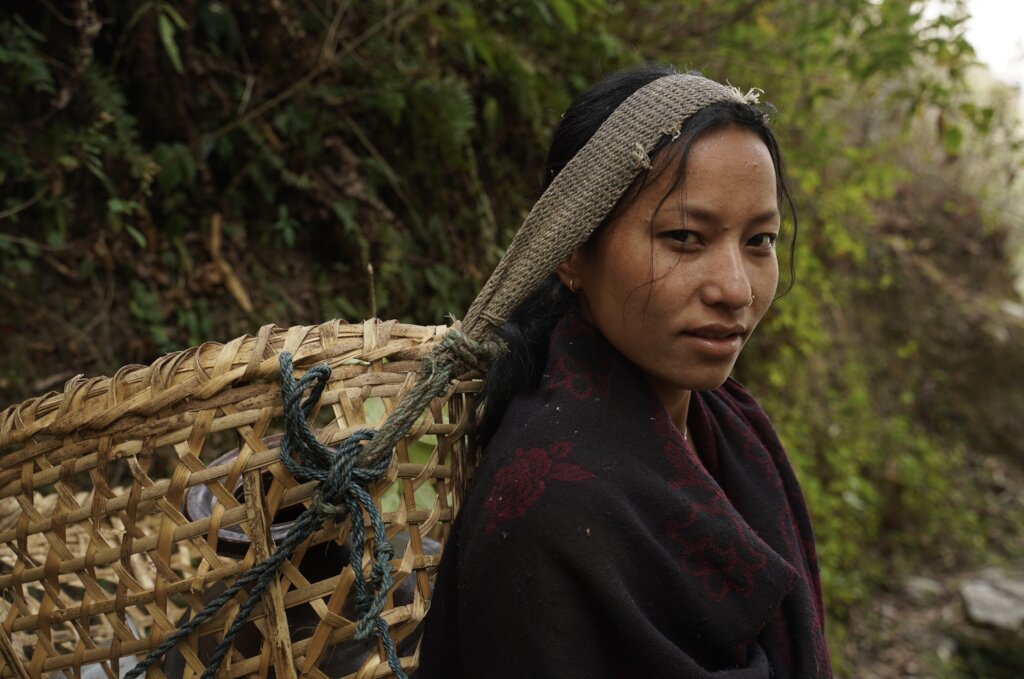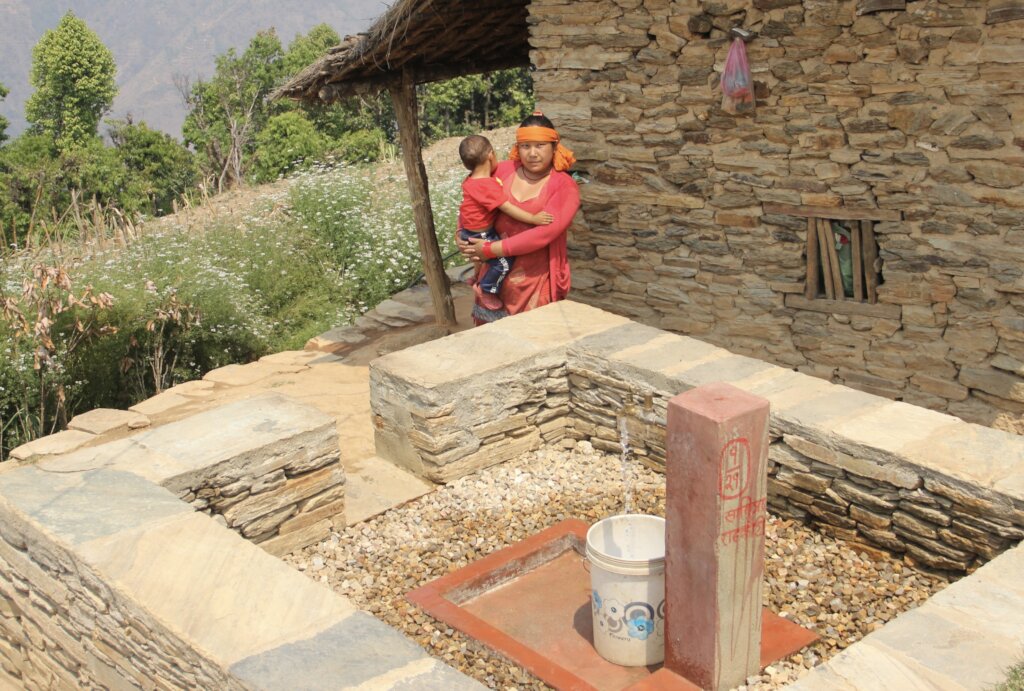 Links: