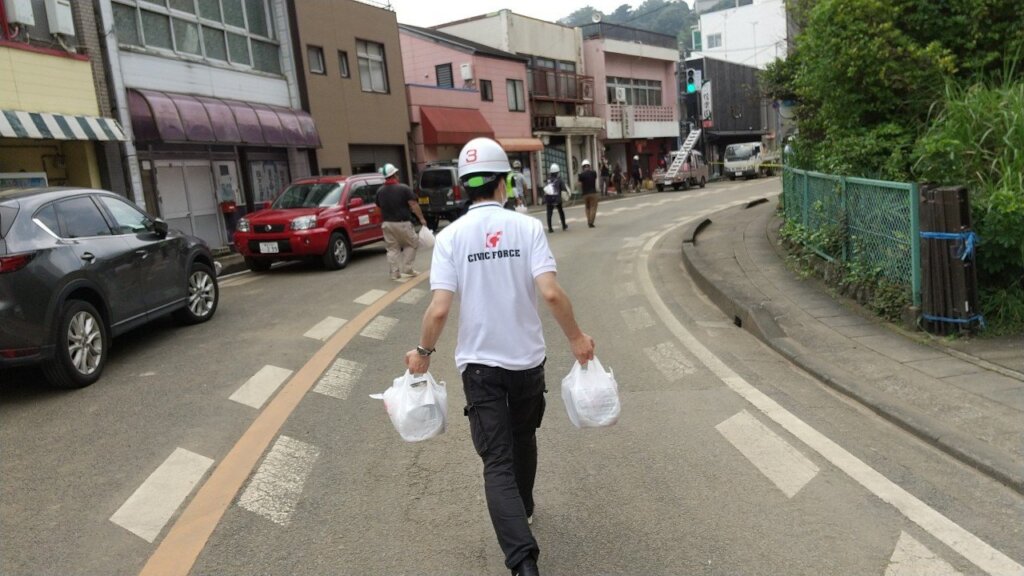 In 2021, two heavy rains - in Atami in July and Kyushu in August - caused flooding and landslides that evacuated thousands of people, damaged homes, and hurt livelihoods. Thankfully with your generous support, Civic Force responded to each disaster providing much-needed items/services and assisting in recovery efforts.

After the deadly mudslide struck Atami on July 3, Civic Force staff were on the ground conducting needs assessments. In the following days, Civic Force would deliver supplies to evacuation centers including hand sanitizers and masks to reinforce COVID-19 preventative measures. We also worked with stakeholders in coordinating a laundry service, provided free shuttle services, and a taxi voucher program. These deliveries and services were the results of our staff's tireless efforts on the ground in coordinating with disaster response stakeholders and directly reacting to the fluid changing needs of the victims.
In September, Civic Force launched new NPO Partner Projects with five local organizations to implement activities including support for affected families and children, restoration of a local temple, and animal rescue.

In August, record torrential rains poured down across Kyushu where evacuation orders were issued to 72,000 households in Saga Prefecture, home to Civic Force's office. However, the rain did not stop Civic Force from our activities – needs assessments were conducted at Takeo City's Disaster Response Management headquarters. Our immediate response was to distribute supplies including food and liquids, hand sanitizers, bug repellents, pillows, and towels. In Omachi, Civic Force distributed free taxi vouchers to provide transportation to those needing it. Saga, Takeo, and Omachi cities maintain disaster assistance partnership agreements with Civic Force.

Through NPO Partner Projects, Civic Force began working with Galapagos, an after-school program in Takeo for children including those with developmental disabilities. The program was forced to temporarily suspend after the facility was flooded. Restarting in a new location, Civic Force partnered with this vital program to support the students and help resume normalcy in their lives.

2021 proved to be another challenging year. COVID-19 continued to spread and disrupt our communities, wreaking havoc on our healthcare systems and taking lives. With climate change, disasters in the Asia-Pacific and around the world are expected to rise in frequency and intensity. With your support, Civic Force stands prepared to face these challenges and provide timely and effective assistance when needed. Thank you once again for your generous support and we look forward to working with you in the coming new year and beyond!