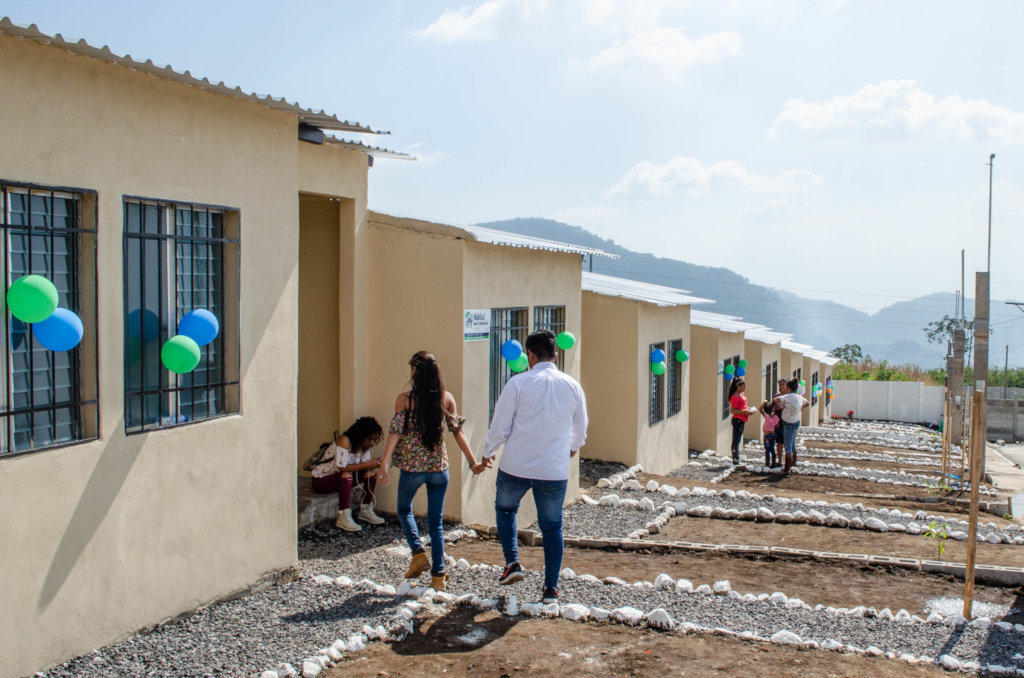 In our final update on the Guatemala Volcano Relief Fund, we're proud to share stories of progress made by our partners who've been helping communities recover since Volcán de Fuego's eruption last June.
In Valle de las Flores, where Habitat for Humanity Guatemala has been building homes for families affected by the disaster, it's been an exciting last few months. The first set of 16 new houses were completed in December, and Habitat's team organized a joyful, emotional ceremony where their partner families received the keys to their new homes. The organization plans to finish building 42 new homes in Valle de las Flores by the middle of April.
Since Volcán de Fuego remains an active volcano, it's important to ensure nearby communities are prepared to withstand future eruptions. To that end, Long Way Home recently completed construction of a sustainably-sourced disaster relief shelter in Alotenango. Built in partnership with PuraVida Atitlan, the Carpinteros Alotenango, and the municipality of Alotenango, the shelter was constructed from eco-bricks composed entirely of recycled waste materials like plastic water bottles and bags and is powered by solar panels on its roof. When not in use as a refuge from future disasters, the facility will be used as a communal space for children from a nearby refugee camp to engage in arts and music programs.
Long Way Home has also partnered with Rekko, an Italian NGO that has been providing healthcare to rural Guatemalans since 1998, to build a clinic in San Antonio Sibija for families who've been relocated due to the eruption. They're using the same eco-brick construction for the clinic and will be developing a disaster preparedness plan with residents from the village and surrounding area.
IsraAid has also been focused on disaster preparedness, and have been partnering with local agencies to develop programs to bolster communities' readiness for future disasters. After their team recently completed a disaster risk reduction training for 30 teachers from Escuintla, Marleny, a teacher from Cañaveral Primary School, shared that, "Now I feel more prepared to face situations that beforehand, I had never even considered. I can teach my students to take measures that both prevent and answer to natural threats." With two other teachers from her program, Marleny then volunteered to lead a similar training for another 50 teachers from across the region.
Integral Heart Foundation, which runs a school for children born into generational poverty in Antigua, will be supporting six families impacted by the eruption throughout 2019 with free tuition, transportation, and food baskets.
Thank you again for your generous support of this relief fund—your donation helped make stories like these possible and is helping Guatemala rebuild resiliently after last year's eruption. We're also grateful for how you decided to give—donating cash is the smartest way to help those in need after a disaster.
With all of the donated funds now disbursed to our partners, we are closing the Guatemala Volcano Relief Fund at this time. If you'd like to keep informed on our partners' ongoing efforts in Guatemala, we encourage you to visit our website and read their latest project reports.
With gratitude,
Will + the GlobalGiving Team