Project Report

| Dec 19, 2019
Goal for Equality 2019 - Fourth Quarter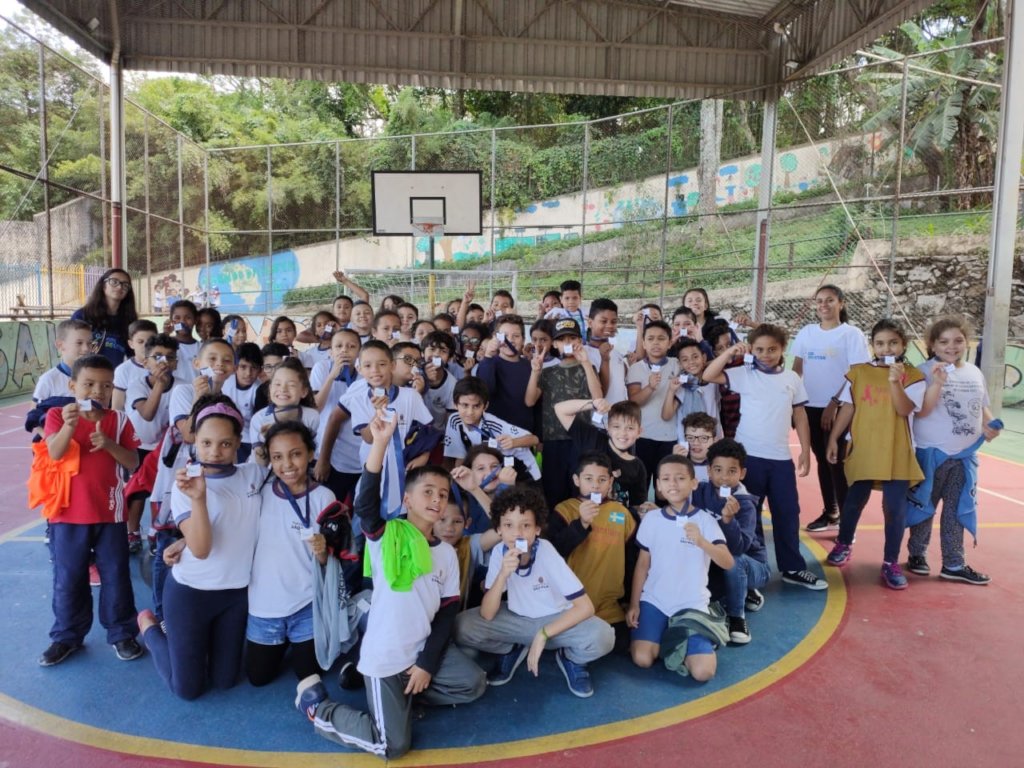 4thGlobalGiving Report
During the months of October, November and December 2019, the Goal for Equality project carried out actions involving students, educators, young people and the community in order in order to contribute to the education of children, adolescents, and youth, using Football as a tool to develop educational learning, social and youth leadership formation.
We currently serve 404 students, 194 girls and 210 boys. The main actions carried out were:
Training meetings for young monitors, topics covered: Leadership and Communication, Respect for Differences, Community Projects and Organization of sporting events.;
Futsal Classes:
Techniques - pass, reception, dribbling, marking, finishing;
Conversation circle - Socialization / Respect for space, friends and educators / Collective spirit / Respect for rules / Respect for gender differences.
Highlight of the quarter:
3-TIME SOCCER FESTIVAL IN SCHOOLS AND THE COMMUNITY –The festival is an action that aims to enhance the spread of the practice of Football 3 that aims to develop life skills and empower young people to become leaders in their communities. With a strong emphasis on dialogue and conflict resolution, Futebol3 offers knowledge and life skills.
School Participants - 25 girls and 25 boys = Total 50 participants
Community Participants – 33 girls and 52 boys = Total 85 participants
TRAINING: YOUTH LEADER TRAINING LEVEL 2 – From December 2nd to 7th, the Training of Young Leaders at Level 2 was held. During the training, the coaches offered a range of modules, designed to increase and improve the impact of Gol de Letra programs. The lessons were based on four pillars: Leadership, to build skills and confidence of young leaders; Community Training, developing practical skills to provide inclusion, engagement, and high-quality community football sessions; Social Impact, to understand the effect of football and use its power to create social impact; and Project Management, so that young leaders develop program and event planning and organization skills.
Practical energy-generating activities, small-field soccer workshops, kicking, passing and dribbling, activities to develop adaptability and working with people with disabilities, and the development of life skills: confidence, communication, decision making, teamwork, leadership, and resilience.
The outcome was a Community Football Festival held on Saturday, December 7 at the Gol de Letra Foundation's Sports and Development Center (NED) in São Paulo.
ATIVIDADES COM FAMÍLIAS – GOL DE CIDADANIA 20 ANOS
FAMILY ACTIVITIES – CITIZENSHIP GOAL 20 YEARS
The Citizenship Goal is an event for families and the community, offering services in the areas of Health, Legal, Citizenship, and Recreation and Leisure Activities.
This year Gol de Letra completes 20 years of activity and the Gol de Cidadania was the event chosen to celebrate with participants, families, and community. The young monitors were responsible for the planning and execution of recreation and leisure activities for children, adolescents and young people who participated in the event.
Total audience: 902 people