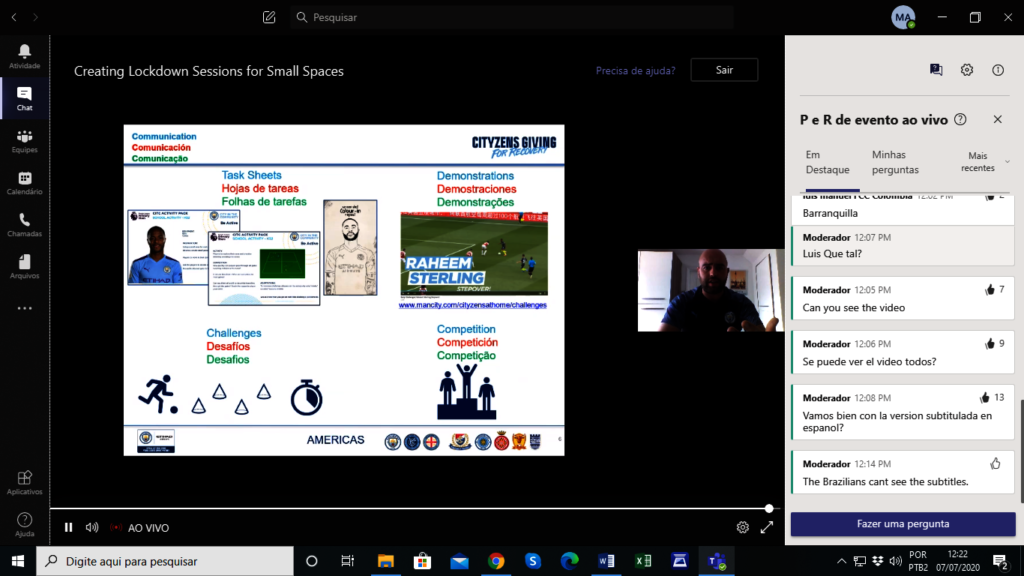 3º GlobalGiving Report
The Goal in Three Parts project during the months of July, August, and September 2020 maintained adjustments and adaptations in its routine, due to the pandemic COVID-19, and the quarantine decreed in Brazil. Face-to-face actions and activities continued to be suspended due to government measures and guidelines, and the main public health agencies.
During the period of the pandemic, and the quarantine adopted in Brazil, the Gol de Letra Foundation established a mobilization, service, and support plan for each public, related to the activities and actions developed by the institution. The details of the strategies adopted are as follows:
BY PUBLIC
STRATEGIES
Students
-Permanent development of educational and interactive communication materials for all audiences.
-Offer daily activities on the Gol de Letra Foundation social networks (Lives, polls, video lessons, research, etc.).
-Disseminate official information through social networks.
-Send by Whatsapp, of material produced by educators aiming to reach different age groups, thus ensuring families control over the content produced.
-Social workers maintaining permanent communication in WhatsApp groups with families to disseminate information about the pandemic, emergency aid, and information about the territory.
-Individual service via WhatsApp or phone when requested by the family
Active search for families to identify the current situation and possible registration in the basic food basket bank.
-Maintenance of groups with young people and adults from the Youth and Opportunity (RJ) and Youth Program (SP) (training action for the world of work and the university).
-Activity suspension dates updated each week of social isolation.
Local partners (Health Center, Social Assistance Reference Center, Education Networks, Associations of residents and others)
- Maintain permanent contact with the management and leadership of these partners to build collective strategies and support.
-Provide communication material produced by the Gol de Letra team to disseminate quality information in the territory.
- Availability of resources, assignment of space, loan of materials, donation of materials and inputs available at the Institution, and, or, collected, that can collaborate in meeting the demands of the territory.
- Evaluation of psychosocial demands among the families attended to forward demands to the groups created during the pandemic, strengthening the network work and the continuity of the assistance when necessary.
Strategic institutional partners outside the territory
- Maintain institutional management team in telework, ensuring the execution of the Gol de Letra Foundation's activities and projects in a way adapted to reality, to meet demands, guidelines, and information about the work developed in that period
- Invitation to participate in Lives and other online events.
- Availability of communication materials and, or, learning carried out during the crisis.
- Carry out campaigns to collect inputs for families in high vulnerability, which will be made available through the relationship with health teams in the neighborhoods, so that priority is given to assisting families with comorbidities.
Young Leaders and Social Agents - training people
- Maintain training based on contents of citizenship, culture, and sport, through permanent discussions and materials produced by the teams.
- Monitor the health conditions of people in training, with a view to maintaining their personal safety during the pandemic.
Professional team and interns
- Conduct permanent communication with this public to monitor the health of the worker, aiming at maintaining quality.
- Hold weekly online meetings to discuss content to be produced for our audiences, learning, and planning.
-The anticipation of vacation according to PM 928 in different groups for adjustments in the 2020 calendar and non-stoppage of activities when they are resumed.
Funding Partners
- Conduct periodic communication (weekly or fortnightly) for information on the work of the Gol de Letra Foundation during the period of social isolation;
- Maintenance of the agreed counterparts;
- Adjustment of the work plans of the programs to meet the established situation of social isolation;
- Conducting periodic meetings to discuss forms of support and exchange of information for the composition of joint action strategies.
Alignment between RJ and SP units
- Conducting weekly management meetings to align communication, administrative and financial procedures, social assistance, and production of online content for the period of social isolation.
Articulation in National and Regional Thematic Networks
-Permanent exchanges of information and participation in meetings on the networks:
Sport for Social Change Network (REMS) and Girls Network for Gender Equality (REMIG) to create action strategies, monitor government positions, and actions and collect data on social, sports, and violent actions against girls and women during the pandemic.
Health and Safety Protocol
Planning the possible return to attendance and on-site activities, the team of 07 analysts from the Gol de Letra Foundation, since August, had two health experts for consultancy and support in the construction of the protocol: nurse Renato França da Silva specialist in Public Health Emergency Management at Hospital Sírio-Libanês and current nurse on duty and Coordinator of the Nursing Specialization in Parasitic Infectious Diseases at FIOCRUZ / RJ; and the physician Thaysa Drummond da Silva, a specialist in infectious diseases and coordinator of the Emergency Room at the Municipal Hospital Odilon Behrens, in Belo Horizonte (MG).
Training of sports monitors - Young Leaders
In July, it was possible to guarantee access to the Internet (through the data chip) for the 20 young people in training. The highlight of the period was the training week promoted by Manchester City for young leaders of all projects supported by the Cityzens Giving - Young Leaders –SUMMIT program.
Online activities
Online classes/activities were conducted using the Microsoft TEAMS tool until August 17th. After that date, all online actions/activities were conducted by ZOOM. By downloading the application, which is free, students and their families were able to attend classes developed by the team of educators. The meetings were always scheduled at the end of the day, the time when parents and guardians have the greatest availability to participate, in order to encourage the whole family to carry out the activity, increasing the integration and interaction between parents/mothers and children, as well as between the different families that are in the virtual room.
We currently have 314 students, 114 girls, and 200 boys. During this period, no new enrollments were made due to the suspension of classroom activities.
Testimonials:
Tayana, 15 years old, student: "I found the way in which you administer classes super interesting, I'm learning a lot that I didn't know."
Pedro, 07 years old, educating: "I'm really enjoying the online classes. It's great to be able to do activities. I really appreciate the opportunity."
Brenda, 15, monitor: "The classes are very creative, I'm loving it, it's very interesting to get to know sports and their origins better"
Wesley, 18, monitor: "I love Lives, not only sports, but all that FGL is providing to students and monitors. The participation is very cool and very productive. Congratulations to all of you!!!"
Ewellyn, 18, monitors: "I'm enjoying it, I'm learning a lot, it's been a lot of fun and intense. Learn from everyone and pass on what we learn"
Rian, 17 years old (sports monitor): "Lives are very cool and creative, the activities of educators are also fun and have given students and monitors the chance to play sports even at home with a lot of dynamics, thanks to all educators ...! "
Andressa, 19, monitors: "I am really enjoying the Gol de Letra initiative, which even in the midst of this pandemic continues to be concerned with the health and well-being of all those served, even though it is not in person, bringing people means to continue exercising and not just on cell phones or television all day."
Jackson, 21 years old: "I'm going to talk about online classes, which in my opinion is being a very well used resource, because unfortunately we are in a pandemic and we were affected in a certain way, I believe that online classes are helping a lot of students to expand their knowledge and learn new things. About the Gol de Letra Foundation, I am happy to be part of a student and I am happy to see that the foundation continues to grow. And about basketball, I say it is a great sport and I and everyone can enjoy it in some way."
Valéria, mother: "Very good, the strength you give to my children, my girl takes a course at Promove and my son does various activities for the Gol de Letra Foundation, I am very grateful to you."