Dear Partner,
We are immensely grateful for your unwavering support throughout the year 2021. We are hereby delighted to share a highlight of the impact your support helped us achieved.
Sustainable model of keeping girls in school
During the school term, female students, especially those in the rural communities, are forced to miss school during menstruation, due to lack of sanitary products. Most of these students rely on unhygienic pieces of cloth, leaves and tissue paper rather than sanitary pads, and continue to experience a decline in their concentration levels and grades at school due to their regular absence. With your help, this year 2021 we have been able to ensure that 433 girls wouldn't miss a single day of school term and hope to do this for more girls in the coming year. Please help us to help more girls get enrolled, stay focused in school, and complete their education with dignity. Click the link https://www.globalgiving.org/projects/help-give-vulnerable-girls-dignity-and-livelihood/ to help support our sustainable model for keeping girls in school.
Keeping A Child in School
Times of disasters, crisis and conflict signifies the beginning of hardship for girls, and their education is usually the first thing taken away. Dorcas, a 13-year-old girl who recently lost her parent because of the insurgent attack that ravage the northern part of Nigeria, was on the verge of experiencing the same fate and becoming part of the out-of-school children's statistics, but you saved her. For every $10 (5,000) you donate, you help us take a girl out of the street and into the classroom, giving her a chance for a better life. This year already, you have helped us keep over 20 girls in school, and we are super grateful. Our strategic goal for the next 5 years is to sponsor 100 girls annually to school, and you and your friends can still make that happen by making a generous donation using the link https://www.globalgiving.org/projects/help-give-vulnerable-girls-dignity-and-livelihood/
NOW, THE BIG REVEAL!!!
2021 is Girls Education Mission International Anniversary
Consider amplifying your impact this Season of Giving!
For 10 years of corporate governance, we have been successfully providing integrated package of education, livelihood, sexual right and reproductive health education and support, ending gender violence, and advocating for the rights of girls at Local and International level. Help us continue our mission for another 10 years!
Thinking on how to amplify your impact?
You can support our work with a recurrent donation to make change happen for vulnerable girls in underserved communities in Nigeria and beyond.
GlobalGiving's Monthly Donor Drive has begun! From now until Friday, Dec. 17 at 11:59 p.m. ET, new monthly donations are eligible for a one-time 200% match after staying recurring for four payments. Monthly giving allows us to achieve a sense of stability, save our staff time, and involve our networks even deeper in our work!
Let's make 2021 the year of recurring donations! If you set up a monthly donation from Dec. 14-18, GlobalGiving will match your donation at 200% up to $200.
Thank you for fueling our common purpose to solve our collective challenges — faster and in more inclusive, creative ways.
with gratitude from all of us at Girls Education Mission International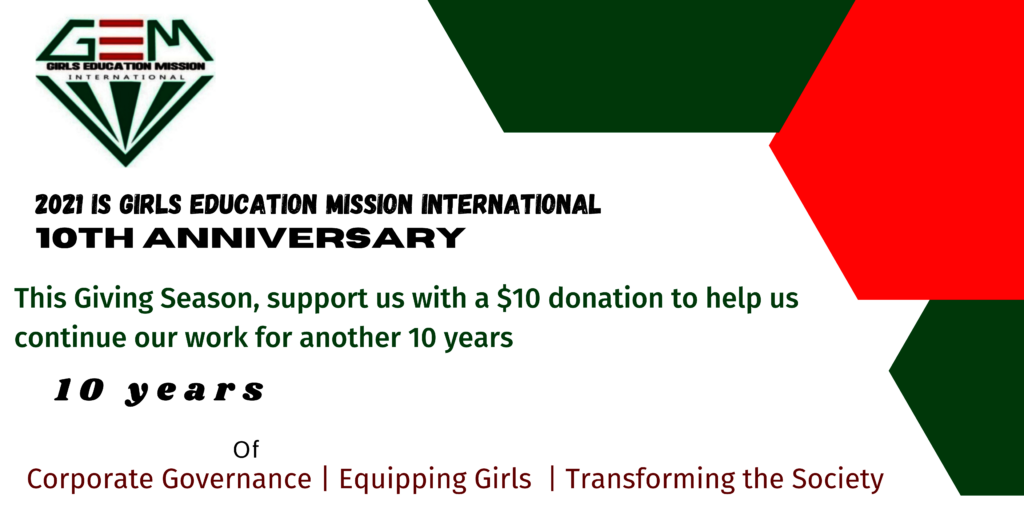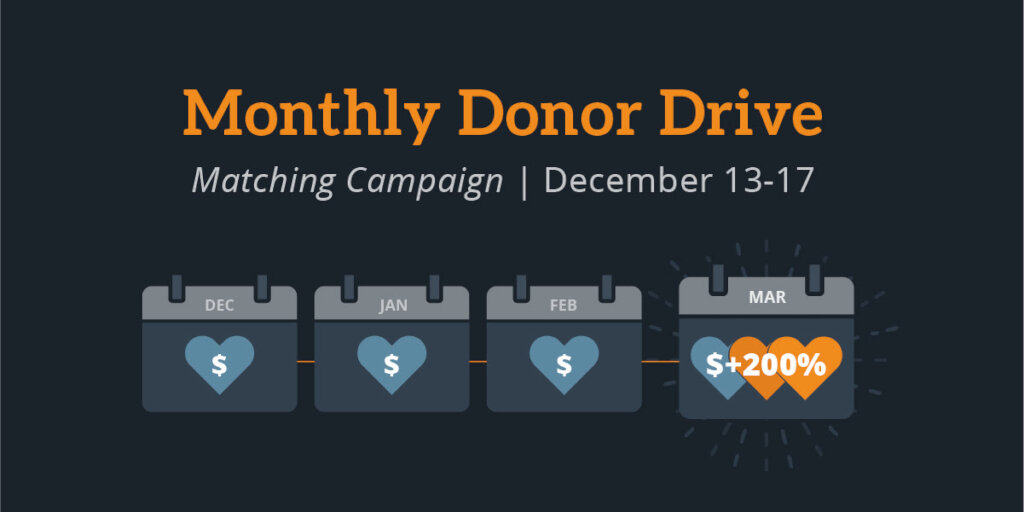 Links: