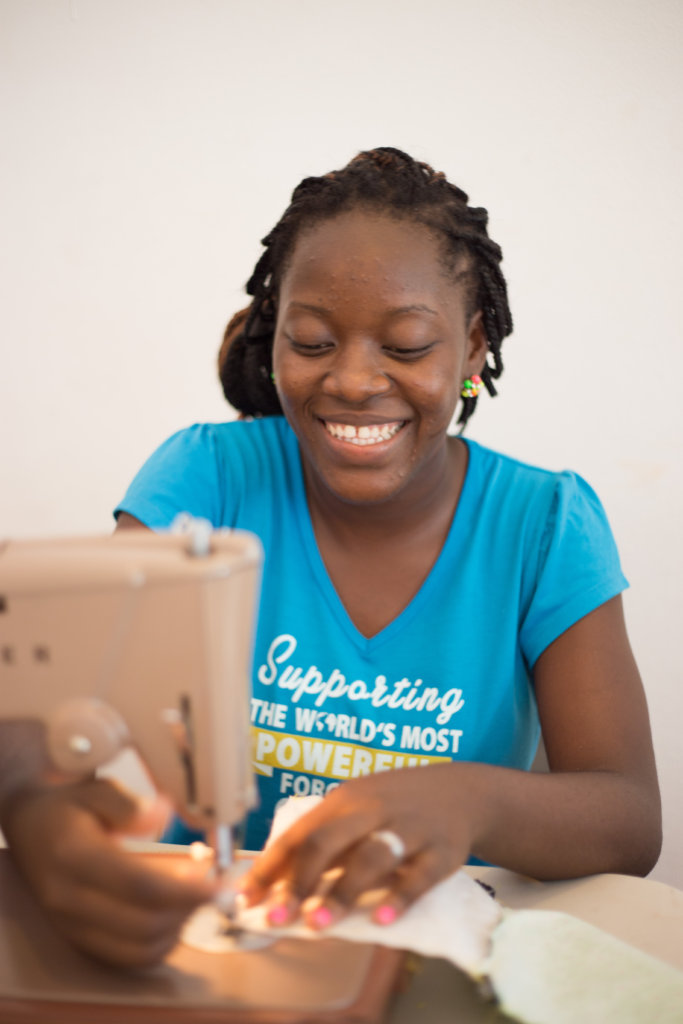 Happy New Year! We're excited to ring in 2017 by sharing inspiring stories made possible by your support of the Girl Effect Fund! Here are just a few of the projects your generous donation supported in 2016:
Vacha Charitable Trust empowers girls in India to be able to talk about perceptions and experiences regarding women's health and self-esteem. Girls from Vacha's leadership centres performed street plays to promote awareness about girls rights in public places. For many of the girls it was the first time they had spoken in public. This initiative was covered by media. Some of these girls have been attending the Vacha class for 8 years and have graduated to special leadership programs.
Mariposa Center For Girls teaches sewing skills to girls and mothers in the Dominican Republic that will provide them with a sustainable source of income and allow them to lift their families out of poverty. One of the graduates said, "For me the sewing project is extremely important because through this project I have learned to sew….and I earn money that allows me to do many things."
Girls' Power Initiative built a safe space in a rural community in Nigeria for girls to boost their self-esteem and make informed decisions about reproductive health and career choices. These girls have seized the opportunity to share personal issues on relationships, reproductive health, and career choices. More than forty girls have participated in the weekly safe space lessons.
In Colombia, Fundacion Artistica y Social La Familia Ayara developed the Diploma and Cultural Management Leadership for Women program and had the first "Training for Women Leaders and Entrepreneurs." More than sixty (60) young women managers and artists participated. The course sought to get away from traditional academic formats and found that a good way to empower and inspire women was for women leaders to serve as role models for tackling leadership and cultural management issues.
The Georges Malaika Foundation inaugurated the Malaika School for girls library in the Democratic Republic of Congo. The e-library is the first of its kind in Kalebuka with books in English and French in both print and e-book format. This state-of-the-art facility provides access to technology and resources that are opening up a whole new world to students.
Pastoralist Girls Initiative in Kenya provided full school uniforms and sanitary pads for 100 girls. The lack of uniform and sanitary pads greatly inhibits education and encourages dropout rates. Many girls who could not afford uniform and sanitary pads benefited from the project this term.
Since 2008, the 10,561 supporters of the Girl Effect Fund have raised more than $2 million for the future of girls around the world! Your support has made inspiring stories like those above possible, and now we're excited to share that the Girl Effect Fund has reached a new phase in its work building a better future for girls. The Girl Effect has been so successful in its mission that it has spun-off into its own nonprofit organization that will leverage mobile technology, brand partnerships, and innovative research to support and empower girls worldwide. A side effect of this transition is that the Girl Effect Fund will be retiring on GlobalGiving.
We are excited to share that your donations will continue to empower girls through the newly launched GlobalGiving Girl Fund. Donations will support some of the most effective nonprofits on GlobalGiving who are working to ensure a bright future for girls around the world. Our team will continue to share quarterly updates from our partners about how they're providing education, job skills, and empowerment to girls in need.
Donors like you have made an incredible impact over the years for the various Girl Effect Fund-supported projects. Without your support, these girls' futures would be very different. We hope you will continue to support these girls through the GlobalGiving Girl Fund, and maybe even become a regular monthly donor!