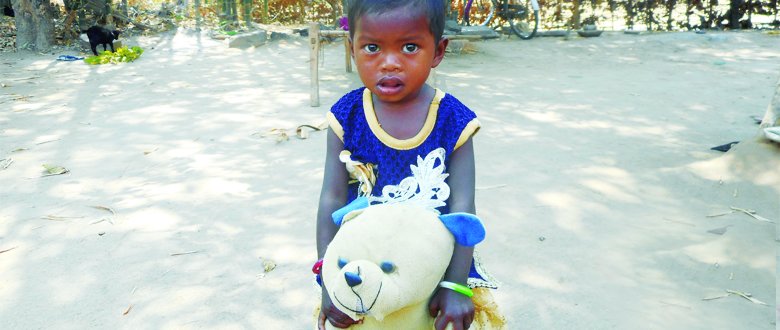 In this district lies Dilleswar village of Ranipokhari Panchayat and Kaptipada block. Rini Sahu (name changed), the 15 month old daughter of Milan and Kaveri Sahu, lives here. Rini has 5 siblings. The Sahu family are marginal farmers and depend on daily wages to fend for the family.
In the month of July'17, CRY supported partner alliance Voice of Child Rights in Odisha (VCRO) and launched a child support campaign to fight malnutrition across 5 districts of Odisha. When the intervention team reached Dilleswar village, they started monitoring the children and noticed that Rini weighed only 6 kilos. Not only that, she had also been suffering from malaria. Without wasting a day, the intervener, along with Anganwari workers consulted with Rini's parents and informed them about Rini's undernourished condition and advised that she should be taken to NRC urgently. At first, Milan, Rini's father, was hesitant as moving Rini to NRC will mean that her mother would also need to be there with her. This would severely affect the family's daily wage. He also stated that he couldn't even afford a proper transportation cost. The intervention team not only continued the consultation but also arranged for a car so that Rini and her mother Kaveri can travel to NRC.
Rini was taken to NRC and stayed there for more than two weeks. She regained her health gradually and returned home. The intervention team further consulted the Sahu family so that they grow their own kitchen garden and feed proper meals to their family. Seeds and saplings were distributed in the village.
Today, if one visits the Sahu family, they can notice a healthy garden of papaya, banana, greens and other vegetables. Rini is more than 8 kilos now and plays happily with her brothers and sisters. She also owns a teddy bear, which remains by her side always.
"We did not understand how grave the situation was. We almost lost her and the solution was not so difficult, yet we struggled. Now I make sure my kids have proper meals every day," says a teary-eyed Kaveri.
CRY and its partners, with their child welfare efforts, could save Rini from the perils of malnutrition. However, unfortunately, the overall condition of poor children is quite bleak in Odisha, with hundreds of Rinis still suffering.