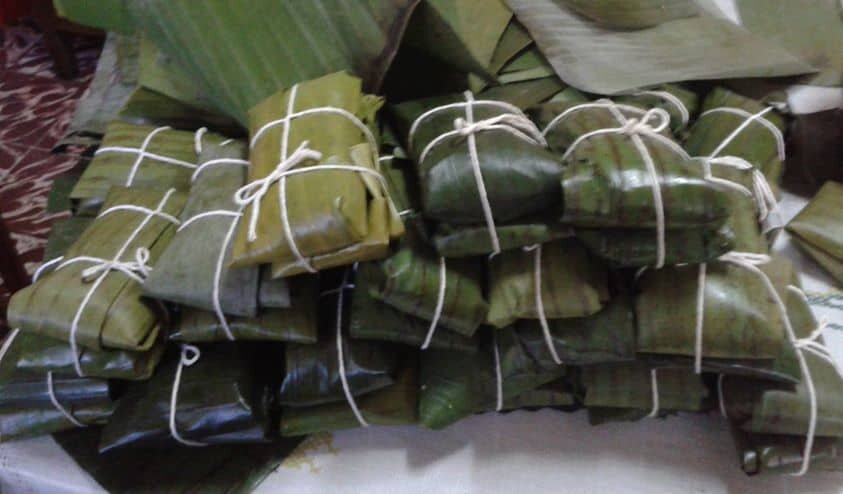 In Costa Rica and other Latin American countries, one of the most time-honored and much-loved holiday traditions is Christmas tamales. For generations, Costa Rican (Tico) and Nicaraguan (Nica) families have marked the holiday season by preparing tamales, a dish of seasoned meat rolled in cornmeal dough and wrapped in banana leaves, to share as gifts for family and friends. For families, struggling with the realities of poverty or food insecurity, however, being able to participate in this special holiday ritual that signifies family, celebration, and community is difficult, to say the least.
This year, as in past years, Community Action Alliance (CAA) stepped in to help. Partnering with Faithful Servant Mission, a local organization that focuses on the needs of families that reside in a particularly impoverished section of the city, CAA helped to bring "Tamale Christmas" to those who were not able to do it for themselves.
On Monday, December 5, CAA volunteers visited several stores and markets to purchase the various ingredients needed for the tamales. Though many families have their own family recipe often handed down from generations, the basic ingredients for the tamales are seasoned masa — a cooked cornmeal similar to polenta — sweet pepper, carrot, rice, onion, potato, green beans, and a meat, typically chicken or pork. All of these ingredients are tied up with string in little banana leaf packets and given in pairs. Since the recipient families for these special gifts were both Tico and Nica, and each culture's tamale is a little bit different, CAA purchased ingredients to be able to make both types of tamales.
On Tuesday, December 6, volunteers from CAA and the Mission met at the Mission's activity hall for a day of tamale making. Banana leaves were washed and cut, masa was made, vegetables and meat were chopped, cooked and prepared and finally, the tamales were produced in an efficient assembly-line fashion. The result of the day's activity was close to 800 tamales to be shared with designated families in the local neighborhoods, the local orphanage, and a local organization that supports the needs of those with cancer.
While the CAA and Mission volunteers provided the labor for this special holiday activity, it is the generosity of CAA donor members and friends that provided the funding for this wonderful holiday experience. Not only is it a meaningful experience of the season for those who receive the tamales, but also for us who have had the privilege and honor to make these special gifts happen for our neighbors in our adopted country. We thank you for your generous spirit and commitment.
Our warmest wishes for a peaceful and joyful holiday season to you and yours!