Project Report

| Apr 19, 2018
Spotlight: Nutrition in Yemen
By Emma C. Pfister | Manager, Global Cause Partnerships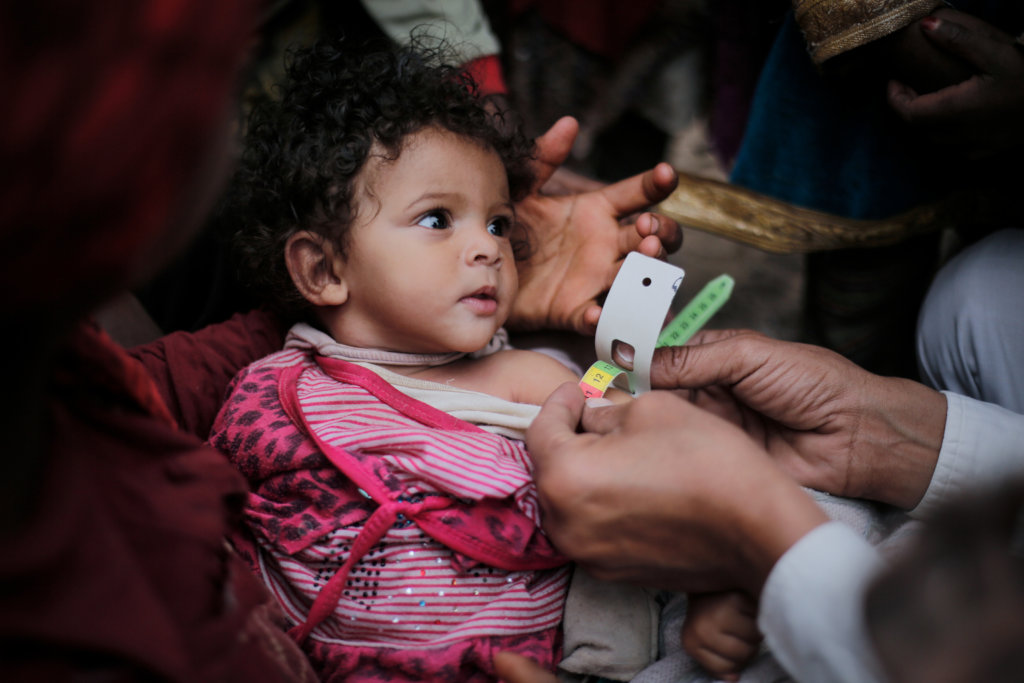 Dear Friend,
Yemen is in the midst of an acute humanitarian crisis with no end in sight. The ongoing conflict has led to unimaginable losses for civilians. For the 3 million children born since the conflict intensified in 2015, their earliest years have been marred by violence, displacement, disease, poverty and a lack of access to the basics of life, such as food, safe water, medicine, education and safety. Children in Yemen are the most vulnerable to the effects of war. Even if they survive the conflict, the broader effect of violence and years spent out of a classroom will have an impact on their entire future, as well as generations to come. More than two and a half years of conflict have forced 2 million children out of school, adding to the long list of hardships they have endured.
Yemen is now considered the world's largest man-made food security crisis. Sixty percent of the total Yemeni population is food insecure and needs urgent food assistance. Around 1.8 million children and 1 million pregnant and lactating women are acutely malnourished. Nearly 400,000 children suffer from severe acute malnutrition (SAM), a life threatening condition. The chances of death for moderately malnourished children are four times higher than those of healthy children.
Even before the outbreak of conflict in March 2015, Yemen faced challenges from widespread poverty, food insecurity and lack of health services. Today, food shortages and poor access to markets, reduced access to healthcare and sanitation, reduced income options and disruption of livelihood opportunities are the main causes of the spiraling food insecurity and malnutrition. Ongoing conflict and economic decline have steadily eroded coping mechanisms, leaving large parts of the population at risk of famine.
Even after the conflict ends, the effects of malnutrition – stunted growth and delayed cognitive development – may linger. In the worst cases, it is fatal. Severely malnourished children are 11 times more likely to die if not treated on time.
UNICEF in Action
Humanitarian operations in Yemen are decentralized, with five UNICEF field offices managing interventions locally. UNICEF is working in many capacities across Yemen, with a specific focus on nutrition in partnership with a range of local and international partners. While the World Food Program (WFP) has taken the lead on the treatment of moderate acute malnutrition, UNICEF is leading on the treatment of SAM. Since the start of the crisis, UNICEF has been continually scaled up its treatment and surveillance of malnutrition.
In 2018, UNICEF will continue to strengthen its emergency nutrition response in Yemen. As part of its Community Management of Malnutritionprogram, UNICEF willdeliver quality lifesaving interventions for acutely malnourished girls, boys and pregnant and lactating women, expanding its screening and SAM treatment programs into new districts to increase coverage.
To improve the quality of SAM treatment programs, UNICEF will train more community workers on Community Based Management of Malnutrition in partnership with the World Health Organization and WFP. UNICEF and its partners will also work to ensure pregnant women receive counselling on young child feeding and iron/folate supplements that can prevent maternal and infant deaths.
Globally, in 2016 UNICEF and it's partners treated 3.4 million children for SAM in 71 countries. UNICEF is the largest global supplier of Ready-to-Use Therapeutic Food (RUTF), purchasing 80% of RUTF globally and the majority of therapuetic milk.
The Impact of Your Support
Despite the millions of women and children that UNICEF reached in 2017, there continues to be a significant funding gap for nutrition programming and we need your support to help close the gap. Given the length of the conflict and the catastrophic breakdown of public services, UNICEF urgently needs funding to scale up nutrition services in hard-to-reach areas; respond to the onset of additional emergencies; and support measures to prevent malnutrition and improve resilience in Yemen.