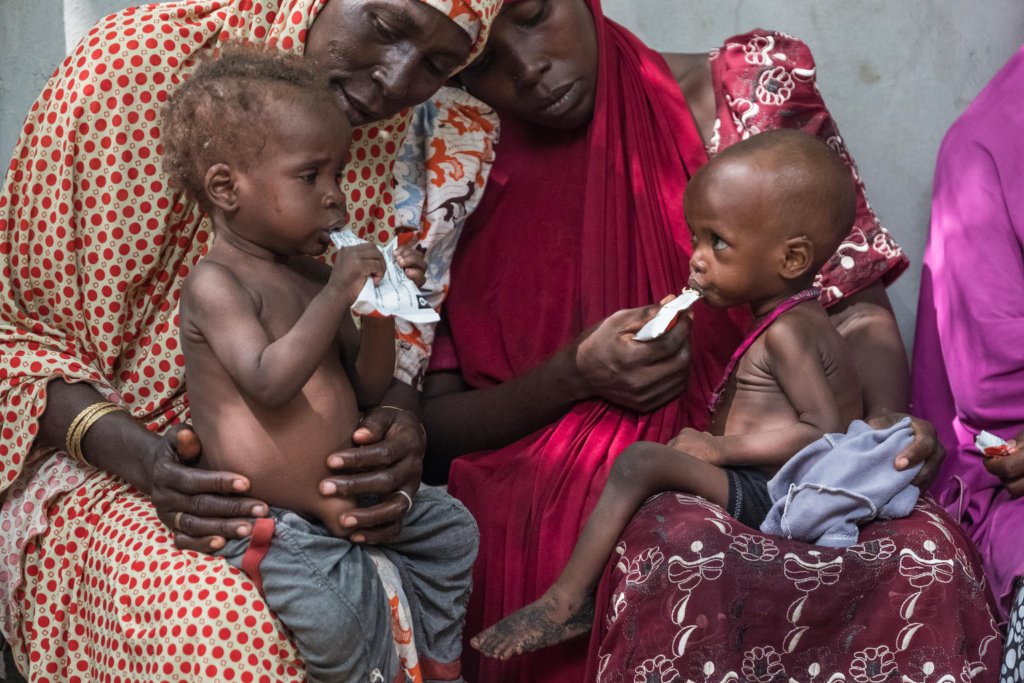 Thanks to the immediate response by partners like you, famine has been pushed backin South Sudan. Across the 13 countries affected by this crisis, your support has helped UNICEF and its partners provide critical support to the most vulnerable children, which includes treatment for approximately 744,000 children suffering from severe acute malnutrition.
But, the situation across these countries affected by food insecurity –along with conflict, displacement, below-average harvests and soaring food prices–still remains urgent, leaving millions in need of life-saving support such as screening and treatment forchildren suffering frommalnutrition; health services such as vaccinations; water, sanitation and hygiene programs to prevent deadly diarrheal diseases; protection for children affected by the conflict and displacement; access to education; and cash assistance to the most vulnerable families.
SOUTH SUDAN
Identified 8,430 children suffering from severe acute malnutrition (SAM). Since January 2017, close to 80,000 children with SAM have been admitted to therapeutic care by UNICEF.
Rehabilitated 32 water points providing over 14,000 people with access to safe water, which includes new internally displaced persons and respond to the current cholera outbreak in Jonglei State.
Established 12 temporary learning spaces and rehabilitated 11 classrooms in Guit, Mayom, Pariang and Panyijiar counties increasing access to education for 1,840 children and adolescents.
Treatedmore than 76,000 children suffering from severe acute malnutrition, and provided 500,000 people with safe drinking water and an additional 200,000 people with access to sanitation facilities. UNICEF plans to reach more than 200,000 children under the age of five with treatment for severe acute malnutrition.

SOMALIA
Provided close to 100,000 children with lifesaving treatment for severe acute malnutrition since January 2017.
Provided 104,462 children with access to education. All UNICEF-supported schools remained open during the school break, with special catch-up classes in the afternoon for children who missed classes due to drought-induced displacement.
Supported 672,520 women and children under five with emergency life-saving health services by supporting over 100 health facilities and close to 90 mobile health units.
Provided more than 1.58 million people with temporary access to safe water.

YEMEN
With the health system working at the limits of its capacity, the communitymanagement of acute malnutrition program has become even more critical to treat and prevent malnutrition. Over 16,500 children were treated for severe acute malnutrition in May and nearly 7,000 received micronutrient supplementation.
An immunization campaign reached almost 37,000 pregnant women and approximately 323,000 women of child bearing age with the tetanus toxoid vaccine.
Rehabilitated 22 water supply systems and maintenance support to an additional 30 systems to provide 253,000 people with sustainable drinking water.
Over 23,000 internally displaced people received water, sanitation and hygiene support including emergency water supply trucking, installation of water storage tanks and constructing emergency latrines.

NIGERIA
A total of 46,839 children suffering from severe acute malnutrition have been admitted into the therapeutic feeding programs, which includes a regular intake of ready-to-use therapeutic food.
Close to 137,000 people have been reached with safe water through various interventions such as rehabbing hand pumps and/or trucking in water. In Borno and Adamawa for example, 41 hand pumps and a solar borehole were rehabilitated to provide access to safe water for 21,446 people.
UNICEF reached 45,317 children with community-based psychosocial support. Message of Thanks
Links: