Project Report

| Mar 27, 2019
WINGS' 2018 SERVICE PROVISION RESULTS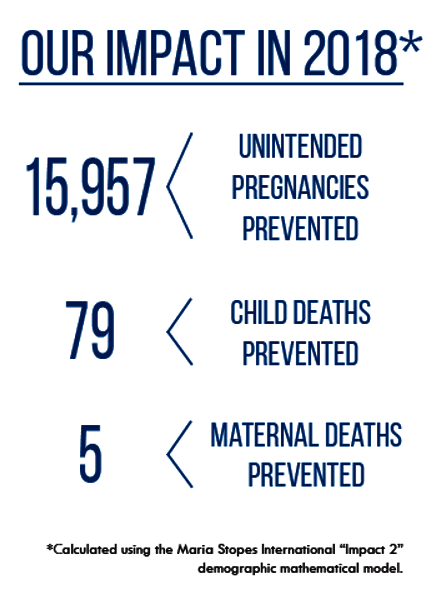 2018 was a challenging year for Guatemala. Fuego Volcano forever changed the lives of thousands of families and the landscape near WINGS' headquarters in Guatemala. Looking back, the months from June to October seem to have gone by in waves of emotions, ash-filled air, and an outpouring of generosity from around the world. While there was not a direct impact on the services we provide in other departments, our organization as a whole and Guatemala in general was deeply impacted by this tragedy. It brought our already close staff even closer together and revealed a strengthened commitment to serve vulnerable communities. WINGS raised over $78,000 to support the community's response to the volcanic eruption.
Throughout the year, WINGS served a total of 23,171 individuals with contraceptive services and reproductive education. Our focus on rights-based, patient-centered care continued to guide every interaction and helped us build trust with our patients and community partners.
We formalized a partnership with Iniciativa Guatemala to provide oversight of a new Reproductive Health Project housed within their organization which is implemented in severely poverty-stricken, high-crime areas of Guatemala City. We provide capacity building training to key members of their staff and are replicating our youth program model at their school sites.
In November, our Executive Director Rodrigo Barillas and our field promotion supervisor Celeste Velásquez attended the 2018 International Conference on Family Planning in Kigali, Rwanda. Celeste was accepted as the only Guatemalan Youth Delegate representative and had the opportunity to present as part of a youth panel to international experts. WINGS' work is being noticed on the international stage and we are so proud to share some highlights with you here.
Throughout 2018, WINGS delivered clinical reproductive health services through 2 mobile units, a network of more than 30 Volunteer Health Promoters, a stationary clinic in Antigua, and satellite clinics in Cobán and Sololá. Covering 11 departments (Guatemalan states), we attempt to fill in gaps in access to care, especially in hard-to-reach rural communities.
We are so very grateful for your continued support and partnership as we reach the unreachable with reproductive health education and services in Guatemala.