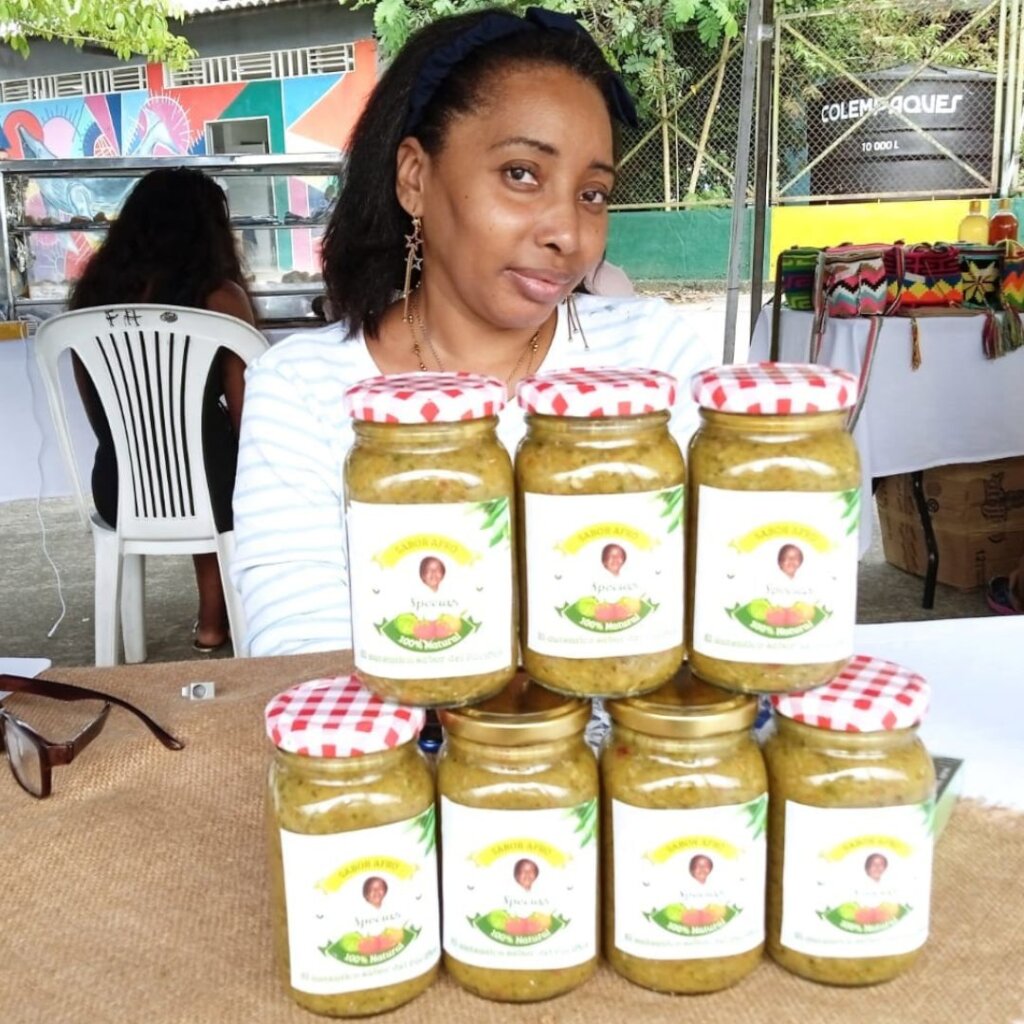 ENGLISH VERSION:
We want to tell you how we have continued to advance and grow with the "Mujeres ROFÉ" program in Colombia. We finished the year 2022 on a very positive note, thanks to the efforts of the team, our mentors and allies, and the support of all of you: our donors. You made it possible to consolidate a community of more than 700 women heads of household belonging to 90 municipalities of 16 departments of Colombia. It was a quite positive year, which allowed us to grow rapidly in the number of benefited women, which at the same time, gives us the boost to continue working hard and thus reach many more women in this year 2023.
We will tell you in detail what we have done in the last months, since the previous report:
November 2022:
During this month, the "Finance for Entrepreneurs" workshop was held, for which 92 women from different areas of the country signed up.
During the execution of this workshop, the women were given guidance on the correct administration of their personal finances in order to establish a plan that allows them to have financial stability. Different concepts such as debts, savings, income, investment expenses and retirement funds were discussed, which allows ROFÉ women to have a better vision of how to manage their ventures, avoiding falling into financial problems.
December 2022:
At the end of the cycle of training workshops for Mujeres ROFÉ in 2022, during the month of December we had the workshop "Boost your business on digital platforms", to which 86 women from different areas of Colombia registered.
With this workshop, our entrepreneurs were provided with fundamental tools to boost their business through social networks and digital media which allow them to create strategies with a greater reach and positioning of their ventures, something that is essential for the success of businesses in these modern times.
January 2023:
At the beginning of the year, we gave the women a space to rest so that they could take advantage of the time with their families and at the same time recharge for this new year. Meanwhile, we took this opportunity to plan the training workshops that we are going to give to women in 2023, as well as the complementary talks that our mentors and allies help us give. We also migrated the workshops to a new learning platform that we acquired, seeking to bring greater benefit to our women.
February 2023:
This February we celebrate one year of having officially launched the program, which has given us a lot of happiness and satisfaction.
During this month, a new cycle of workshops began, beginning with "Essential Skills for 21st Century Entrepreneurs", to which 82 women from the country signed up.
During this workshop they mixedpractice with theory to train women with contributions from coaching, neurolinguistic programming (NLP), creativity techniques, group dynamics, team facilitation techniques, andragogy, and gamification, in order to enhance motivation, concentration, the effort, loyalty and other positive values common to the learning of the women who are part of the program.
March 2023:
In the beginning of March we enabled the workshop "Entrepreneurship: Developing a business idea", which will be developed throughout it. We have received the registration of 70 women from different areas of the country. With this workshop we seek to transfer to the participants tools aimed at the development of their ventures, helping them to develop their business idea, turning it into reality.
In parallel, throughout this period we will continue to give regular complementary open talks on various topics such as Mindfulness, finances and female empowerment, which give our beneficiaries much more integrality, contributing to their personal growth. We want to highlight the great reception that Mindfulness talks have among women, which have become a "cure for the soul" for many of them who take advantage of these spaces to free themselves from sorrows and burdens that afflict them in their day to day.
We will continue to inform you of the progress of this powerful project. Thank you for the support, thank you for the trust, thank you for being transformative energy. ¡Thank you for being ROFÉ!
VERSIÓN EN ESPAÑOL:
Queremos contarte como hemos continuado avanzando y creciendo con el programa "Mujeres ROFÉ" en Colombia. Finalizamos el año 2022 llenos de mucha felicidad ya que, gracias al esfuerzo del equipo de trabajo de la fundación ROFÉ, de sus mentores y aliados, y al apoyo de todos ustedes, se logró consolidar una comunidad de más de 700 mujeres cabeza de hogar pertenecientes a 90 municipios de 16 departamentos de Colombia. Fue un año bastante positivo, que nos permitió crecer rápidamente en el número de mujeres beneficiadas y que, a la vez, nos da el impulso para seguir trabajando fuertemente y de esta manera llegar a muchas más mujeres en este año 2023.
A continuación, te contamos en detalle lo que hemos realizado en los últimos meses desde el informe anterior:
Noviembre de 2022:
Durante este mes se llevó a cabo el taller "Finanzas para emprendedoras", al cual se inscribieron 92 mujeres de diferentes zonas del país.
Durante el desarrollo de este taller se les dio a las mujeres orientación acerca de la correcta administración de sus finanzas personales con el fin de establecer un plan que les permita tener tranquilidad financiera. Se trataron diferentes conceptos tales como deudas, ahorros, ingresos, gastos inversiones y pensión, que les permite a las mujeres ROFÉ tener una mejor visión de cómo manejar sus emprendimientos, evitando caer en problemas financieros.
Diciembre de 2022:
Finalizando el ciclo de talleres de formación a las mujeres ROFÉ en el año 2022, en diciembre tuvimos el taller "Impulsa tu negocio en plataformas digitales", al cual se inscribieron 86 mujeres de diferentes zonas de Colombia.
Con este taller se les brindó a nuestras emprendedoras herramientas fundamentales para potenciar su negocio a través de redes sociales y medios digitales que permiten crear estrategias de mayor alcance y posicionamiento del emprendimiento, algo que es fundamental para el éxito de los negocios en estos tiempos modernos.
Enero 2023:
Comenzando el año les dimos a las mujeres un espacio de descanso para que pudieran aprovechar el tiempo con sus familias y a la vez recargarse para este nuevo año. Mientras tanto nosotros aprovechamos para hacer la planeación de los Talleres de formación que les vamos a dar en este 2023 a las mujeres, así como de las charlas complementarias que nuestros mentores y aliados nos ayudan a dictar. También hicimos la migración de los talleres a una nueva plataforma de aprendizaje que adquirimos, buscando traerles un mayor beneficio a nuestras mujeres.
Febrero 2023:
Este mes de febrero cumplimos un año de haber lanzado oficialmente el programa, lo cual nos ha dado mucha felicidad y satisfacción.
Durante este mes se inició un nuevo ciclo de talleres, comenzando con el de "Habilidades esenciales para emprendedoras del Siglo XXI", al cual se inscribieron 82 mujeres del país.
Durante este taller se mezclaronla práctica con la teoría para capacitar a las mujeres con aportes de coaching, programación neurolingüística (PNL), técnicas de creatividad, dinámicas de grupo, técnicas de facilitación de equipos, andragogía y gamificación, con el fin de potenciar la motivación, la concentración, el esfuerzo, la fidelización y otros valores positivos comunes al aprendizaje de las mujeres que hacen parte del programa.
Marzo 2023:
Comenzando el mes de marzo hemos habilitado el taller "Emprendimiento: Desarrolla una idea de negocio", el cual se desarrollará a lo largo del mismo. Hemos recibido la inscripción de 70 mujeres de diferentes zonas del país. Con este taller buscamos transferir a las participantes herramientas dirigidas al desarrollo de sus emprendimientos, ayudándolas a desarrollar su idea de negocio, convirtiéndola en realidad.
En paralelo, durante todo este periodo de tiempo continuamos dictando en forma periódica charlas abiertas complementarias de diversos temas tales como Mindfulness, finanzas y empoderamiento femenino, que dan mucha más integralidad a nuestras beneficiarias contribuyendo a su crecimiento personal. Queremos resaltar la gran acogida que tiene entre las mujeres las charlas de Mindfulness, las cuales se han convertido en una "cura para el alma" para muchas de ellas que aprovechan estos espacios para liberarse de penas y cargas que las aquejan en su día a día.
Te seguiremos informando del avance de este hermoso proyecto. Gracias por el apoyo, gracias por la confianza, gracias por ser energía transformadora. ¡Gracias por ser ROFÉ!