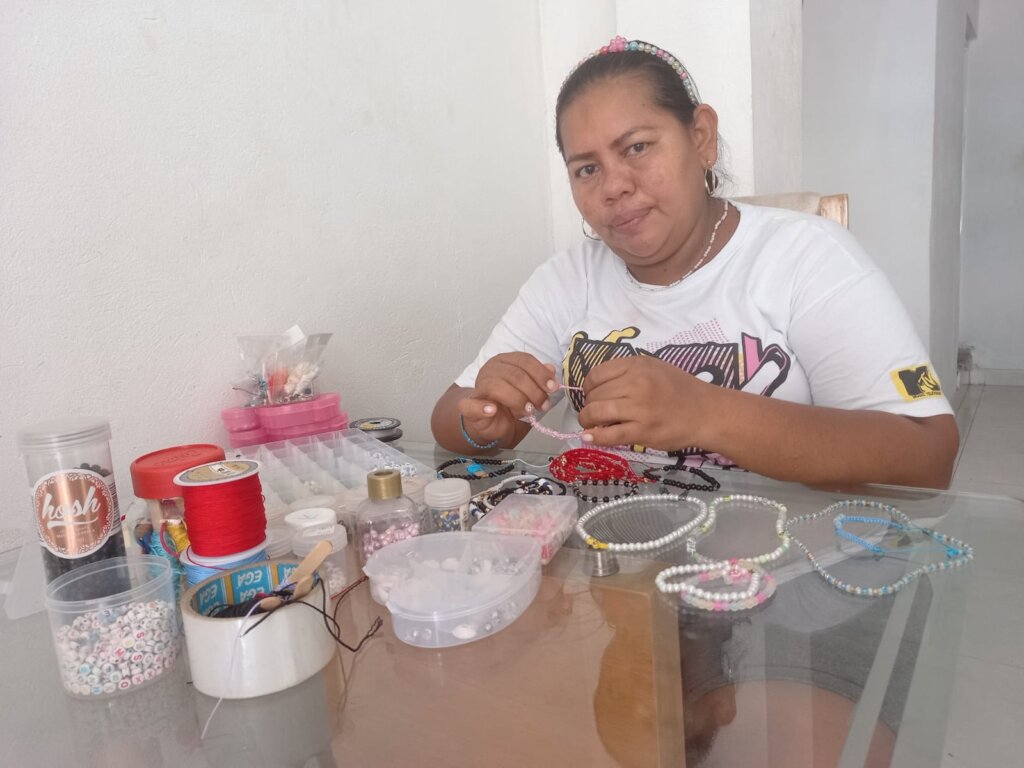 ENGLISH VERSION:
Time continues to move quickly and we are about to end this year 2022, so we want to tell you what we at Fundación ROFÉ have done in recent months in the development of "Mujeres ROFÉ" program. There are already almost 700 women heads of household rom 74 municipalities belonging to 15 departments of Colombia who, thanks to your support, have signed up to be part of the program.
August 2022:
This month we began the second cycle of workshops of the year, enabling the "Mindfulness" workshop on our learning management platform on August 4th, to which 104 women signed up. For four weeks, these women did mindfulness work, led by an expert who, through mental and concentration exercises, taught them how to focus attention on the present moment, to feel things as they are happening, without exercising control over them.
During this time, they worked on three important issues for their personal and professional development: forgiveness, self-esteem and gratitude.
September 2022:
On September 1st, we enabled the workshop on "Essential skills for 21st century entrepreneurs", to which 102 women signed up.
In this workshop our instructors mixed practice with theory to train women with contributions from coaching, neuro-linguistic programming (NLP), creativity techniques, group dynamics, team facilitation techniques, andragogy and gamification, in order to enhance motivation, concentration, effort, loyalty and other positive values common to the learning of women who are part of the program.
October 2022:
During this month, the "Entrepreneurship: Develop a business idea" workshop was held, to which 96 women from different parts of the country signed up, and in which tools aimed at developing their enterprises were transferred to the participants.
In this Workshop, our instructor discussed topics such as: definition of Entrepreneurship, development of Business Idea, ideation methodologies, development of the Business Model through the use of the Canvas model, validation of the Business Idea (DOFA Analysis, Scamper, Pre-Mortem) and lastly, they went on to talk about Action and Expansion of the business idea: communication, image, logo.
The women who completed this module were immediately enabled to request advice from one of our mentors, for the validation and improvement of their business ideas.
Now in November we are getting ready to start a new "Finance for Entrepreneurs" workshop with which we hope to get ready for the closing of the training cycle in 2022.
In parallel, throughout this year we have continued to periodically give complementary open talks on several topics such as Mindfulness, finances, negotiation, female empowerment, time management, among others, given by our mentors and allies to the program, which make the program itself be much more comprehensive for our beneficiaries.
Likewise, we are very pleased to share that in September we gave three women participating in the program seed capital that has allowed them to develop their business ideas. For this they had to meet a series of requirements such as: correctly completing the Entrepreneurship workshop, requesting advice from a specialized mentor, taking the three sessions with the mentor and then requesting the seed capital, attaching the supporting documents required by us.
We will continue informing you of the progress of this powerful program. Thanks for the support, thanks for the trust, thanks for being transformative energy. Thank you for being ROFÉ!
VERSIÓN EN ESPAÑOL:
El tiempo sigue avanzando rápidamente y ya estamos a punto de finalizar este año 2022, así que queremos contarte lo que desde la Fundación ROFÉ hemos realizado en estos últimos meses en el desarrollo del programa "Mujeres ROFÉ". Ya son casi 700 mujeres cabeza de hogar provenientes de 74 municipios pertenecientes a 15 departamentos de Colombia que, gracias a tu apoyo, se han inscrito para ser parte del programa.
Agosto 2022:
En este mes comenzamos el segundo ciclo de talleres del año, habilitando el día de 4 de agosto en nuestra plataforma de gestión de aprendizaje el taller de "Mindfulness", al cual se inscribieron 104 mujeres. Durante cuatro semanas estas mujeres hicieron un trabajo de conciencia plena, dirigidas por una experta en el tema quien, a través de ejercicios mentales y de concentración, les enseñó como fijar la atención en el momento presente, para sentir las cosas tal y como están sucediendo, sin ejercer control sobre ellas.
Durante este tiempo trabajaron en tres temas importantes para su desarrollo tanto personal como profesional: el perdón, la autoestima y la gratitud.
Septiembre 2022:
El primero de septiembre habilitamos el taller de "Habilidades esenciales para emprendedoras del Siglo XXI", al cual se inscribieron 102 mujeres.
En este taller nuestros instructores mezclaron la práctica con la teoría para capacitar a las mujeres con aportes de coaching, programación neurolingüística (PNL), técnicas de creatividad, dinámicas de grupo, técnicas de facilitación de equipos, andragogía y gamificación, con el fin de potenciar la motivación, la concentración, el esfuerzo, la fidelización y otros valores positivos comunes al aprendizaje de las mujeres que hacen parte del programa.
Octubre 2022:
Durante este mes se llevó a cabo el taller de "Emprendimiento: Desarrolla una idea de negocio", al cual se inscribieron 96 mujeres de diferentes zonas del país, y en el cual se transfirió a las participantes herramientas dirigidas al desarrollo de sus emprendimientos.
En este Taller nuestro instructor trató temas como: definición de Emprendimiento, desarrollo de Idea de Negocio, metodologías de ideación, desarrollo del Modelo de Negocio mediante la utilización del modelo Canvas, validación de la Idea de Negocio (Análisis DOFA, Scamper, Pre Mortem) y por último se pasó a hablar de Acción y Expansión de la idea de negocio: comunicación, imagen, logo.
Las mujeres que culminaron este módulo quedaron inmediatamente habilitadas para solicitar asesoría con uno de nuestros mentores, para la validación y perfeccionamiento de sus ideas de negocio.
Ahora en Noviembre nos alistamos para dar inicio a un nuevo taller de Finanzas para Emprendedoras con el que esperamos alistarnos para el cierre del ciclo formativo en 2022.
En paralelo, todo este año hemos continuado dictando en forma periódica charlas abiertas complementarias de diversos temas tales como Mindfulness, finanzas, negociación, empoderamiento femenino, gestión del tiempo, entre otras, dados por nuestros mentores y aliados al programa, que hacen que el mismo sea mucho más integral para nuestras beneficiarias.
Asimismo, estamos muy complacidos de compartir que en septiembre hemos entregado a tres mujeres participantes del programa, capital semilla que les ha permitido desarrollar sus ideas de negocio. Para esto ellas tuvieron que cumplir con una serie de requisitos como: finalizar correctamente el taller de Emprendimiento, solicitar la asesoría con un mentor especializado, tomar las tres sesiones con el mentor y luego solicitar el capital semilla, adjuntando los documentos soporte requeridos por nuestra parte.
Te seguiremos informando del avance de este poderoso programa. Gracias por el apoyo, gracias por la confianza, gracias por ser energía transformadora. ¡Gracias por ser ROFÉ!
Links: