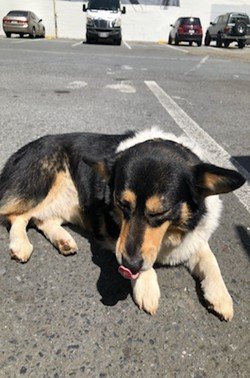 Selection of stories to feature for this report each month is difficult. We average up to 20 paid emergency cases a week and have up to 70 pending cases. A pending case has been delayed due to the need of homeless verification, an appointment for an exam that has been pushed out for days – weeks depending on the hospital or the case manager is waiting for call back for treatment plan and estimate or for payment. They may be pending because the person/pet was a no show for an appointment due to transportation issues and we are waiting to hear back so we can re-schedule.
Mark has been homeless living in his van for the past five years in Oakland, CA. He is unemployed and receives food stamps.
Mark reached out to Feeding Pets of the Homeless because his two-year-old male Korgi mix had a puncture wound on his paw and an ear infection. Nuggets is neutered and is current on vaccinations.
An intake interview was completed and homeless verification was provided.
We approved an exam at one of our 1,100 network hospitals. The exam included ear cytology, injections and X-rays. Nugget was provided medication for an infection.
Feeding Pets of the Homeless contributed $334 towards care for Nuggets.
~~~~~~~~~~
From a client:
"First I want you guys to know that I'm grateful for the help which you guys provided for my dog. The case manager was very helpful and guided me in the direction so that my dog could be seen by a vet. I called her at about 9:15 am, and she found a vet in my area and she scheduled my appointment for 11am. When I arrived, everything was taken care of. Thanks to Feeding Pets of the Homeless. Thanks once again."
~~~~~~~~~
When you are homeless, you are at risk of domestic violence. This case was called in by one of our network hospitals when Christina walked into the hospital with Lucky her thirteen-month old female pit-bull mix. Lucky had received multiple stab wounds by the abuser when protecting Christina.
Feeding Pets of the Homeless was able to pledge $857 for the exam, labs, fluids and sedation needed to make laceration repairs.
Lucky went home with Christina, which is a car, with an e-collar and pain medications.
It is with your support that we have eased the suffering of pets while easing the anguish of their human who do not have the resources to pay a veterinary hospital.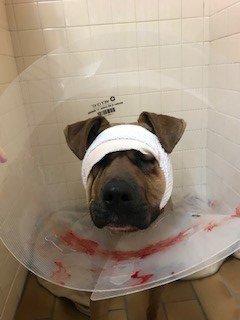 Links: