Project Report

| Dec 1, 2021
National support for wildlife carers and endangered wildlife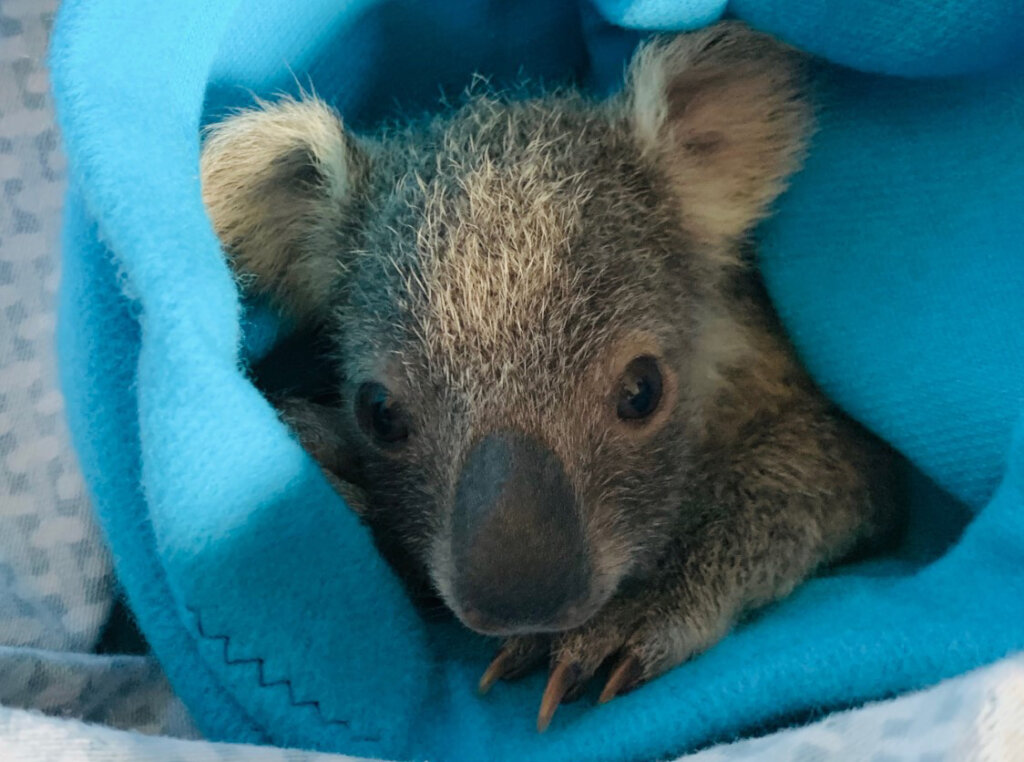 While we have spent a great deal of time in the last two years developing and delivering multiple wildlife recovery programs and working on emergency preparedness plans we also remain focused on the animals requiring rescue and care every day.
The young koala joey pictured above was a recent rescue in Queensland where one of our Emergency Response Vehicles and Emergency Response team member, Amy are based. The ERT van provides valuable rescue assistance in a region where urban development is fragmenting and destroying valuable habitat and having an enormous impact on the koala populations there.
If you would like to receive monthly rescue stories about our ongoing rescue work with wildlife you can register to receive our enews directly to your inbox.
MAJOR GRANT PROGRAM FOR THE AUSTRALIAN WILDLIFE SECTOR
Since our last report we are excited to have launched a new $5million grants program to improve outcomes for Australia's native wildlife. The grants will provide support for dedicated wildlife volunteers and organisations across Australia.
The National Grant Program will be run over five years and will support best practice wildlife rescue and rehabilitation, native species recovery projects and increase emergency preparedness.
"We are really encouraging sector collaboration in this ground-breaking grant program," said WIRES Projects and Grants Manager, Jennie Murray. "By supporting expertise and sharing knowledge between wildlife rehabilitators, researchers, conservation professionals and community groups we believe this will result in the best outcomes for native species."
MORE SUPPORT FOR VITAL TURTLE CONSERVATION PROGRAMS
We have also committed to supporting more projects to address the vital conservation of endangered turtle species.
A global assessment of turtle populations has identified that half of the 360 turtle and tortoise species worldwide face imminent extinction. In Australia a range of factors has seen a 91% decline of Australia's most common turtle species over the last 40 years. Key factors include attacks from invasive predators, road mortality, habitat destruction, water quality degradation and extreme weather events such as drought and bushfires.
"The trajectory for turtle populations worldwide is nothing short of alarming," said WIRES Chief Operating Officer, Kyla Shelley. "We are thrilled researchers, conservation groups, wildlife organisations, government agencies and the community are coming together to address this urgent issue."
Our initiatives to support Australia's turtles include partnering with Western Sydney University on a new project to Future Proof Freshwater Turtle Populations.
A WIRES grant will help establish a breeding program for two endangered freshwater turtle species identified by the Australian Government Bushfire Recovery Panel as requiring urgent intervention. A breeding, release and research program is being set up for the Manning River and Bell's River Turtles.
LOOKING FORWARD
Although it is two years since the catastrophic drought and bushfires decimated wildlife populations and habitat across much of eastern Australia, every day we are faced with situations that remind us there is still so much more to do. The need to provide support for threatened species, for building rescue and treatment capacity, supporting volunteers through training and better understanding of the most effective solutions through wildlife research.
Everyone who has contributed and continues to support this project is helping to improve the health and welfare of Australia's very unique and special native animals. Thank you.
Links: