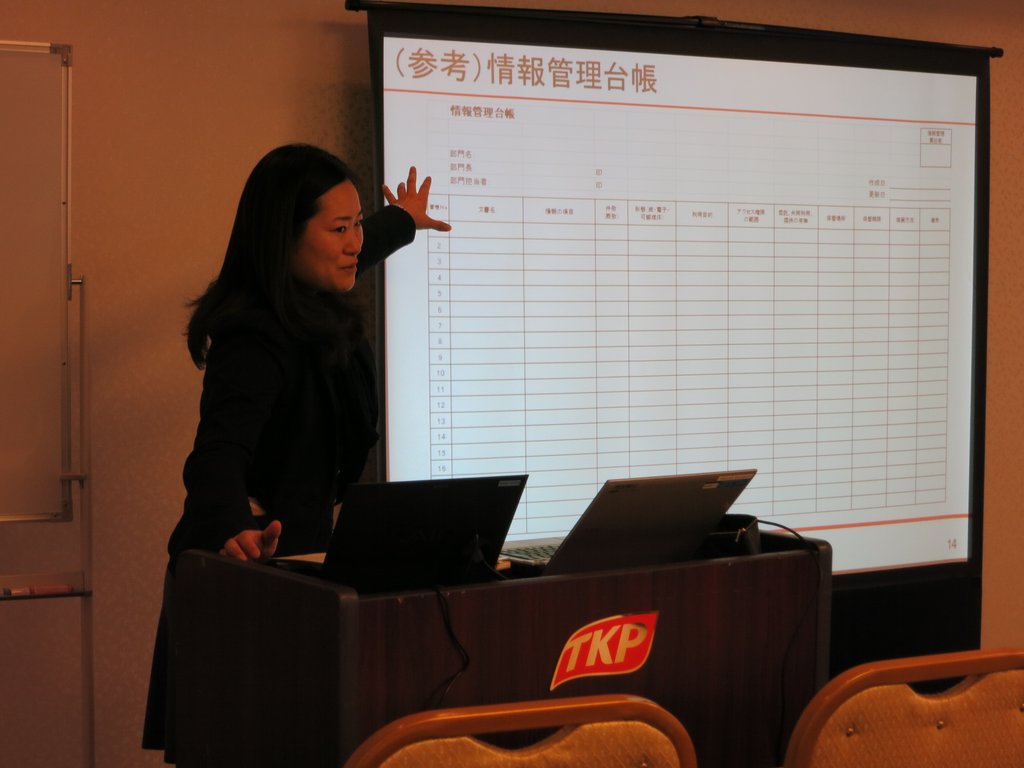 International Medical Corps' work in Japan focuses on disaster risk reduction and training for local organizations – so they are better prepared to face a future emergency and meet the needs of local communities. Our team works hand-in-hand with these local organizations to identify gaps in emergency preparedness and response efforts, and help build their response capacity so they can effectively respond to a local emergency even if they are directly affected by the disaster.
In the fall of 2013, International Medical Corps and our corporate partners conducted a three-part workshop series on Business Continuity Planning to help local Japanese non-government organizations (NGOs) create solutions to risk-related challenges and better prepare for future emergency response and recovery efforts. When asked about issues not covered in the first series of workshops, NGO participants said that information management and information security remained a major concern when delivering humanitarian assistance.
While many Japanese NGOs understand they have a responsibility to protect their information, they often do not have the systems, policies, or procedures necessary to protect the information against various elements of risk. When a disaster strikes, the need for proper information management techniques becomes even more critical, as new information regarding program needs and beneficiaries can increase exponentially. At the same time, systems to safely and securely store information about program participants may be affected by the disaster and subsequent power outages and resource restrictions. Based on feedback from the local NGOs, International Medical Corps worked with local, corporate partners Tokio Marine & Nichido Risk Consulting Co., Ltd., and Mitsubishi Corporation Insurance Co., Ltd., both experts in risk management, to create a three-part workshop to help organizations meet the increased information management demands that come with a disaster response.
On February 25, 2014, International Medical Corps successfully conducted part one of this series. Nozomi Kawashima (a certified Information Privacy Consultant at Mitsubishi Corporation Insurance Ltd.) and Yosuke Sakamoto (Senior Consultant in the Business Risks Department at Tokio Marine & Nichido Risk Consulting Co.) jointly taught participating NGO management staff members about the fundamentals of information management. After hearing specific examples of information management risks faced by corporations and discussing examples from their own organizations, program participants identified common information security risks and worked in groups to complete an information assets identification exercise based on a case study of an imaginary NGO. This exercise helped these local organizations better appreciate and identify security and information managements risks in their own organizations.
The second workshop, held on April 23, 2014, continued using the case study of the imaginary NGO from the previous session. Groups were asked to imagine they were all working for this particular NGO that mistakenly leaked private information about its beneficiaries on a public domain, and to work backwards to identify specific steps it could have taken to prevent this problem from occurring, again helping organizations to better manage security risks in their own entities.
During the third workshop session on May 20, 2014, organizations were given advice about how to monitor and continuously improve their information management process, as well as, how to raise awareness and educate their staff on a regular basis regarding the do's and don'ts of dealing with information.
Assignments were given to participants before and after each workshop, and the lessons were shared internally with their staff members so that the trainings transferred beyond just the individuals participating in the workshop. At the end of the workshop series, each NGO was equipped with the tools to create its own information management and risk assessment systems that fit its respective organizational needs, including a comprehensive template for an information management rulebook that can be tailored to their organization's context.
Below are some quotes from the workshop participants describing how this series helped their organizations:
Nozomi Ashida, Administrative Manager for Adventist Development and Relief Agency (ADRA) Japan - "With the guidance of the experts, we were able to really look at what kinds of information our organization deals with and the different risks we faced with each kind. Once we finish creating our guidelines, we will hold study sessions within our organization so all the staff can have a shared understanding of what information management is for us and to make sure we are all able to implement the new rules."
Junya Hosono, Administrative Manager for Japan International Volunteer Center (JVC) – "Step by step, the workshops led me through the information management process and was easy to follow. I also appreciated that the consultants incorporated examples based on the unique circumstances of NGOs when preparing the workshop material. This made it easy for me to understand the lectures and group activities and was also helpful when I reviewed all the material again on my own. I'm eager to share what I've learned with my colleagues and really start building JVC's information management system.
Yoko Asakawa, Information Manager for JEN – "I joined these workshops because, as JEN's Information Manager, I felt the need to improve our level of information security. This series allowed me to gain a comprehensive understanding of the concepts behind information management. Through the workshop, group activities, and homework assignments, I was able to "do" as I learned and actually go through the process of creating new rules and regulations for my organization, which further deepened my understanding of the topic. The workshops were very practical, and I gained some hints on how I can share what I've learned about information security within my organization."