Project Report

| Dec 10, 2022
New Beginnings and Graduations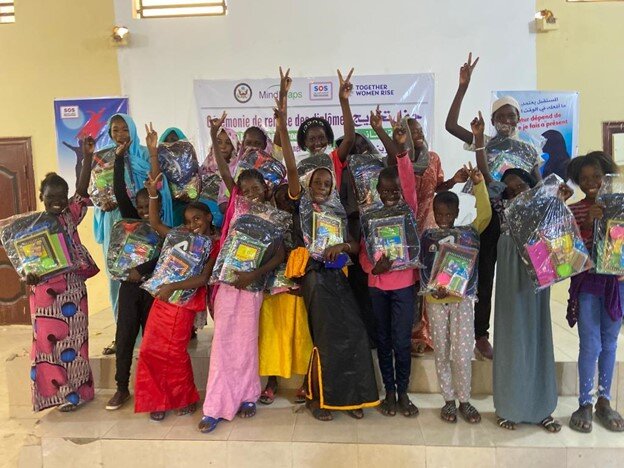 The 2022-23 school year began with MindLeaps enrolling a new cohort of girls. In September, 110 children (85 girls and 25 boys), all school dropouts, were recruited for the MindLeaps dance program. The selection of these children was informed by the principles of DEI (Diversity, Equity, and Inclusion). Children from both the El Mina district and the Arafat community of Nouakchott were chosen to ensure that the program would be inclusive of the different ethnic communities.
The MindLeaps dance program includes 50 children (ages 9-14 years), and another 60 older girls (16-22 years) enrolling for the dance program, plus vocational training. Young women and girls develop cognitive and social-emotional learning skills in our dance classes that help them move on with their education. One of the successful paths young women take is to enter the Vocational Training Program run by our local partner in Nouakchott, SOS Pairs Educateurs. Through this program, they can prepare for such professions as tailoring and hairdressing, opening up opportunities for self-sufficiency and independence for themselves and their families.
Children who successfully complete the MindLeaps dance and academic catch-up program are sponsored to enroll in formal education. For the 2022-23 academic year, which began in October, a total of 104 children have been enrolled, both returning students and those we are sponsoring for the first time. We are now working with eight different schools, increased from three, so the children can attend closer to their homes. New students entering school are provided with school kits at the beginning of the term, equipping them with a backpack, books, pens and pencils, notebooks, and clothes for sports.
Just as new students are beginning their educational journey, MindLeaps has also seen new graduates ready to begin their careers. In October, a graduation ceremony was held for the cohort of young women who had successfully completed their Vocational Training. The ceremony was attended by family and friends, and included a dance performance by members of the MindLeaps Performing Group. We are so proud of our graduates!