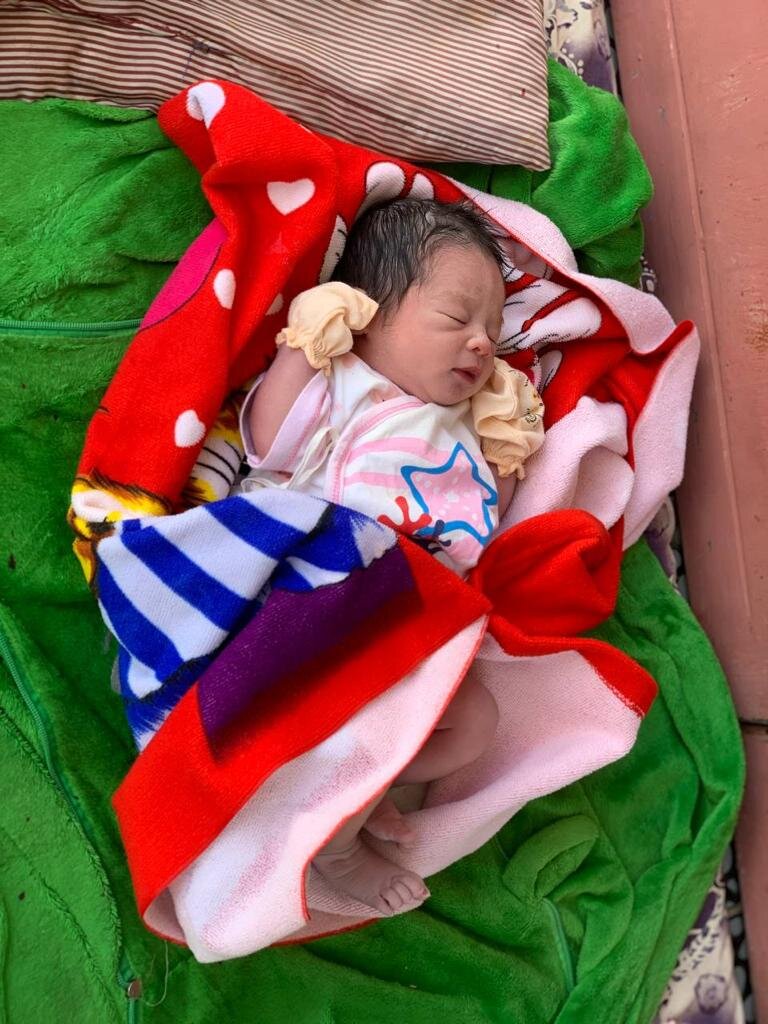 Dear Kind Donors,
In these last few days, we have received three Emergency Cases to our School. One is a young boy of 12, whose parents died of AIDS and who himself has HIV and is disabled in the right foot. He has been living with his Grandmother in a remote part of the mountains, unable to attend school and living in dire poverty, without any amenities. Because he has a loving Grandmother, then it is very important to keep this precious relationship in tact and so he will see his Grandmother often and she her Grandson. Through our Childsafe Partners, we will also try and help his Grandmother become economically more self-sufficient.
Then on Saturday, a little girl aged 10 was brought into our care by the local authorities, because her mother had abandoned her and disappeared, leaving her with relatives in Phnom Penh, but they had used her as a servant and prevented her from attending school. In this position she was kept in slavery.
Then at the weekend a young woman who had been living in a van and who was heavily pregnant, gave birth in the ambulance while it was taking her to hospital. Not having any known living relatives, completely without any help and herself suffering from trauma and mental illness, our School came forth and bought Baby clothes, nappies, a change of pyjamas for the Mother, hot cooked meals brought from our School to give her strength and everyone taking it in turns to care for Mother and Baby and showing the new Mother how to look after her New-Born.
However, as it became increasingly evident, after leaving hospital and going to rented accommodation (sponsored by a local resident), that the poor lady was so mentally unwell, she was not able to take care of her Baby properly and the Baby risked dying. Not because she mistreated Baby, but because of mental illness, she had periods of prolonged catatonic episodes and also did not know what to do with her Baby. Therefore we made the quick decision to bring both Mother and Baby to our School to take care of them both and this evening we settled them in, with our Staff there ready to help and care for them, with the knowledge and blessing of local authorities. This is also because authorities can be very slow and both were very vulnerable. As Time goes by, we will find the best way to help the Mother. For now, "Lucky"* at three days old, is the very youngest "Student" we have ever had!! He is the Light of Hope in our World and we love him and his Mum dearly.
Two weeks ago, we received a little girl whose parents had abandoned her and who was living with her grandmother who suffers from severe alcoholism, often leaving her granddaughter alone without food or care sometimes for days at a time. She was brought to our School by the local authorities in a lot of emotional pain and sadness. On Friday, as I am not currently at our School, I spoke with all our Children and Staff on a video call and found our new little Girl to be full of smiles and much more at peace.
I would like to note that our School is part of International Childsafe and adheres to vigorous International guidelines and Staff Training for the care of Children in Special Centres. We only take care of those Children who are in dire situations, where they have nobody, or have been abused or neglected and who really are, as alas in all Societies around the world, "The forgotten" and "The last of the last".
In a visit to our School last week, the Department of Social, Veterans and Youth Affairs, awarded our School 98% in the quality of care given.
Meanwhile, our Recording Project with our Blind Students, to help them on their journey as professional Musicians, is nearly completed. All Recordings have been done, but we are finalising the graphics. A hiccup was had in this latter part, due to our Mohori Master having to have an emergency operation in Vietnam. Now he is much better and after the Water Festival we will complete and share our beautiful Mohori Music.
The School term in Cambodia re-starts in December (Buddhist calendar) and we are busy buying School Uniforms for all our Children, as uniforms are compulsory in state school where they attend their scholastic lessons. Before the new term starts however, we will take all our Children (with the exception of Lucky) to the seaside at Kiep for a picnic and a swim!
Through all this, is the exceptional Love and Care of my dear Cambodian Colleagues, some of whom have been with me nearly 29 years and who are Exceptional People and Angels in this World. I love them and Thank them with all my Heart.
If you are able and can help donate on #GivingTuesday on GlobalGiving to this Project, on the 28th November 2023, Starting at 00:00:00 EST and ending at 23:59:59 EST of the same day, GlobalGiving will be giving Incentive Funds to boost your Donations, taking your Help even further! If you do donate, please kindly do so with credit/debit card, Paypal or Apple Pay, because checks and bank transfers are not eligible. If you don't make it on time, don't worry, because we are Grateful for all donations at the End of the Year too!
The Donation link is:-
https://www.globalgiving.org/projects/education-arts-orphan-disabled-children-cambodia/ (Project Number #16371)
We would be so immensely grateful! As you can see from our reports, your Support is essential and makes a massive impact on our School and, because we don't have any expatriate overheads or administrative costs (I work for free), then all Donations go straight to our School and to our Children.
Thank You All!
Catherine
*The names of our Children have not been given, to protect their identity and privacy. our Baby's full name has not been given in Cambodian language for the same reason.