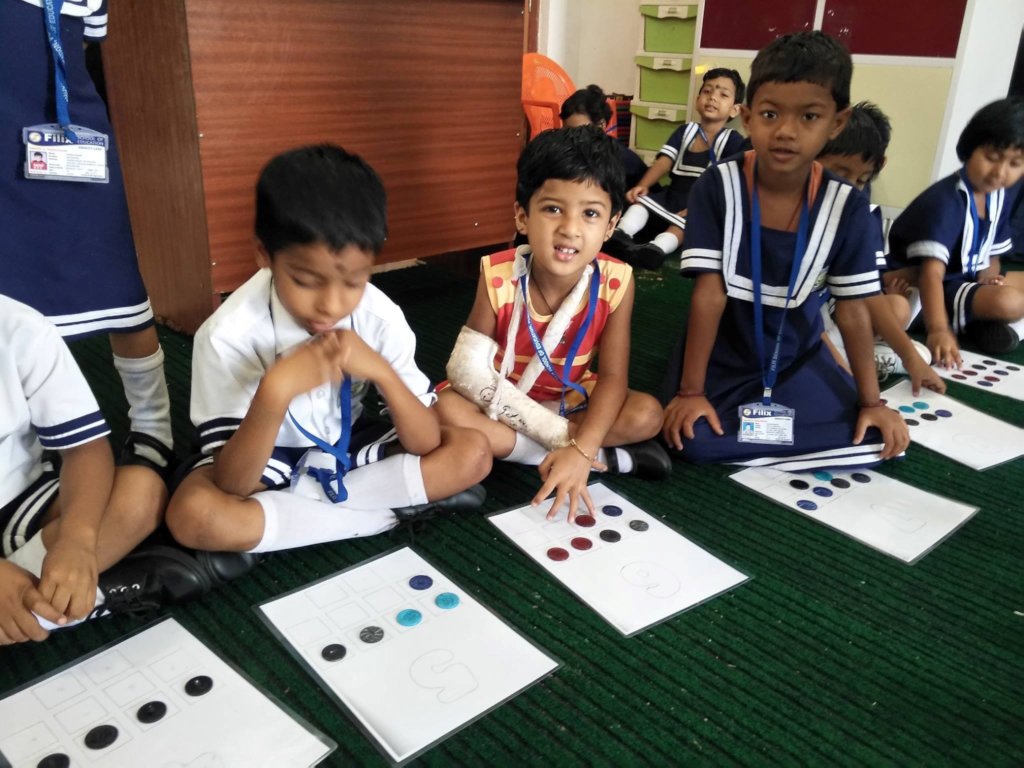 First and foremost, on behalf of Nanritam, I would like to thank our generous donors who have continued to lend their support to empower the kids who would not have access to the resources that they get at Filix School. We hope you continue to support these kids.
If you are new to the Nanritam project, we encourage you to familiarize yourself with the work we have been doing for the past sixteen years. The GlobalGiving campaigns page, our website and our social media pages are the best places to start. Please contact us if you need any further information.
There is a lot to report but let me limit it three stories in this report. I think these can connect you with the children better than any other quarterly progress report would.
Annesha's Story
Annesha, a very chirpy student of KG 1, met with an accident a few months back.
Her father was very tense when he brought her back to school with her hand in a plaster cast. Her teacher assured him that the school will try to ensure that Annesha gets all the special attention she needs as she recovers from the injury.
Everyone was attentive to Annesha and the class teacher wanted to relax the participation norms for her. But Annesha wasn't really looking for these concessions. She was too keen to participate in all the activities. She took part in the rhyming activities, made letters with play dough, counted numbers with buttons, organized letters and numbers with play cards….in short, she didn't allow the physical handicap to dampen her spirit.
Annesha embodies the Filix spirit of not getting disheartened by any setbacks.
Sarthak and Purba's Story
Traditionally, people have believed that exposing children to harsh competition early on will prepare them for competition in adulthood. However, many researchers have found that encouraging cooperation in the classroom actually leads to greater, more lasting achievement among students.
In Filix School we believe that working in small groups toward a common goal instructs children more appropriately for their roles in the world, which is becoming increasingly team-oriented. Additionally, obligatory interaction with peers fosters the acquisition of invaluable social skills such as leadership, decision-making, trust-building, communication and more.
A recent act of one of our students who was not prompted by us to act the way he did, confirmed our convictions.
Sarthak and Purba are both students of the fifth grade of Filix School. One day, while unpacking his bag on return from school, Sarthak was shocked to find Purba's science copy in his bag. This was because he knew that the next day they have a Science test. He was worried about how Purba will prepare for the test without the copy. He didn't have her contact number too. He felt helpless, but promptly took pictures of those pages of her copy which were marked for the next day's test and send them to his teacher with an earnest request - "Ma'am, please send these to Purba. By mistake, she has put her copy inside my bag that was next to hers. We have got a Science test tomorrow."
Their teacher sent the pictures immediately to Purba. There was a sense of immense relief in Purba's message – "Ma'am, thank you so much. I thought I have lost my copy". She was then told what had actually happened.
When Sarthak was informed that Purba has received the pictures, he immediately texted back – "Thank you so much, Ma'am". One could almost hear his sigh of relief in that message.
His sense of responsibility with an earnest desire to help his classmate at this tender age of ten was overwhelming, and we in Filix school felt immensely happy in being able to make our small contributions in cultivating senses of responsibility and fellow-feeling among our children.
A Story of from our Kindergarten Class
Cognitive development through joyful and positive experiences that allow children to acquire and assimilate knowledge is one of the major objectives of pre-school education. Developing the fine motor skills is the path to Cognitive Development.
Here's how one of our Filix School teachers tried to develop these skills among her Kindergarten students one of these days.
The concept is apparently simple. They chopped up the straws in various lengths, set them out on a plate or in a bowl and used a simple thread to thread them on. Children use their hands to thread various lengths of cut up plastic straws. It might sound so incredibly simple and not that exciting, but the children are really entertained by this activity while it ensures the development of their fine motor skills. This activity required children to use the smaller muscles in the hand, which is required for completing simple tasks like holding a pen, writing, drawing, gripping etc.
This activity is great for –fine motor development, coordination, concentration and opportunity to create patterns. And it was wonderful to see how hard all of them tried to come out with the perfect thing.
The beautiful long necklaces by Surya, Ankush, Jagadish and Mayank and others in the class mesmerized the teacher too.