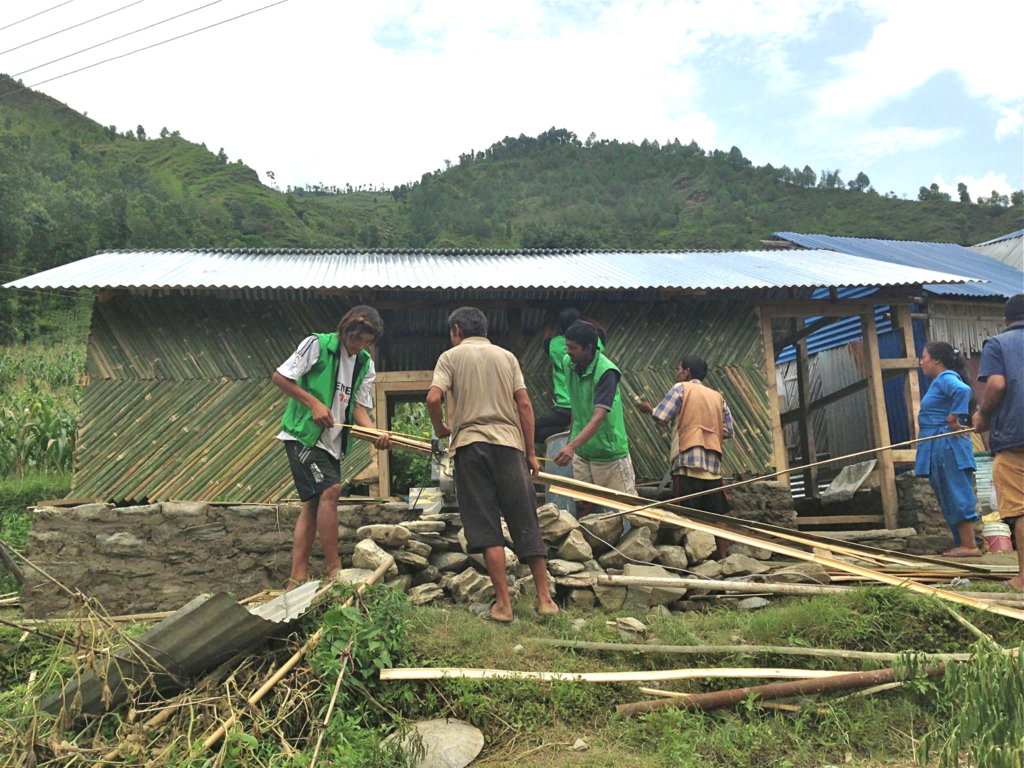 ANNOUNCEMENT!
Dear Supporters of the DCWC Relief Project:
We are closing our Relief Project as of this report. The reason is that we have now moved beyond the actual relief stage and are actively helping families build temporary/permanent homes before the cold of winter arrives.
We have therefore created a new project with Global Giving. You can find us under #21975, "500 homes for earthquake victims in Kavre, Nepal", and we hope you will continue to support us here.
Large sums of aid money have been pledged by international agencies to help in rebuilding Nepal after the devastating earthquakes of last Spring. Yet some sources believe the aid industry is in need of an overhaul itself and that only a fraction of the promised resources will actually end up in the country. Instead, privately funded NGOs on the ground are working hard to fill the immense needs of their people.
That is why we are particularly grateful to all of you who have given so generously to the DCWC Earthquake Relief project. Your money has gone directly to where it was needed. It has allowed us to not only provide basic necessities like rice and lentils, kitchen utensils, mattresses, blankets and plastic tenting for temporary shelters to hundreds of families right after the earthquakes, but also to slowly shift our focus to the tasks of repairing and building more secure shelters to protect people from the elements.
In collaboration with families in the Kavre Palanchok area DCWC has committed to build 500 temporary homes for those who lost their traditional stone houses in the strong May 12th earthquake.
The new homes will measure 10x20 feet and have two rooms. Rock and mud walls (topped with cement) will be the base, with bamboo for the walls, topped off with a tin roof. Post and beam construction provides the framework (see pictures). Once moved in, families can then opt to weather proof their new homes with traditional materials. These dwellings are meant to last for at least the next five to ten years or until a family can afford to rebuild their traditional stone house.
We are implementing our project in partnership with the Disaster Management Committee of the local VDC (Village Development Committee) and in close coordination with different government line agencies and other stakeholders in this area. The VDC is selecting the families that need new homes, and they also manage the effective rotation of manpower so that all families have adequate extra building crews during the construction process. All families are committing 'elbow grease' and a $150 government stipend for windows and doors to the process. With your generous help we hope to contribute $250 per structure for cement, tin and professional supervision to live up to our ambitious goal.
A DCWC team closely monitors all construction during this new building phase. They are technical professionals who support & supervise the projects regularly to guarantee the quality of the work being done. They meet in the village, report on their findings, make suggestions, and help people negotiate the complicated application process for the government stipend that had many an illiterate farmer give up on getting any help.
As of the end of last month 42 families have been able to move into new homes. 42 families that are now able to put their lives back together, start working their fields again, maybe even replace the chickens or goats that perished in the quakes.
The importance of your help to these poor families in recreating their lives cannot be overstated. The devastation has frayed the fabric of communities not only by leaving so many homeless, by exposing adults and children alike to substandard nutrition, but also by pushing young and old men alike to seek a better life in urban centers or abroad. Too often the promise of this better life remains unfulfilled. For those left behind the need for a home as a hub of safety in a life torn apart is more important than ever.
For the sake of our Nepali brothers and sisters, please continue to stand with us until every last one of the 500 families in our target area has moved into their new home.
With deep gratitude for your support,
Karin Reibel, Project Leader